Deva Seyon has a quandary about Top Sites in Safari for macOS:
When viewing the "top sites" grid, it can be either a website "picture" of the webpage or the standard icon of the website. How is it done? I can't find how to change it.
This puzzled me, as while I don't use Top Sites regularly—a page that shows your 6, 12, or 24 most frequently visited sites—I recalled this icon view, too. It turns out both Deva and I are conflating two separate, but similar features in Safari.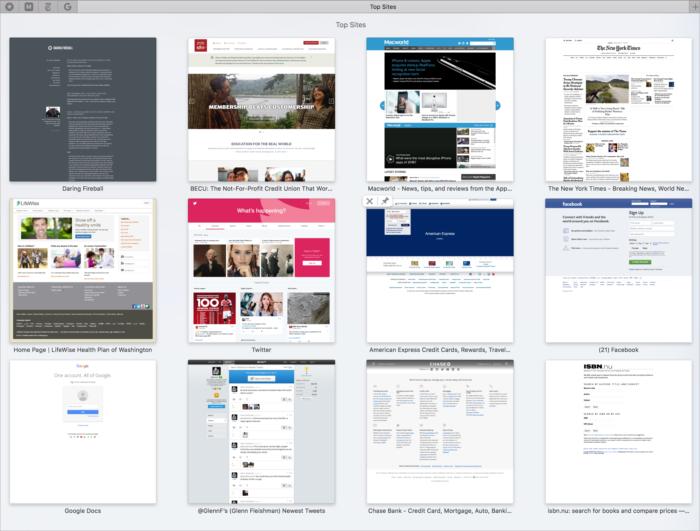 If you click the grid of dots in the upper-left corner of Safari, the app brings up the Top Sites page. (You can customize whether 6, 12, or 24 icons are shown via Safari > Preferences. You can also hover over a page thumbnail, and an X and pushpin icon appear in its upper left. Click the X to remove the item from appearing in Top Sites; click the pushpin to make it always appear.)
But there's no option to view icons. For that, click in Safari's Location bar. After a moment, a drop-down display appears populated with icons. At the top, Safari shows the contents of your toolbar favorites; at the bottom, the most frequently visited sites. I noted that it's not a precise match with Top Sites, but this may have to do with how it sorts results.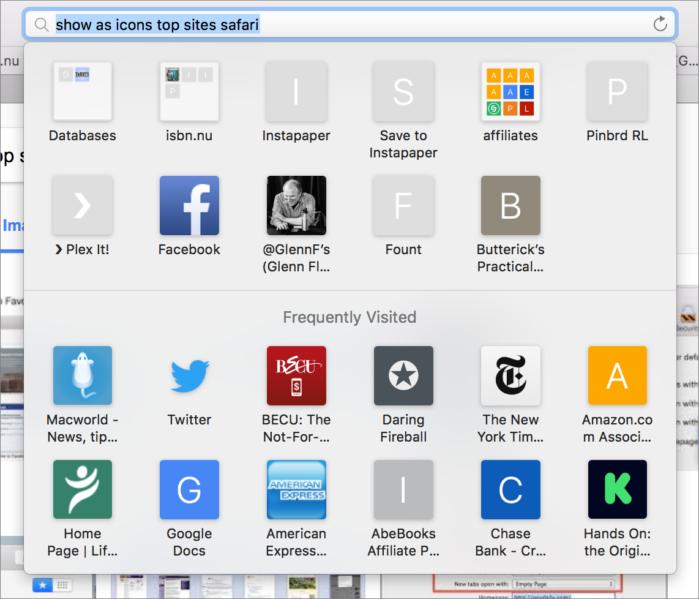 So that's where you find the icon view, but here's a twist that makes this particularly confusing: clicking in the Location bar while viewing the Top Sites page results in no dropdown area of icons! It feels like you're being gaslighted—you know the icons should be there, you click, and no icons. On any regular page or a blank page, clicking the Location bar produces the same icon display.
Ask Mac 911
We've compiled a list of the most commonly asked questions we get, and the answers to them: read our super FAQ to see if you're covered. If not, we're always looking for new problems to solve! Email yours to mac911@macworld.com including screen captures as appropriate. Mac 911 cannot reply to email with troubleshooting advice nor can we publish answers to every question.