Apple smartly (though quietly) ditched the Apple Watch's original overt association with luxury fashion not long after launch, but you can still catch a whiff of it when browsing for bands on Apple.com. They start at $49, and a well-crafted strap of leather from Hermès can end up costing almost as much as the device itself.
There's no need to spend that kind of cash. You'll find a host of quality Apple Watch bands on other sites, and many of them are just as good as what Apple offers, but for a fraction of the price. Below, we've collected our favorite bands that cost $30 or less. We'll continually update it as we receive more.
Keep in mind, too, that Apple lets you easily switch bands between similar sizes of Apple Watch regardless of series. In other words, any 44 or 42mm band will fit all Apple Watches of those sizes, and the same goes for 38 and 40mm bands.
Marge Plus Genuine Leather Band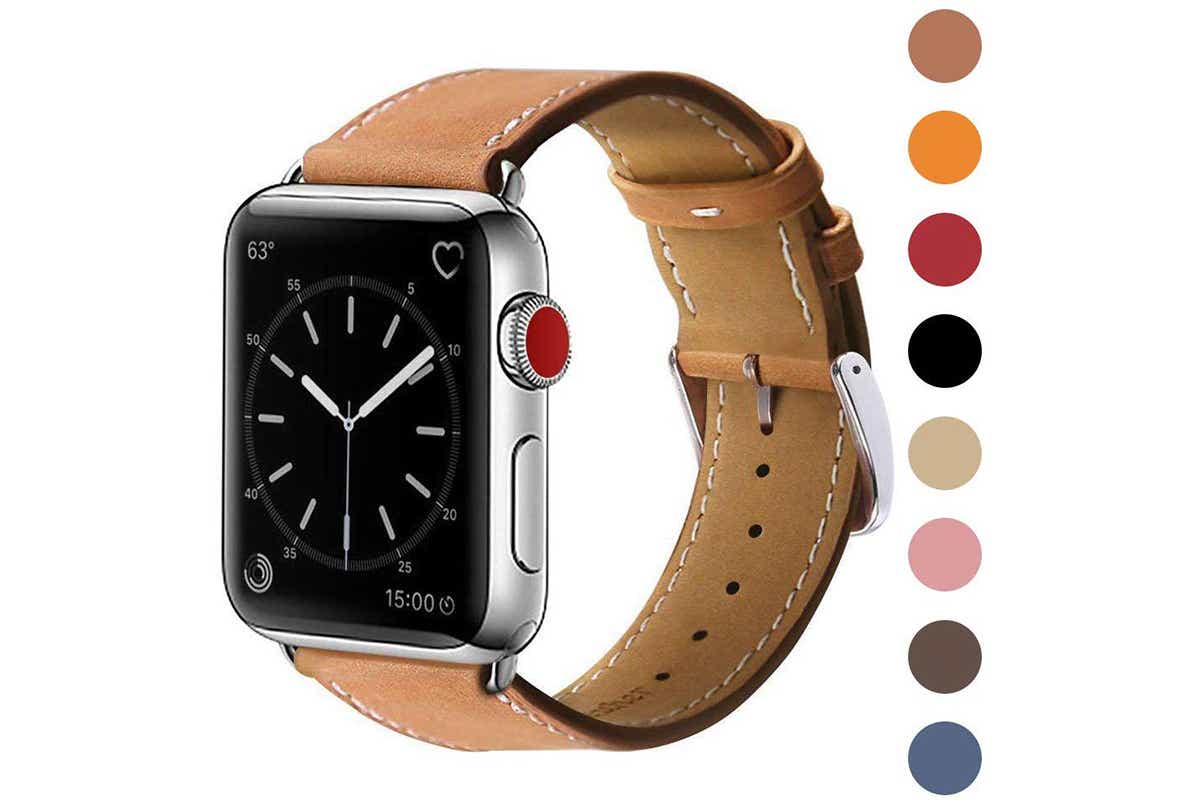 u003carticleu003entu003csection class=u0022pageu0022u003enu003cpu003eu003cstrongu003eVariations:u003c/strongu003eu003c/pu003enu003culu003enu003cliu003eu003ca href=u0022https://www.amazon.com/MARGE-PLUS-Compatible-Genuine-Leather/dp/B01EY9TWV0/u0022 rel=u0022noopener nofollowu0022 target=u0022_blanku0022u003e38mm, 40mmu003c/au003eu003c/liu003enu003cliu003eu003ca href=u0022https://www.amazon.com/Compatible-MARGE-PLUS-Genuine-Replacement/dp/B01EY9TY5E/u0022 rel=u0022noopener nofollowu0022 target=u0022_blanku0022u003e42mm, 44mmu003c/au003eu003c/liu003enu003c/ulu003enu003cpu003eu003cstrongu003eHighlightsu003c/strongu003e: You might think there would be a ton of drawbacks with a $13 leather Apple Watch band, but as it turns out, this band from Marge Plus has a lot to offer. It's made from genuine leather (and looks and feels like it), and it even boasts a generous 18-month warranty. It's lightweight, comfortable, sweat-resistant, and durable—you'll hardle notice it on your wrist. If that's not impressive enough for you, it also comes in 13 different colors.u003c/pu003entu003c/sectionu003enu003c/articleu003e
Ruoqini Stainless Steel Loop
u003carticleu003entu003csection class=u0022pageu0022u003enu003cpu003eu003cstrongu003eHighlightsu003c/strongu003e: Few styles of watch band manage to evoke both elegance and toughness quite so well as the Milanese Loop, which is basically a long strip of chain mail that you pull through a slot. You keep the slack in place with a magnet, resulting in one of the most precise fits you can expect from a watch band.u003c/pu003enu003cpu003eIf you bought u003ca href=u0022https://www.apple.com/shop/product/MTU22AM/A/40mm-milanese-loopu0022 rel=u0022noopener nofollowu0022 target=u0022_blanku0022u003eone of the models Apple sellsu003c/au003e, you might think they were made out of mithril. Ruoqini's, though, is a stainless steel band that costs only $11.99. A word of caution, though: Ruoqini's product photos suggests its band closes with a clasp, but the product description and the actual model we received prove that isn't the case. (And that's arguably a good thing, too, as a magnet is the superior design for a Milanese loop). So, buyer beware— that's always one of the drawbacks of less expensive items.u003c/pu003entu003c/sectionu003enu003c/articleu003e
YC Yanch Silicone Sport Band
u003carticleu003entu003csection class=u0022pageu0022u003enu003cpu003eu003cstrongu003eVariationsu003c/strongu003e:u003c/pu003enu003culu003enu003cliu003eu003ca href=u0022https://www.amazon.com/dp/B07CXQFB46u0022 rel=u0022nofollowu0022u003e38mm, 40mmu003c/au003eu003c/liu003enu003cliu003eu003ca href=u0022https://www.amazon.com/dp/B07NS9BZ1X/u0022 rel=u0022nofollowu0022u003e42mm, 44mmu003c/au003eu003c/liu003enu003c/ulu003enu003cpu003eu003cstrongu003eHighlightsu003c/strongu003e: Nike's sport bands costs $49 on u003ca href=u0022https://www.apple.com/shop/watch/bands/nikeu0022 rel=u0022nofollowu0022u003eApple's own pageu003c/au003e. These silicone bands from YC Yanch look almost exactly like them, but they cost around 84 percent less. They come in a whopping 19 different color combinations (compared to the measly five you'll get from Apple), and you can even get a u003ca href=u0022https://www.amazon.com/YC-YANCH-Compatible-Silicone-Replacement/dp/B07NQ6XHCY/u0022 rel=u0022nofollowu0022u003eset of eight for $36u003c/au003e if you're so inclined. They're comfortable, durable, and breathable—in short, they're everything you'd expect from a good sport band.u003c/pu003entu003c/sectionu003enu003c/articleu003e
Intenty Woven Nylon Sport Band
u003carticleu003entu003csection class=u0022pageu0022u003enu003cpu003eu003cstrongu003eVariationsu003c/strongu003e:u003c/pu003enu003culu003enu003cliu003eu003ca href=u0022https://www.amazon.com/INTENY-Sport-Compatible-Replacement-iWatch/dp/B07ZJB5S3Nu0022 rel=u0022nofollowu0022u003e38mm, 40mmu003c/au003eu003c/liu003enu003cliu003eu003ca href=u0022https://www.amazon.com/INTENY-Sport-Compatible-Replacement-iWatch/dp/B07ZJBTF5Tu0022 rel=u0022nofollowu0022u003e42mm, 44mmu003c/au003eu003c/liu003enu003c/ulu003enu003cpu003eu003cstrongu003eHighlightsu003c/strongu003e: Apple makes its own attractive woven nylon bands with dual colors (that it calls u003ca href=u0022https://www.apple.com/shop/watch/bands/sport-loopu0022 rel=u0022nofollowu0022u003eSport Loopsu003c/au003e), but if you don't feel like playing $49, consider these remarkably similar bands from Intenty. There's not much to say about them—they're durable, they have velcro straps, and they come in 32 different colors. The velcro seems to hold up well, and we like how a fastener holds the strap in place. These are relatively simple and casual bands, but in person they look worthy of Apple's pricing.u003c/pu003entu003c/sectionu003enu003c/articleu003e
JETech Stainless Steel Metal Band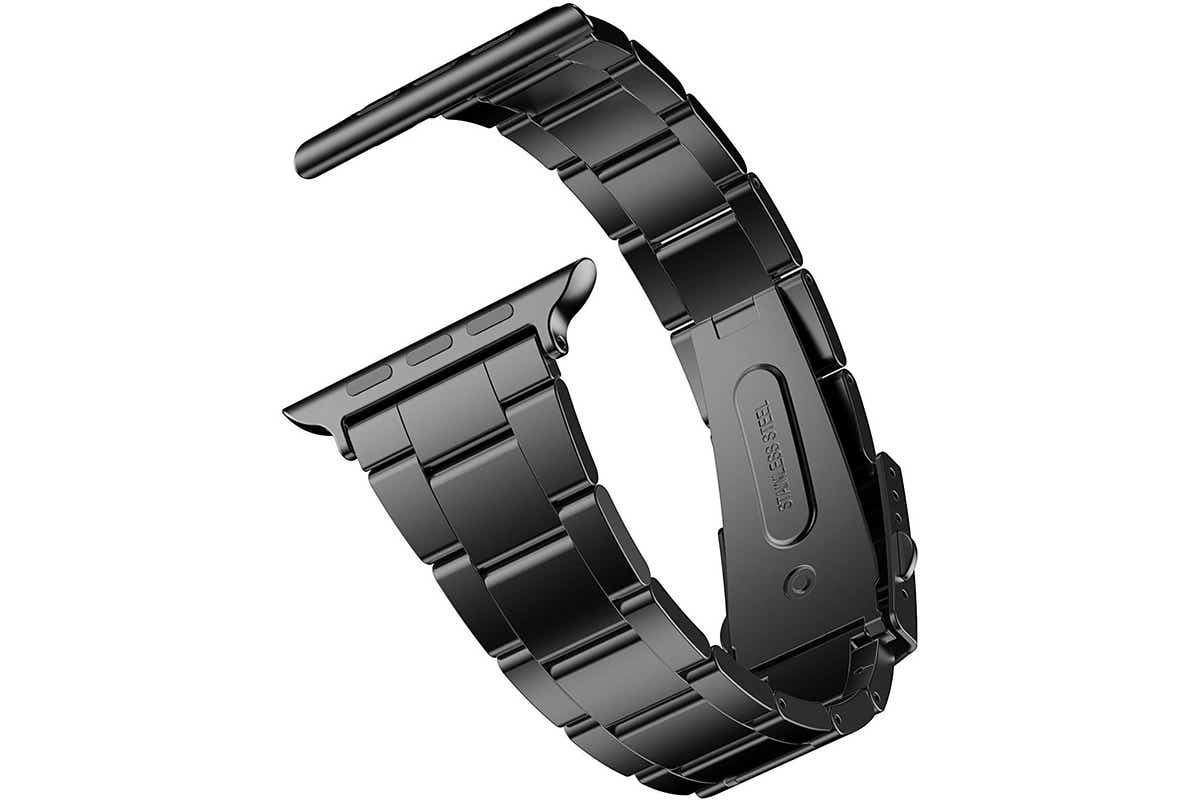 u003carticleu003entu003csection class=u0022pageu0022u003enu003cpu003eu003cstrongu003eVariationsu003c/strongu003e:u003c/pu003enu003culu003enu003cliu003eu003ca href=u0022https://www.amazon.com/JETech-Replacement-Apple-Watch-Stainless/dp/B016MULV7W/u0022 rel=u0022nofollow noopeneru0022 target=u0022_blanku0022u003e38mm, 40mmu003c/au003eu003c/liu003enu003cliu003eu003ca href=u0022https://www.amazon.com/gp/product/B0117MD8NA/u0022 rel=u0022nofollow noopeneru0022 target=u0022_blanku0022u003e42mm, 44mmu003c/au003eu003c/liu003enu003c/ulu003enu003cpu003eu003cstrongu003eHighlightsu003c/strongu003e: JETech's band looks and feels as though it should cost around $10, but on Amazon it tends to range from $16 to $20. As with most metal bands, you'll likely have to do some adjustments with the included tool before it fits right (unless your wrists are huge), but it's a fairly simple process—provided you're patient. The only real drawback? If you want a silver band instead of black, it's only available for the u003ca href=u0022https://www.amazon.com/JETech-Replacement-Apple-Watch-Stainless/dp/B00YSMEMR8/u0022 rel=u0022nofollow noopeneru0022 target=u0022_blanku0022u003e38 and 40mm modelsu003c/au003e.u003c/pu003entu003c/sectionu003enu003c/articleu003e
Epic Active Silicone Band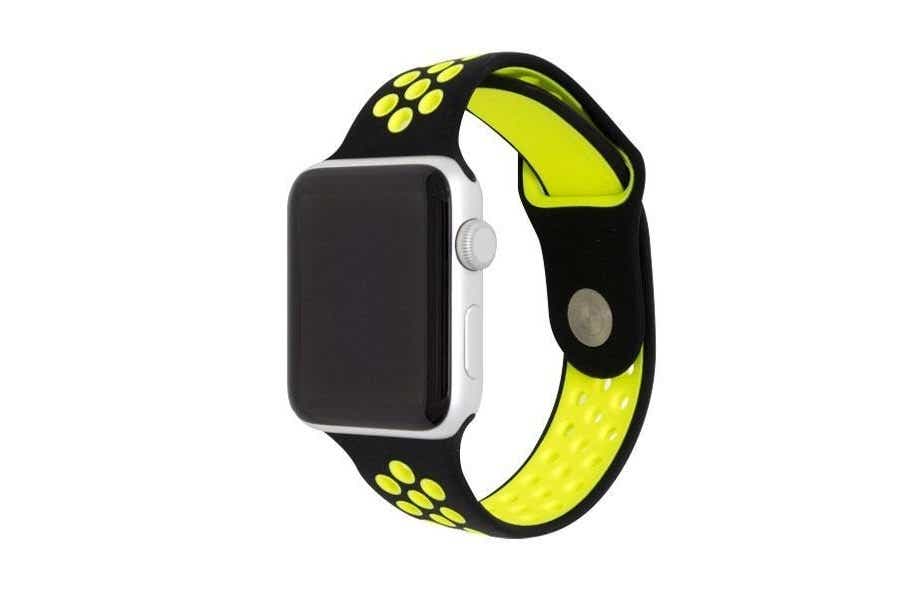 Price When Reviewed:
$49.99
u003carticleu003entu003csection class=u0022pageu0022u003enu003cpu003eEpic's $18 u003ca href=u0022https://www.epicwatchbands.com/products/sport-silicone-apple-watch-bandsu0022 rel=u0022nofollowu0022u003eSport Silicone Bandu003c/au003e had durability problems, but for a couple bucks more, the thicker u003ca href=u0022https://www.epicwatchbands.com/products/active-silicone-apple-watch-bands?variant=44252374601u0022 rel=u0022nofollowu0022u003eActive Silicone Bandu003c/au003e holds up a lot better to abuse while still feeling soft on a wrist. It comes in a whole bunch of two-color combinations, from the loud to the more subdued.u003c/pu003entu003c/sectionu003enu003c/articleu003e
Tefeca Elastic Apple Watch Bands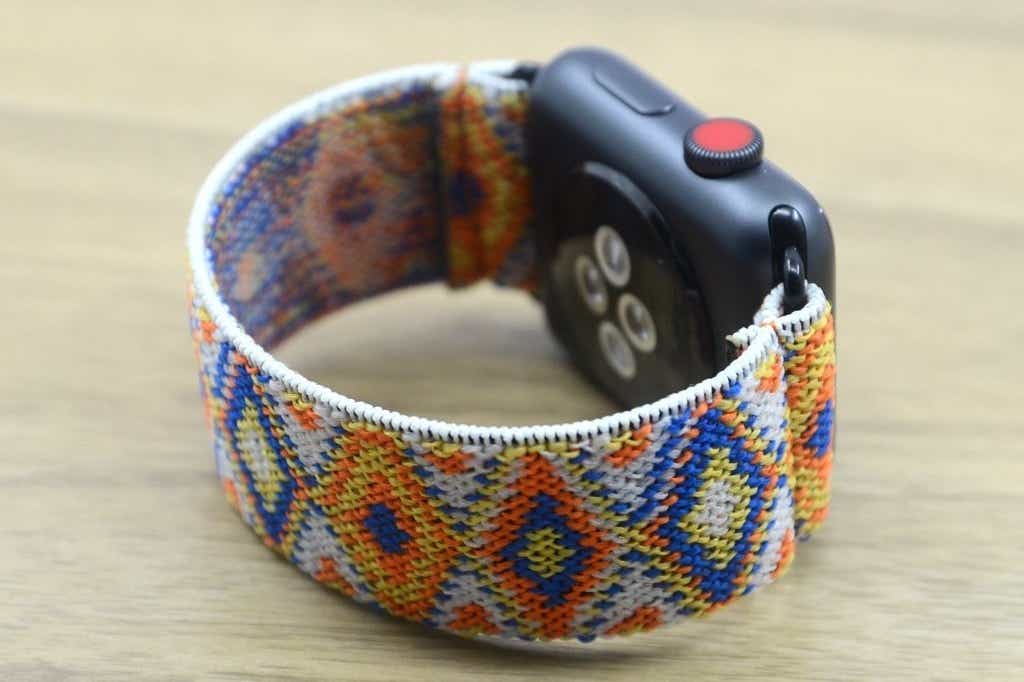 Price When Reviewed:
$24.99
u003carticleu003entu003csection class=u0022pageu0022u003enu003cpu003eTefeca has a novel approach: these $25 u003ca href=u0022https://tefeca.com/collections/apple-watch-bandsu0022 rel=u0022nofollowu0022u003eElastic Apple Watch bandsu003c/au003e have no closure. You just slide them on. It's important to order the right size, and at first the watch felt a little loose, but the band held it in place beautifully. We love the bright patterns, but they come in a few solids too, and the soft, stretchy bands are perhaps the most comfortable we've ever worn.u003c/pu003entu003c/sectionu003enu003c/articleu003e
Maison + Cour Silicone Sport Band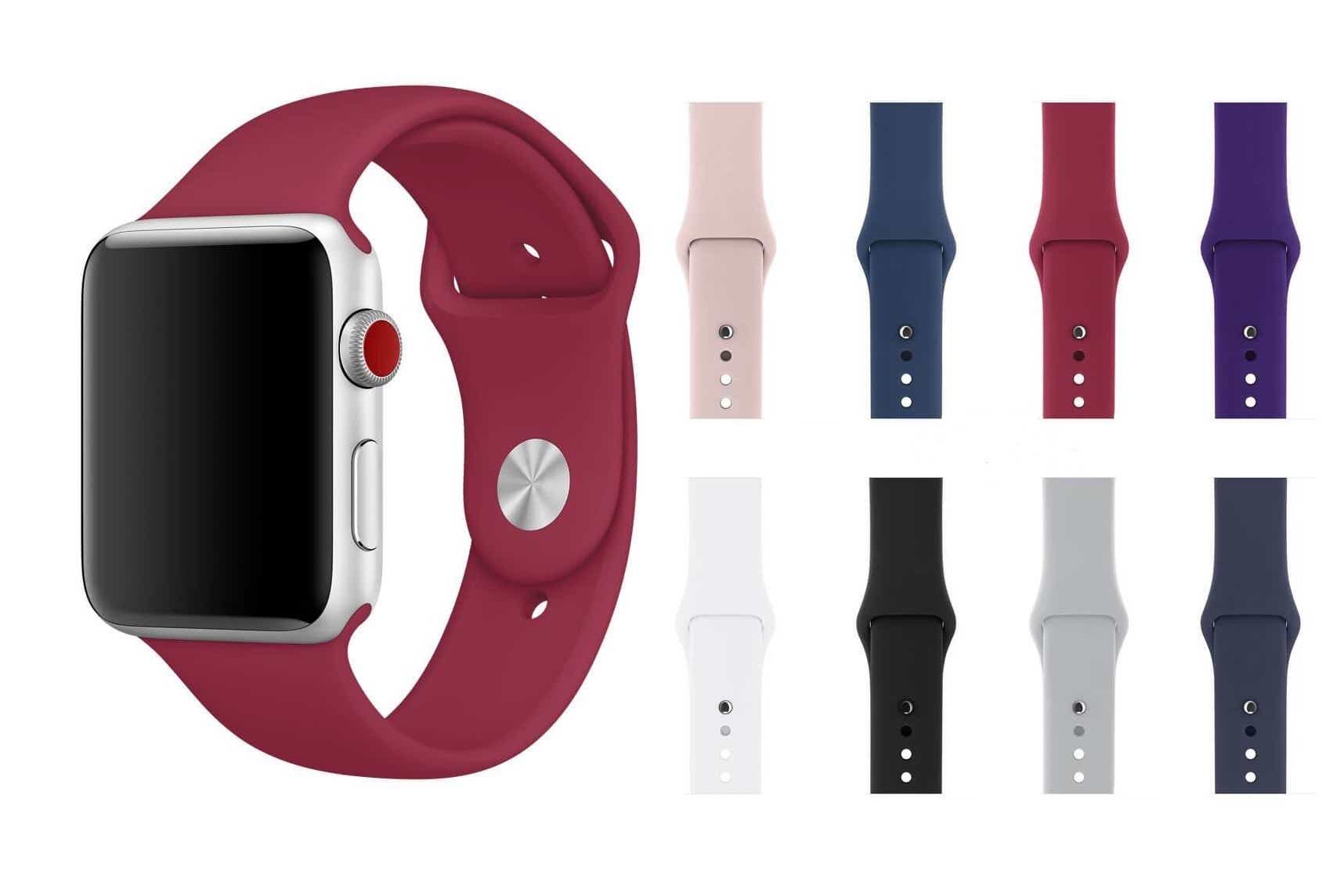 u003carticleu003entu003csection class=u0022pageu0022u003enu003cpu003eThese u003ca href=u0022https://maisoncour.com/product/rose-red-band-apple-watch-38mm-42mm/u0022 rel=u0022nofollowu0022u003eMaison + Cour bandsu003c/au003e are made of food-grade silicone that doesn't smell weird or itch—they feel just like Apple's Sport Bands, but they cost $15 each, and you can get a u003ca href=u0022https://www.amazon.com/Highest-Quality-Replacement-Variety-Models/dp/B07BHY4L14?tag=macworld05-20u0026amp;psc=1u0026amp;SubscriptionId=AKIAIVYSMSQJCH4VBFJAu0026amp;linkCode=xm2u0026amp;camp=2025u0026amp;creative=165953u0026amp;creativeASIN=B07BHY4L14u0026amp;ascsubtag=US-002-3267707-003-1440628-web-20u0022 rel=u0022nofollowu0022u003ecomplete set of all eight colorsu003c/au003e for $45 (MSRP).u003c/pu003enu003cpu003eThe only catch is that you have to pick S/M or M/L as well as 38mm or 44mm, so if you're splitting the multipack with a friend you better have the same size wrists as well as the same size watch. The fashionable colors look great: pink sand, cobalt blue, rose red, soft white, fog, midnight blue, ultra violet, and black.u003c/pu003entu003c/sectionu003enu003c/articleu003e
Tomazon Stretch Faux Pearl Bracelet
u003carticleu003entu003csection class=u0022pageu0022u003enu003cpu003eu003cstrongu003eVariationsu003c/strongu003e:u003c/pu003enu003culu003enu003cliu003eu003ca href=u0022https://www.amazon.com/Tomazon-Handmade-Fashion-Bracelet-Replacement/dp/B01NBWR6J3u0022 rel=u0022noopener nofollowu0022 target=u0022_blanku0022u003e38mm, 40mmu003c/au003eu003c/liu003enu003cliu003eu003ca href=u0022https://www.amazon.com/Tomazon-Handmade-Fashion-Bracelet-Replacement/dp/B01NBWR6J2/u0022 rel=u0022nofollowu0022u003e42mm, 44mmu003c/au003eu003c/liu003enu003c/ulu003enu003cpu003eu003cstrongu003eHighlightsu003c/strongu003e: Wanna get fancy? Let's get fancy. This band does a great job of looking as though it's made from precious metals and pearls (and you can get it in gray, pink, or white), but be sure to measure your wrist before buying one. The recommended wrist size is between 5.7 inches and 6.9 inches. Any bigger or smaller than that, and you run the risk of over-stretching the elastic bands or struggling to wear it properly. As a drawback, this is a case of "you get what you pay for." You'll probably be fine if you only wear it on special occasions, but if you wear it frequently, the elastic bands will likely wear down quickly. Wear it selectively, though, and you'll get a lot of compliments.u003c/pu003entu003c/sectionu003enu003c/articleu003e
Heydey Silicone Band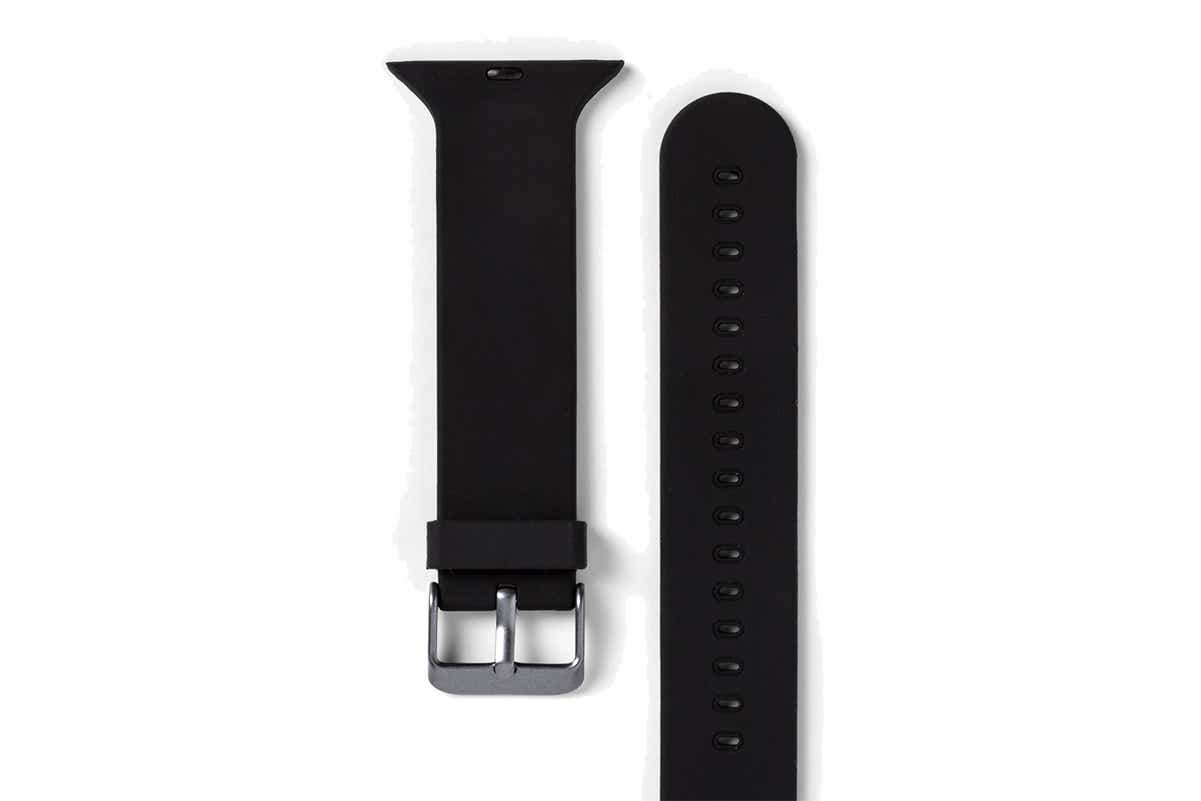 Price When Reviewed:
$9.99
u003carticleu003entu003csection class=u0022pageu0022u003enu003cpu003eWhen it comes to Apple Watch bands, you can't get much simpler or cheaper than Heyday's water-resistant silicone band. Most of Heydey's 14 bands just have a regular metal clasp, but the pink, lavender, lilac, blue, bright green varieties should come with gold clasps. That's about all there is to it, but that may be all you need.u003c/pu003entu003c/sectionu003enu003c/articleu003e