At a Glance
Expert's Rating
Pros
Easy to set up and use
Includes mounting accessories for variety of uses
Universal app controls multiple Peanut devices
Cons
No HomeKit support
Temperature tends to be off by at least one degree
Can't choose desired product color
Our Verdict
Thanks to the miracle of modern Bluetooth Low Energy (LE), up to seven devices can be connected to an iPhone at once, with even more paired and waiting in the wings as needed. This technology has made possible many interesting scenarios beyond those of a traditional smartphone, including security and home control.
Sense has seized upon this opportunity to introduce a new line of "simple, useful, and affordable" smart sensors under its Peanut brand, products designed to make our lives easier. I had a chance to spend time with the first two devices for this review and overall found them handy for the price, lack of HomeKit support aside.
Temperature nut
ThermoPeanut ($29; also available on Amazon) is a smart wireless thermometer that can be attached almost anywhere and used to check the temperature from the free SensePeanut app for iOS or Android. All Peanuts look the same, measuring 1.77 x 0.98 x 0.19 inches, and feature a button on the front and a tiny piezo speaker on the back with a 90 dB output.
Each Peanut has a plastic shell on the front that pops off to reveal a user-replaceable CR2032 battery that powers the device for up to three months. Each Peanut ships with a random colored shell (sadly, you can't order specific hues) that snaps onto a white base, as well as a variety of convenient accessories for mounting: a multipurpose clip holder, key ring, sticky putty, and self-adhesive tape.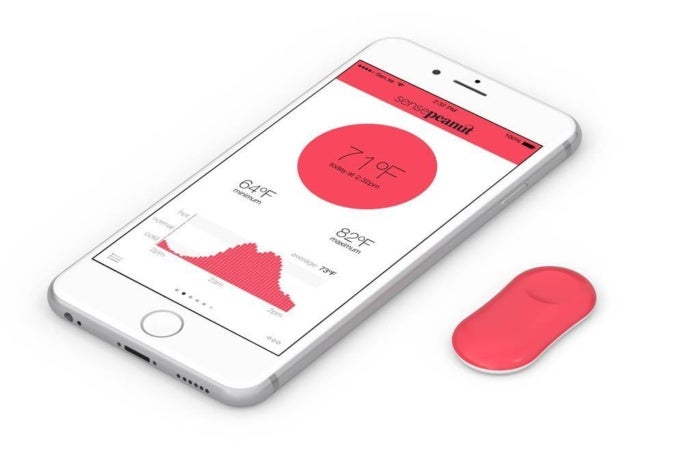 Setting up a Peanut couldn't be simpler: Pull out a small plastic tab to enable the included battery, open the app, tap Add, and wait a few seconds as the device pairs. Once connected, the app begins displaying the current temperature from ThermoPeanut, which, over time, is used to populate on-screen bar graphs for high and low temps over the last 24 hours, 30 days, and 12 months.
ThermoPeanut can also be configured to send alerts when the temperature goes outside of a desired range, and supports IFTTT to integrate with other smart products like Nest, Philips Hue, and WeMo. Since the device can be used within a range of -5° to +140° Fahrenheit, ThermoPeanut works equally well in a refrigerator as it does in the baby's room, basement, or stuck to an exterior wall of your home.
Anti-theft nut
The second Peanut is a smart anti-theft alarm designed to keep someone from walking off with a backpack, purse, or other valuable. GuardPeanut ($29; also available on Amazon) is equally easy to set up, and the embedded accelerometer is quite sensitive to even the slightest bit of motion, which triggers a high-pitched alarm on both the Peanut and the connected iOS device. You'll also receive a push notification noting what time the intrusion took place.
GuardPeanut can be turned on or off by pressing the button on the front of the device, or controlled from the same universal SensePeanut app that provides a dashboard with real-time feedback. The app is used to also control sensitivity, alert display length, type of alarm sound (or none for silent monitoring), as well as custom name and color theme.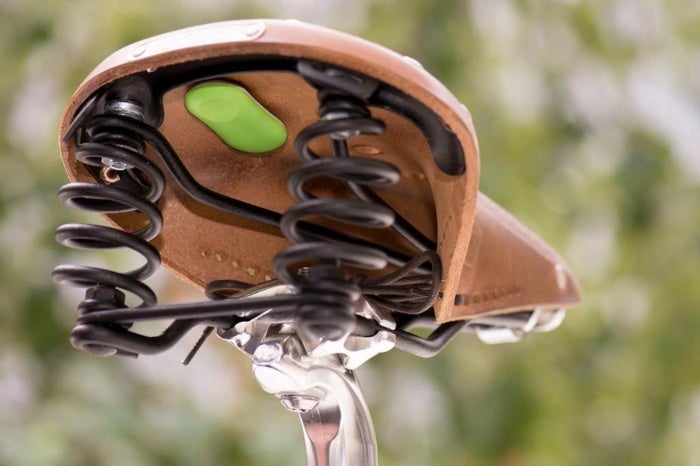 No HomeKit support
Sense Peanuts work well provided you're within the required range of 200 feet, which is enough to cover the average home—step outside that range however, and you're out of luck. There's no support for HomeKit, so Peanuts can't be controlled from the iOS Home app, and GuardPeanut lacks IFTTT integration; the only alternative is signing into the same account on an unused smartphone or tablet that remains at home. SleepPeanut, a smart wake-up alarm clock, and a reminder device called MedPeanut are also on the way.
ThermoPeanut measurements tend to be off by about one degree, but this can be corrected with an offset in the app. It's also worth noting that readings only take place at one of five preset intervals, ranging from three minutes to an hour. As much as I like the idea of GuardPeanut, I'd only recommend using it when the device can be hidden or securely attached. Otherwise it's too easy for a thief to detach and make off with your valuables.
Bottom line
Sense GuardPeanut and ThermoPeanut are affordable and easy to use smart sensors, but the lack of HomeKit support is a bummer and GuardPeanut works best when it can be attached securely or out of sight of potential thieves.