At a Glance
Expert's Rating
Pros
Lightweight (for a leather bag)
Beautiful build quality
Comfortable to wear, even with heavy loads
Ergonomic features make it a pleasure to use
Minimal, adequate interior organization
Cons
Pricey
Rugged aesthetic might not work for everyone
Our Verdict
Best Prices Today: Maverick Leather Laptop Messenger Bag
When I have to dress up and pretend that I'm a human being, I've found that my EDC backpack is a little too rough and tumble to bring along to some of the other more urbane events I'm occasionally invited to. Happily, Waterfield Designs' Maverick Leather Laptop Messenger Bag oozes enough style to make me look like a professional—it's the perfect disguise.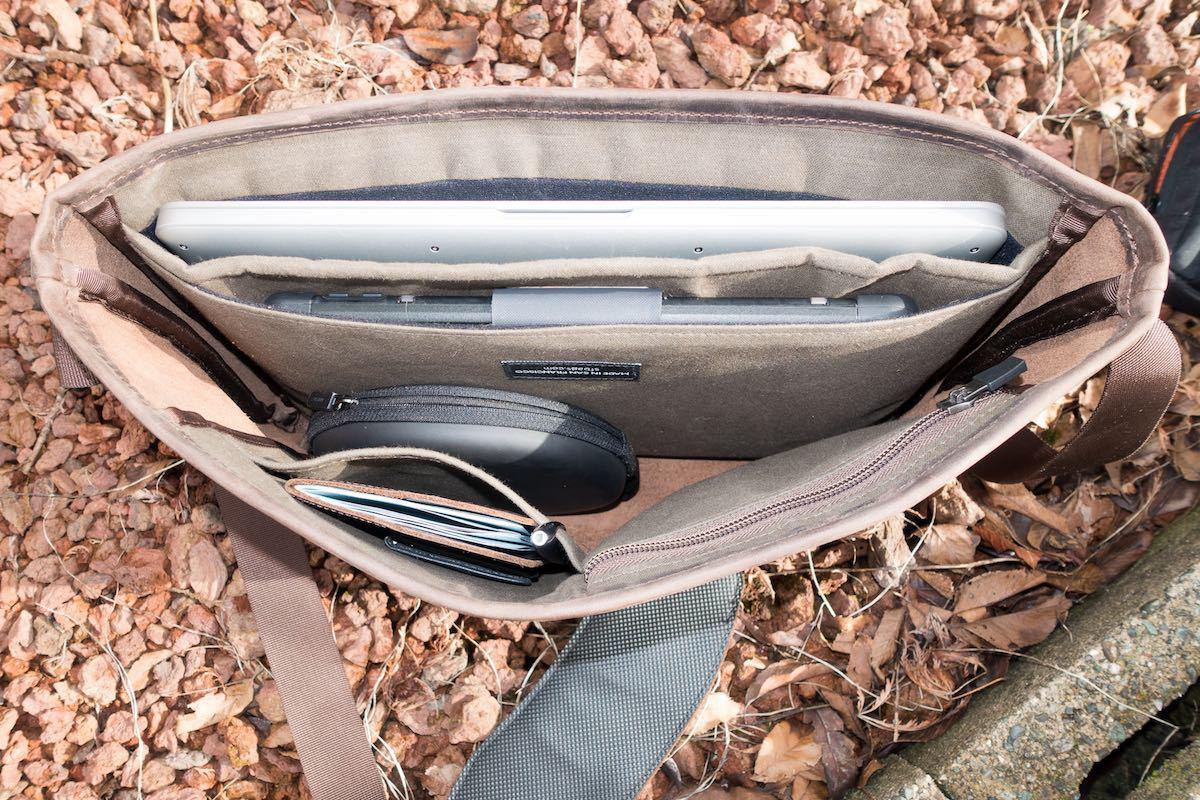 The Maverick is available in two sizes: Compact (10.5 x 13.5 x 3.5 inches) or Full (10.5 x 15.5 x 3.5 inches) which are respectively designed to fit a 13-inch or 15-inch MacBook in a fully-padded compartment.
Size isn't your only option where the Maverick is concerned. You'll also have to choose which of the bag's three colors you'll want to opt in for: Black, Chocolate (dark brown), or Grizzly (light brown). I went with Grizzly, as I felt it looked best with the Maverick's old school mailbag aesthetic—a look that Waterfield Designs drives home with the bag's stud-and-flap closure and unfinished leather edges.
Despite its good-old-days inspired design, the Maverick still feels and looks like a thoroughly modern carry. Its interior pockets are well thought out and its build quality is excellent.
While it's not weatherproof, the Maverick is certainly weather-resistant. While testing the bag, I got caught in a rainstorm. I was relieved to find that after walking close to a mile in the downpour, my laptop and other belongings were still bone dry when I opened the Maverick up.
It's worth noting that, at least in the Grizzly version of the bag, the leather is easily scuffed—but that's a win. The scrapes, dings and wear on my Maverick have only served to provide it with even more character than it had when I first unboxed it.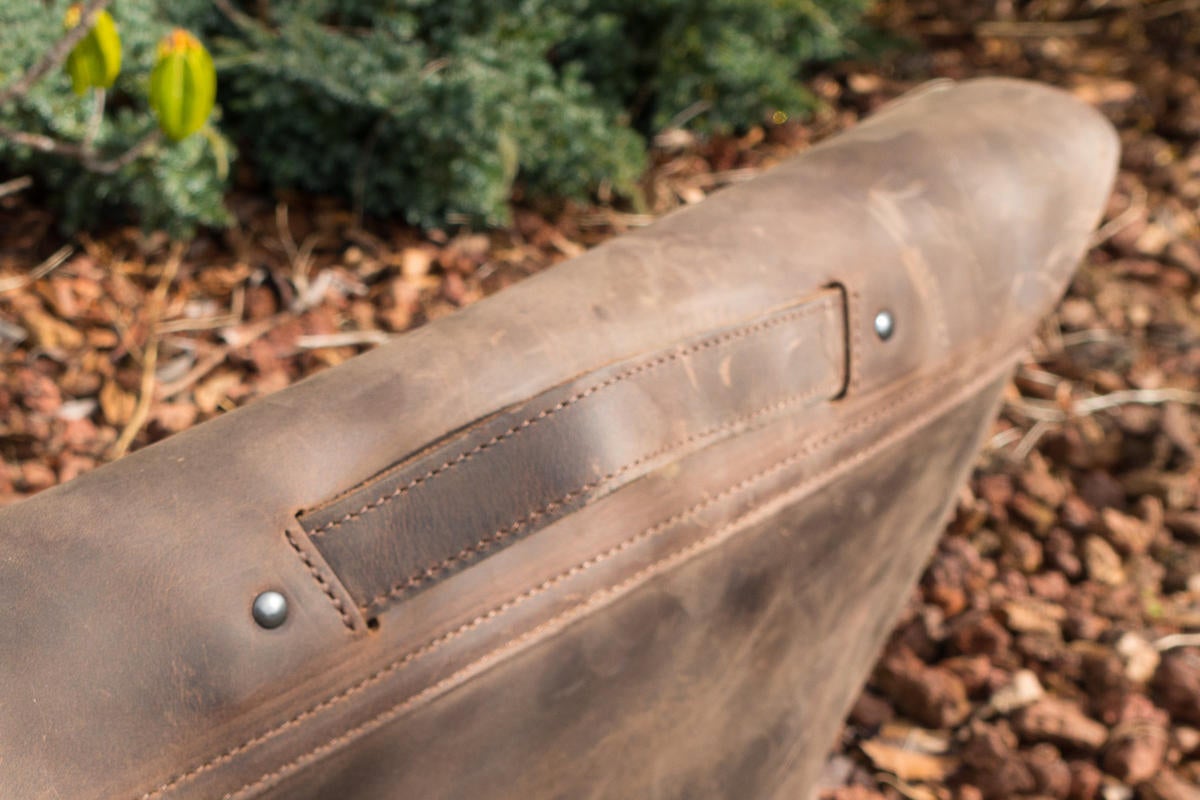 Despite its clean lines and slim profile, the Maverick still offers plenty of space to tote along a modest number of other geek sundries even when its jammed full of computer. You'll want to be careful about what you put in it, however. As it's made using cloth-lined, full-grain leather and boasts metal fixtures, neither version of the Maverick is what I'd call lightweight. The Compact iteration of the bag weighs 2.3 pounds, with the Full version of the bag coming in at a slightly beefier 2.5 pounds. Throw the weight of a laptop, iPad, iPhone, earphones and assorted dongles into the mix and the Maverick becomes a burden to lug around, fast.
Happily, Waterfield Design put a lot of thought into how to make the bag more comfortable to carry. For starters, the bag's adjustable nylon strap is attached at an angle so it hangs comfortably. The strap comes with a chunky, detachable leather shoulder pad that does a great job of distributing the weight of the bag across the shoulder. An offset handle built into Maverick's back panel insures that no matter what's inside of the bag, it'll lift up straight and works a treat for hauling it out of an overhead bin on an airplane.
My only complaint about the Maverick is its price. At $289 or $319, depending on the size you opt for, the bag doesn't come cheap. But you get what you pay for.
Bottom line
Good looking and well made, the Waterfield Design Maverick Leather Laptop Messenger will serve you well for years to come.
Best Prices Today: Maverick Leather Laptop Messenger Bag