Spotify is now trying to lure the audiophiles.
According to The Verge, a few Spotify users have started seeing prompts on the app to upgrade to Spotify Hi-Fi, a new premium tier offering lossless audio quality. In addition, Spotify Hi-Fi could offer one free vinyl record and other discounts on limited-edition vinyls. Spotify is testing the price for the service, which will be either $5 to $10 extra on top of the $10-a-month subscription to Spotify Premium.
Spotify has not confirmed when or if its Hi-Fi tier will eventually be rolled out as an official option to all users. When people who got the prompt tried to upgrade they received an error message or were told that the service was not yet available in their area, signaling that Spotify could just be testing whether there's enough interest and what the right price point should be.
"We are always testing new products and offers but have no news to share at this time," a Spotify spokesperson told The Verge.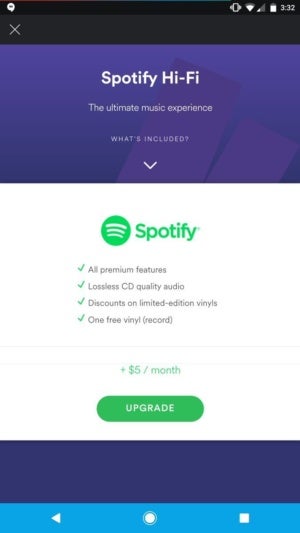 So far, Tidal is the only other music streaming service to offer this CD-quality audio experience. Tidal HiFi offers lossless audio, plus videos in HD for $20-a-month, or $17-a-month if you prepay for the service for six months.
Why this matters: Originally, there was some contention as to whether people can even tell the difference when listening to lossless audio over compressed streaming, which is probably why Tidal has failed to seriously compete against Spotify and Apple Music.
But now that Apple has started to move away from the headphone jack and encouraging the use of Lightning and Bluetooth headphones, there's more of an opportunity that lossless audio can take off. It makes sense that Spotify might want to give users the option—as a bonus, the new tier will bring in more revenue.
Furthermore, Spotify has opted to not engage in a war over exclusive album premieres, which has been Apple Music's strategy to lure new users. Spotify has to focus on other ways to bring added value and differentiate itself from its biggest competitor by adopting new features and capabilities.