Apple owns all the oxygen in several territories across its ecosystems, like music-library management and photo management, competing only with giants such as Amazon and Google that can offer similar features. But in the arena of podcast apps, the decentralized distribution of audio episodes has left what seems like just enough room for independent developers.
Over the years, three companies have released version after version of the most popular non-Apple podcast apps: Pocket Casts from Shiftyjelly, Supertop's Castro, and Overcast from Marco Arment's Overcast Radio.
While Apple maintains the most comprehensive central directory via iTunes and preinstalls the Podcast app in iOS, it also follows its usual path of restricting choices for the crispest and simplest possible user experience. Clearly, podcast listeners want more. While Podcast dominates listenership, these three indie apps have remained viable enough to mature, plus a variety of others, including some that offer paid-subscription-only content and deep archives of past episodes.
The time seems ripe to compare these apps, because Overcast just ticked over with a major interface improvement in version 3; Castro made some slight tweaks in its latest release with version 2.3; and Pocket Casts had its first significant revamp since launching in 2011 with last July's version 6. (It's now up to 6.5.)
After spending some time with the latest versions of each app, I look at their major features and differences to help guide you to a choice of what works best. Because the apps are free with ads (Overcast) or inexpensive ($4 for the other two), it's hard to go wrong if you can't figure out the right fit at first.
[ Further reading: Individual reviews of Overcast 3, Castro 2.3 and Pocket Casts 6.5 ]
The basics
While the apps take a different approach to creating queues, managing downloads, and displaying interfaces to take actions and modify settings, they share a lot of basics.
Subscriptions. What's the point of a podcast app without recurring subscriptions? Each app has slightly different options for controlling what happens when a new episode appears. I'll discuss episode and storage management below. Each app also lets you download individual episodes by viewing a list.
Automatic feed updates. The apps have their own server-side polling of the podcast feeds that announce new episodes. With the same subscriptions across three apps and notifications of new episodes enabled in each app, in my observation over several days there's no clear winner as to which app discovers new episodes first. It varies for every show and sometimes by episodes in a show.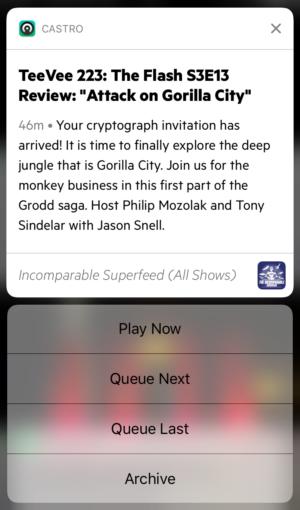 Notifications. Related to new episodes, you can opt in each app to get a push notification when a new episode arrives. Overcast and Pocket Casts both let you drill down and disable notifications on a per-subscription basis, too. You can 3D Touch the notifications for each to download or queue episodes. Castro also pops up an notification if you stop playing an episode near its end.
Discovery. Each has a directory that lets you find a specific podcasts or browse by genres or groups to find more. Overcast is probably the richest in this area, by letting you link your Twitter account, which then lets you see episodes and podcast recommended by people you follow. When you mark a podcast with a star, those recommendations are pushed out as well. Both Overcast and Castro allow you to add episodes from the discovery view; Pocket Casts can only subscribe to a podcast.
Downloading and streaming. These three apps all support both downloading and streaming episodes of podcasts, and offer a lot of controls and settings for when podcasts are automatically retrieved, as I discuss below.
Speed of playback. Each app lets you speed up and slow down podcast playback. While I listen to everything at the rate at which it was released, some people prefer to bump to 1.2x or 1.5x, allowing them to cram more listening in.
Sleep. For people who fall asleep while listening to playback, all three apps let you set a timer after which they stop.
CarPlay. If you enjoy the often painful experience of using CarPlay, all three apps can provide that experience with podcasts.
Storage management. The apps vary in approach to avoid filling up your iOS storage. By default, Overcast and Pocket Casts delete episodes after they're played, and let you control how many episodes from the back catalog to retain, either as a global setting or with per-podcast overrides. Castro always deletes episodes after they're played (when they leave its Queue), but you can set a maximum number of hours of podcasts to keep downloaded.
Exporting and importing subscriptions. You can export your podcast subscription list from one app to another. These three apps all support OPML (Outline Process Markup Language), which for peculiar and atavistic reasons became established as the interchange format. In each app's settings, there's an export option that allows you to share with any compatible software, which includes all the other podcast apps. However, none of the apps have tools to resolve duplicate subscriptions.
Beyond these features, everything diverges. The apps demonstrate a striking lack of similarity and make strong design and feature choices that differentiate them from one another.
Triage, queuing, and playlists
Most people fare poorly when confronted with overchoice: too many options relative to the necessity at hand. People speak of "podcast bankruptcy" in the same way they describe a pile of unread The New Yorker or The Economist magazines looming in the corner of their living room. Hundreds of hours of podcasts you haven't listened to yet are likely to remain mostly unlistened-to ever.
If you subscribe to just a handful of podcasts and have regular allotted time during a commute, runs, or work when you can keep caught up, this doesn't affect you. But I suspect most people reading this far in a podcast app feature comparison are drowning in episodes.
Each of these apps employs a unique approach to let you try to carve out the space you'll listen to through a combination of triage, playlists, and queuing:
Triage: dealing with incoming episodes.
Queuing: setting up automatically and manually reordering which podcast plays next.
Playlists: breaking subscriptions or filters to sort episodes into lists.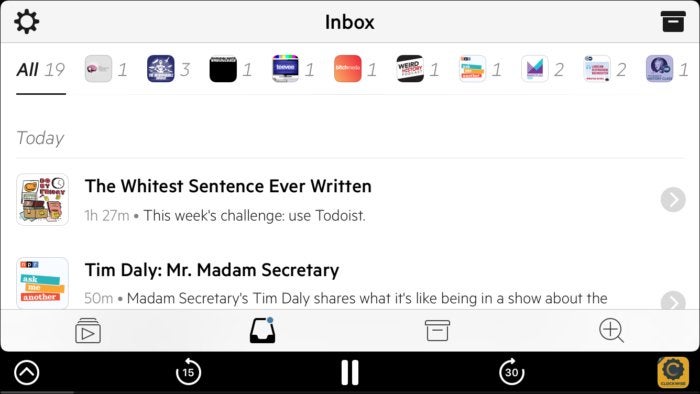 Castro uses a queue. Castro uses a paired approach of the Queue and the Inbox, starting in version 2. Newly released episodes flow by default into the Inbox, much like an email inbox, and aren't downloaded. The Queue, by contrast, is your active playlist, and Castro downloads all queued episodes when you're connected Wi-Fi unless you change the preference. You can also opt to download via cellular. (Turning off downloads turns the Queue into a streaming playlist.)
You triage the Inbox by tapping individual episodes and then either adding them to the top or bottom of the Queue, or tapping Archive, which removes the entry from the Inbox. I find this a very quick way to pick just the episodes from my subscriptions I definitely want to listen to. There's also an Archive All button at the top right of the screen, which clears out the inbox when tapped. And, bravo to Supertop, you can tap an undo button if you accidentally tap Archive All!
Individual episodes found through searches or older episodes from your subscriptions can be added to the queue by tapping the episode. And you can mark any episode in the Queue, Archive, or Search areas as a favorite, which adds them to a list in the Archive view to find later.
Castro 2.3 added more descriptive notifications to help with on-the-fly queue management. When a new episode appears, you can use 3D Touch to start playing it immediately, add it to the queue, or shift it to archive, so it never appears in your inbox. If you pause during the last three minutes of a podcast, a notification shows up that lets you skip the rest of the episode or start playing the next one.
Who will like Castro's approach? Anyone who subscribes to a lot of podcasts and doesn't listen to every episode of each podcast.
Overcast focuses on playlists. Overcast started with a playlist-only mentality, though that's shifted slightly in version 3. Unlike Castro, Overcast creates a master smart playlist, All Episodes, that includes every downloaded episode, whether via subscriptions or chosen individually.
The master playlist and any additional smart playlists can have Priority Podcasts, new episodes of which automatically sort to the top. But you can also edit a smart playlists current list to re-prioritize individual episodes. Regular playlists let you pick from the episodes already downloaded.
Starting in Overcast 3, however, a new option threads the needle between an All Episodes and defined playlist approach, letting you quickly add episodes—downloaded or not—to a Main Queue list. This is effectively a special static-episode list that's baked in. It's not a full triage, but it makes it easier to set up and modify a set of episodes on the fly that you want to listen to next.
Overcast's episode notification also allows a triage of Play, Add to Queue, and Delete.
Who will like Overcast's approach? People who listen to most of the episodes of podcasts to which they subscribe, or who like to set up custom arrangements of what to listen to and switch easily among those.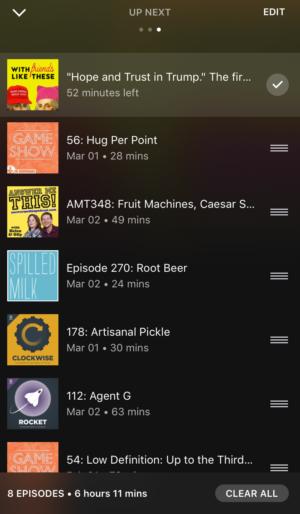 Pocket Casts has a default list with a queue for triage and a form of playlist. Several people I've spoken to about podcast apps call out Pocket Casts because of its thumbnail queue, which is the app's home screen. This queue, by default, displays the podcast graphic for each episode in the queue from newest to oldest.
This main queue is mostly like Castro's Inbox. Pocket Casts also offers a triage queue, called Up Next, into which you can select to push new episodes or add as an automatic per-subscription option. The Up Next queue occupies a bar at the bottom of the screen, and swiping left reveals the icons of the next upcoming episode. Tapping the bar opens a full-screen view for playback controls and management of the Up Next queue.
However, the app also has a playlist-like feature in the form of filters, which resembles smart playlists in Overast. A filter can use a time cutoff (starting with the last 24 hours), only show episodes you've starred, and include or exclude any subscription. Filters are found in a sort of pre-home screen that includes prefab items for New Releases and In Progress (episodes you've started listening to). It's a bit awkward.
Who will like Pocket Casts' approach? If you like to see a thumbnail showing you which shows have new episodes, and rely on that to assemble of a queue of to listen to next, while not needing the richer triage features in Castro.
Other feature differentiators
While figuring out what to listen to next is the biggest issue for most people, a few other features can be deciding factors.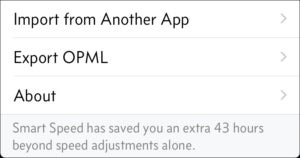 Omit pauses. Overcast and Pocket Casts both offer a variant on eliminating the spaces between sound: they can trim out silence on the fly, removing anything more than a brief pause. For some interview and talk podcasts, the pauses don't signify…much. (With podcasts that include music or acting, you'll want to turn it off, and you can control it in both apps per podcast.)
In testing the same podcast in both apps, I prefer Overcast's version. Pocket Casts more noticeably clamped down the ends of words to my ear, sounding like tiny edits. Overcast's jiggery-pokery either waits slightly longer or uses fading to avoid what sounds like editing chops.
Sync. Castro doesn't include sync, while the other two apps offer (free) account-based synchronization across any copy of the app logged into the same account, including what you're currently listening to, the current position in any episode that you've started, subscriptions, and playlists.
Platforms and pricing. This is where it gets complicated if you plan to listen to podcasts on more than one device or via the wb.
Overcast ships for iOS only in a version that works across all iOS devices. It's free with ads, but has a $10-a-year Premium in-app purchase that removes ads and allows uploads of audio that isn't available via a feed using the Web app.
Pocket Casts has versions for iOS (all devices), Android, and the Web, and charges separately for each. While the iOS version is just $4, the web app is $9, which seems a bit steep in relative terms, though it's well built.
Castro is the most limited. It's $4, doesn't sync, and is designed just for the iPhone, not the iPad. If you like its features and you're solely using an iPhone, this isn't a problem.
Bottom line
Each of these three alternatives to Apple's Podcast app has its strengths, and unlike some app categories, in which many apps produce similar results, you can examine the differences to figure out which appeals most to you.
For some people, Castro lacking any silence-slicing option is a non-starter. While I love that feature in Overcast, the podcast app I used the longest, Castro 2's triage feature won me over and I cope with a few extra seconds here and there.
Because each of these apps is made by independent developers, teams that range from one person to a handful, your suggestions for features to add are more likely to be taken seriously, and each new release from these companies reference the most-asked-for changes and additions that their users want.
[Further reading: Individual reviews of Overcast 3, Castro 2.3 and Pocket Casts 6.5]