Gordon Potter has considered using iCloud Desktop and Documents, a macOS Sierra feature that both syncs and selectively archives less-used files to free up storage, retrieving them on demand as needed. But, he writes:
I am very cautious of trying this unless I am certain there is a way to backup out or leave. What I have read seems to say once I create/use this iCloud system, there is no obvious way out.
This is a reasonable degree of concern. Gordon wonders in particular:
Does it sync across Macs registered to the same iCloud account and, if so, can he select what syncs?
How to stop using it and revert to normal?
He and his wife have separate Apple IDs and use Family Sharing: does this sync help with exchanging files between them?
And the answers:
Syncing across Macs. You have an option on every Mac with macOS Sierra installed whether or not you want to use iCloud Desktop and Documents. If not, you can still access those files via iCloud Drive. However, if you turn it on for multiple Macs with Sierra, the same Desktop and Documents folders appear on each Mac.
Apple notes that once you turn on iCloud Desktop and Documents, any Macs added after the first one will have its files moved into folders with those Macs names inside the iCloud-synced Desktop and Documents folders. This confuses people a-plenty, because at first glance, it appears as if all the files are deleted! This feature doesn't merge multiple Desktop and Documents folders, but rather just retains them in this fashion.
You can't select what's synced. For that, you need Dropbox, which offers Selective Sync, and plans to improve on that in the future. (As Gordon currently uses for some purposes.)
Beware when turning this feature on that you're not too hasty when things start to disappear. If you have files that take up gigabytes of storage, it may seem like things have been deleted while it's in progress. If you cancel the process, you can wind up in an ugly indeterminate state that requires a lot of effort to get back to normal.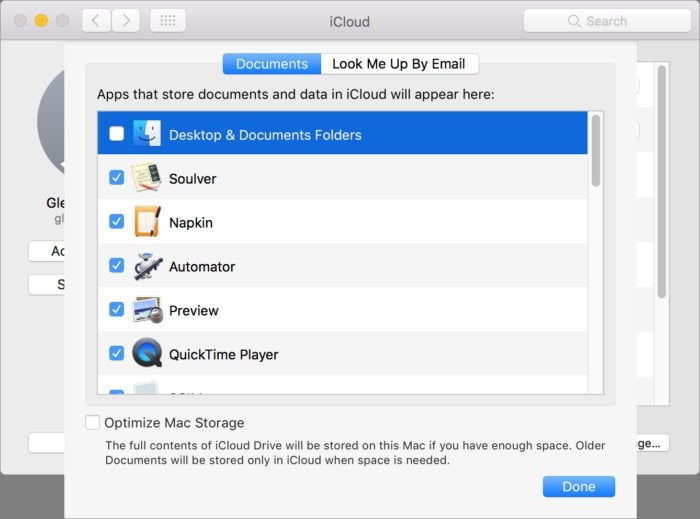 Turning it off. You can simply uncheck the box Desktop & Documents Folder in the iCloud system preference pane's iCloud Drive's Options dialog. macOS then moves the Desktop and Documents folder into the iCloud Drive, and the Desktop on your Mac appears empty, as does the Documents folder in your user account. All the files are still there! But you have to now choose to select and copy (drag) or move (Command-drag) the files back to their original locations.
Using Desktop and Documents for exchanging files. When you're using different iCloud accounts or Apple IDs, this feature doesn't offer any way to share files. And iCloud Drive as a whole also lacks this seemingly obvious and useful feature. For this, you still need to rely on Dropbox.
Ask Mac 911
We've compiled a list of the questions we get asked most frequently along with answers and links to columns: read our super FAQ to see if your question is covered. If not, we're always looking for new problems to solve! Email yours to mac911@macworld.com including screen captures as appropriate. Mac 911 can't reply to—nor publish an answer to—every question, and we don't provide direct troubleshooting advice.