If you're someone who doesn't have any specific reasons to go there, you may have never explored the Accessibility settings on your Mac, iPhone, or iPad. While it's true that those settings are there primarily for people who have special physical needs to modify how a device's interface works, the fact is, many people who don't consider themselves in need of any sort of accommodation can find something of value in these settings.
Accessibility has become a place where Apple buries some specific, nitpicky details about how its devices behave–and that's why you should take a stroll through those settings sometime just to see if they solve problems you didn't even realize were solvable. Here are some of my favorites:
iOS accessibility
In iOS, Accessibility settings are located in the Settings app. First tap General, then tap Acessibility.
Zoom. If your eyes aren't what they once were, consider turning on the Zoom setting, which lets you magnify the iPhone screen with a gesture–namely, double-tapping three fingers.
Magnifier. This setting was just pointed out to me this past weekend at a presentation I was giving to a group of mostly retired people. Activated with a triple-click of the home button, Magnifier looks very much like the interface to the iPhone's camera. But there's an explicit zoom slider and the shutter button is there not to take a picture, but to stabilize the image of whatever you're magnifying so you can study it. If you're frustrated by not being able to read incredibly small type, Magnifier can be the solution.
Color Filters. Located within the Display Accommodations menu, Color Filters let people who are color blind differentiate between colors. As someone who is red-green color blind, I've explored these features before. I ended up deciding to leave these settings off because they made my iPhone screen aesthetically unpleasing, but everyone's mileage will vary. There are a variety of settings for different forms of color deficiency.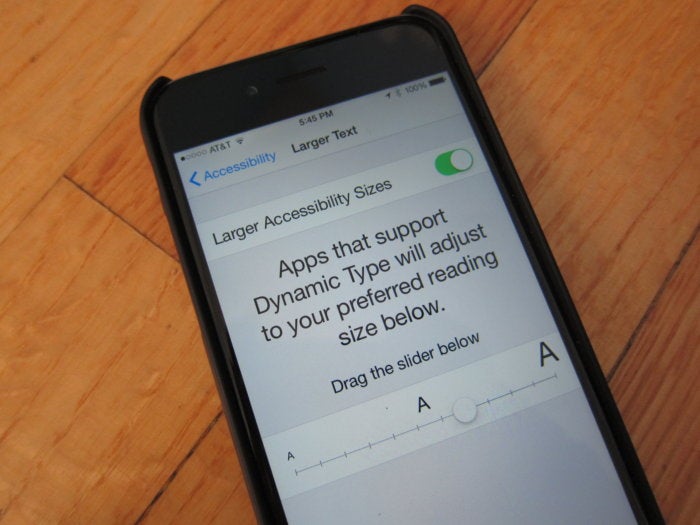 Text visibility. A series of settings let you adjust text on your iOS device so it's more readable. If you turn on the Larger Text option, you can make the text in any app that supports Apple's Dynamic Type feature quite large. You can also turn on Bold Text to make everything that much more readable, though this feature requires a restart.
Button Shapes. If you've been frustrated by the fact that so many iOS buttons are invisible–they look like colored text, but there's no button there–you can solve this by turning on Button Shapes. All the buttons will gain a gray background shape when this feature is turned on.
Increase Contrast and Reduce Motion. These might be the most commonly used Accessibility features on iOS. From the Increase Contrast menu you can turn on Reduce Transparancy to reduce the amount of see-through transparency effects and blurs on various background elements on iOS. Turning on Reduce Motion will eliminate most fancy animation effects when you switch between apps.
3D Touch. You can turn 3D Touch entirely off on your iPhone 6s or 7 if you want to. More helpfully, you can adjust the amount of pressure needed to activate 3D Touch, so if you're endlessly triggering it by accident, you can adjust the settings so that a firmer push is required to activate the feature.
Show Lowercase Keys. You can toggle this setting in the Keyboard sub-menu to change how the software keyboard displays letters; with it turned on, keycaps will display lower-case letters when you're in lower-case mode. If you are a monster who wants to see only capital letters on your keycaps, turn this feature off.
Shake to Undo. It always seemed like a novelty feature to me, but many apps still rely on your giving your device a shake in order to trigger an Undo operation. If you find yourself triggering this feature when you don't intend to, you can turn it off entirely right here.
Vibration. If you hate that your phone buzzes and vibrates, you can turn that feature off here. It'll turn off all vibrations from phone calls, notifications, and the Taptic Engine–except when you press the home button.
Home Button. Do you prefer the old days, when you could unlock your iOS device simply by resting your finger on the Touch ID sensor, without also needing to push the home button? Turn on the Rest Finger to Open option and this previous iOS behavior will be restored. You can also use this sub-menu to set the click speed required to double- or triple-click the home button.
Reachability. I found myself constantly triggering the Reachability feature–you double-tap on the home button and the top of the phone interface slides down–by accident. And I never wanted to invoke it on purpose. So I shut the feature off entirely, and now it doesn't bother me.
Mono Audio. If you're ever frustrated by an app or podcast that plays audio in stereo when you need it on mono–perhaps you can only listen through a single earbud?–you can force every sound on the device into a mono mix by turning on Mono Audio.
Guided Access. For frustrated parents who want to lock their kids into a single app so they don't send a text when you just want them to play a quick game while in a waiting room, Guided Access is the answer.
Mac Accessibility
The Mac is a fundamentally more flexible device than the iPhone or iPad, and as a result there's less of a need for so many nitpicky options. But there are still a few great finds inside the Accessibility panel, located inside the Mac's System Preferences app.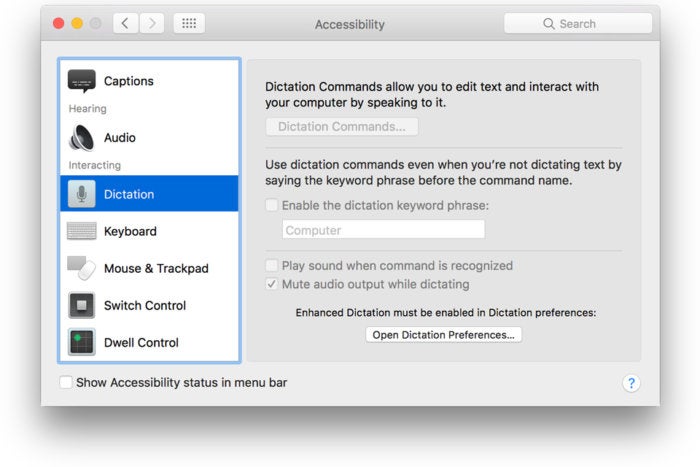 Zoom. This feature is a great way to quickly draw attention to some portion of the screen during a presentation or class. With a keyboard shortcut you can zoom in to one area on the screen.
Display options. The Display panel lets you set a lot of options that are similar to those offered by iOS. I know several people who like turning on Increase Contrast, which feels a bit like you've fallen through a wormhole into a parallel dimension where the Mac has lots of border lines and no transparency effects.
Mouse and Trackpad. My favorite hidden gem of a feature is located under this collection of settings: Ignore Trackpad Input on Laptop When Using External Pointing Device. Just this weekend I had someone ask me if he could get his Mac to ignore his trackpad, which he kept brushing with his hands while he was typing, since he was using an external mouse. This is the feature just for him–and everyone else in a similar situation.
Screen Flash. Alert sounds can be jarring–but they can also be easily ignored. Under the Audio section is a great option if you'd prefer a visual alert on your Mac: click Flash the Screen When an Alert Sound Occurs to get a visual warning anytime a beep should sound.
There are dozens of Accessibility settings in both iOS and Mac; these are only a few of them. It's worth a little bit of time clicking or tapping through them just in case there's a feature in there that will change how your use your Mac or iOS device for the better.