At a Glance
Expert's Rating
Pros
Painless method for adding metadata and artwork to video files
Can covert video files to an Apple-compatible format
Cons
Small search window can't display full titles, making it difficult to find the correct one
Our Verdict
Best Prices Today: iFlicks 2.4.7
If you've read my articles on ripping DVDs with Handbrake, or ripping DVDs and Blu-Rays with MakeMKV and Handbrake, then you'll probably want to add the files you've created to your iTunes library. When you do this, you'll need to enter a lot of metadata so you can identify the files. Depending on how much metadata you want with your movies and TV series, this can take quite some time.
iFlicks 2 ($35 on the App Store) is designed to make this step painless and efficient. It looks up your video files in several online databases, and adds metadata and artwork to them. It can also then put the files into iTunes. And if you have videos in a format that iTunes doesn't handle, iFlicks can covert your files to an Apple-compatible format.
Drag some video files to the left section of the iFlicks window. iFlicks will automatically check for metadata (though you can change this in its Rules settings), and display what it has found. iFlicks doesn't just look for a movie title or the name of a TV series; it also finds the release dates, actors, description, artwork, and much more. For movies, it adds rectangular artwork in portrait format, and for TV shows, it adds square artwork, as the iTunes Store does.
iFlicks finds metadata immediately for many videos, but given the type of discs I rip (concerts, theatre, operas, and other obscure videos) I often need to look up the precise title of my video. In the screenshot below, I added my DVD rip of the director's cut of Almost Famous. I had named my file Almost Famous, but that returned metadata for the shorter, theatrical release version. Clicking the magnifying glass next to the title allowed me to search for the precise version of the film. You can also choose artwork in the same way; click the magnifying glass next to the artwork to see what's available.
iFlicks can also convert videos to Apple-compatible formats. If you've ripped MKV files, the process can be fairly quick, since the actual video isn't converted; it is just rewritten as an .m4v "container." You have a number of options when converting videos, such as which languages, subtitles, and audio tracks to include. So if you've ripped a disc without choosing those elements, iFlicks lets you remove them when converting videos. If you do rip MKV files, as I explained in this article, you might want to try out iFlicks to see if it's easier than using Handbrake.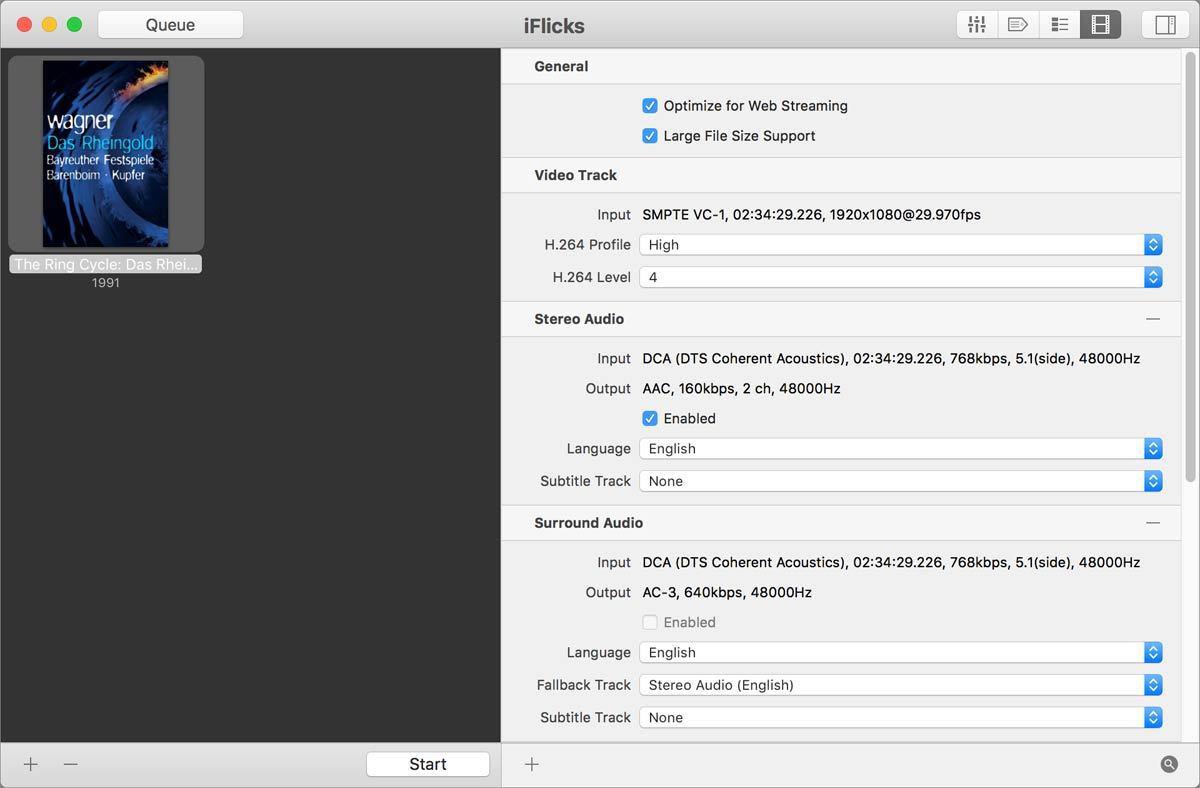 iFlicks' rules, which are available in the app's preferences, let you choose what the app does when it loads files, after metadata is updated, and after videos are processed. You can choose to have the app automatically look up metadata, convert a file, and add it to your iTunes library, or to another location; or you can perform some of these steps manually when you click the Start button. (For example, you can have iFlicks simply update metadata, allowing you to choose where to put a file later.)
My use of iFlicks is a bit of an edge case. I don't often buy movies on DVD or Blu-Ray, unless they are unavailable to stream or rent online. I do, however, buy films of concerts, operas, and plays, which I rip to put in my library. iFlicks rarely gets the metadata right on the first lookup, and I have to use its search feature. I wish the search window were a bit larger, so I could read full titles. I often have to try several titles to find what I'm looking for. In the above screenshot, I ripped a Blu-ray of a Wagner opera, and I had to try more than a half-dozen titles to find the correct one.
Bottom line
iFlicks is a powerful app whose usability depends on the type of videos you work with. You may want to use it to gussy up your videos with correct metadata and artwork, or you may want it to do everything for you: metadata, conversion, and addition to your iTunes library. It can be a bit complicated to get used to, but the app is flexible enough for most video rippers, and it's a handy tool to have.
Best Prices Today: iFlicks 2.4.7