Google just added "read it later" bookmarking functionality to the latest version of Chrome for iOS. This appears to be an iOS-only function for now and is similar to Safari's reading list feature that first rolled out with Mac OS X 10.7 Lion in 2011.
Like Safari's Reading List, you hit the share button in Chrome and choose Read Later from the menu. Chrome will then save the page for you. To access your reading list, tap the menu button in the upper right corner (the three vertical dots) and select Reading List.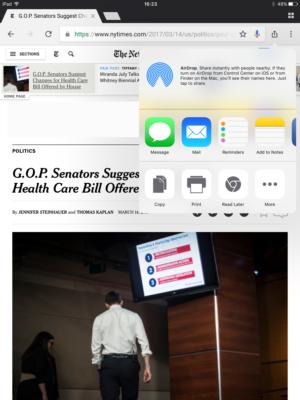 A pop-up window will then appear with all your articles. Choose the one you want, and as long as there's a green check mark icon on it, you'll be able to read it offline. When offline, Chrome displays the page in a more text-friendly format, but the browser displays the entire page when connected to Wi-Fi.
Contrast that to Safari's feature, which can save pages offline but requires you to tap an icon to enter Reader View—the advantage being you can enter the simplified text-friendly reading mode whether you're online or off.
The impact on you at home: Although Google is big on the cloud, the reading list feature in Chrome for iOS doesn't sync with the cloud right now. The saved articles stay on your local device. It's also not available on other devices running Chrome, including Macs. It appears Google's only motivation for this new functionality is to offer a feature that Safari for iOS had, but Chrome didn't.
It may be iOS-only right now, but a cloud-synced, free read-it-later service built into Chrome would be helpful for users across all platforms. It would also provide another alternative to third-party systems such as Pocket, recently acquired by Mozilla, and Pinterest-owned Instapaper.
If you don't see the new feature yet check for a Chrome update in the App Store, which is available now.