When Whitney Wolfe founded Bumble, the popular swipe-based dating app where women make the first move, she wasn't out to start a dating app revolution—she just wanted to create a way to bring accountability to the online dating realm. But the app's major boom has shown that the dating space needed a different approach.
Now, as the company is in its second year, Bumble is expanding the platform to allow different kinds of connections instead of just romantic ones. Wolfe outlined plans for the app's future at South by Southwest, including many new features that are just around the corner.
Bumble beginnings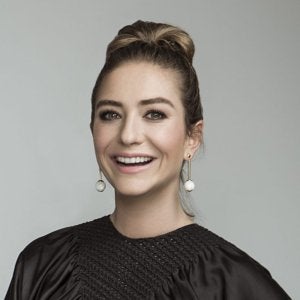 The idea for Bumble was born after Wolfe's messy departure from Tinder, which has a reputation of being more hookup-focused than relationship-focused. On Tinder and other sites, it's common for women to receive aggressive messages and (ahem) unsolicited photos from their matches, which might drive users away.
"I asked myself, 'How can we make the dating space safer for women?'" Wolfe said.
To avoid this problem, on Bumble, women must make the first move and initiate contact before a match can message her back, flipping the old "the man has to call first" trope on its head. Wolfe said that because of this ingrained social norm, people genuinely didn't expect Bumble's model to be successful at first.
"When you do something that will challenge the status quo, you will be told 'no,' because people don't like change, generally," Wolfe said. Bumble has gained 12.5 million user registrations since its launch.
Bumble has other features that help maintain the app's safe environment as well—its reporting and banning system boots users out for bad behavior. A facial identification feature is rolling out soon, which will verify a person's true identity by looking for duplicate photos and other red flags with a goal of kicking the catfishers to the curb. When a user passes the test, they'll receive a verification checkmark.
An app for everyone
Wolfe doesn't see the dating app market as crowded and doesn't necessarily see these other apps—Tinder, Match, OkCupid, Coffee Meets Bagel, and so on—as competitors, because Bumble is going after a very specific user. "This is for women. Women are 50 percent of the planet, and women are required to be 50 percent of a relationship. The market has never been geared toward us."
However, even though the app was created with women's needs in mind, men benefit just as much.
"The system isn't just broken for women—it's broken for all of us," Wolfe said. "Bumble gives men a chance to take a step back and not be the macho aggressor that they may not want to be, but were socialized to be. We think it makes for a better and more peaceful environment for everyone."
Bumble is also optimized for LGBTQ daters, and either person in a same-sex match can make the first move.
Looking ahead
Now that Bumble has figured out how to match daters, they're expanding their matching platform to make other kinds of connections. This all started from user feedback. Wolfe believes it's important to listen to Bumble's user base—once a product is out in the world, it belongs to the customers, she said.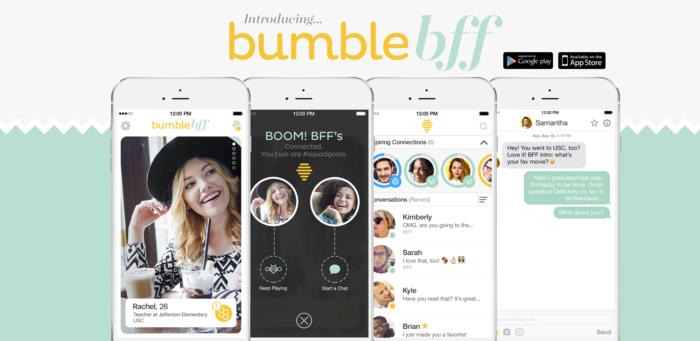 That's how Bumble BFF was born, a feature that connects women to other women who are looking for friendship. Wolfe and Co. noticed that people were jumping on Bumble and writing a blurb on their profile mentioning that they're looking for friends.
"Women were creating profiles and writing that they were either single or dating, but wanted to use the app to connect with other women as friends," she said.
Bumble BFF works in the same way—flip through other user profiles and swipe right to indicate that you're interested. If two people swipe right on each other, a match is formed, and you can begin chatting. Since its launch, roughly 90 percent of female users have activated BFF mode within Bumble.
Next up is BumbleBizz, a professional networking division a la LinkedIn that will match people based on business interests, but in a much more casual way—"We'll let you decide what 'networking' means to you," Wolfe said. The feature was announced in summer 2016, but is still in development—Wolfe said it would launch "soon."
What about moving these connections from online to IRL? Soon, we'll start seeing Bumble Social Hives pop up—physical locations in different cities that Bumble deems as safe places to meet your matches.
"We want to take this culture that we've created for our apps, bottle it up, and take it to these cool spaces," Wolfe said. You can use it as a coworking space, attend workshops, organize Bumble meetups, or just have a safe space to grab a coffee with a new match.
After all, the company is no longer really just for dating.
"Bumble is a connecting company. It's your place to find connections, whatever that may be."