Apple Music is trying out influencer marketing.
According to 9to5Mac, Apple Music has created an "Ambassador" program in hopes of promoting the streaming service to young people in the U.K. The Apple Music Ambassadors are college students with an online following who have been recruited to tweet on behalf of the service in exchange for an extension of the free three-month membership and other undisclosed perks. It's unclear whether Apple will expand this program to other countries, or if it will focus on other demographics beyond college students.
Apple Music Ambassadors are currently encouraging fellow students to activate their free three-month membership to Apple Music. The ambassadors will be expected to tweet three times throughout the campaign, according to the welcome email published on 9to5Mac. In addition, each ambassador has been given a unique affiliate link to track how many new Apple Music subscribers they recruit.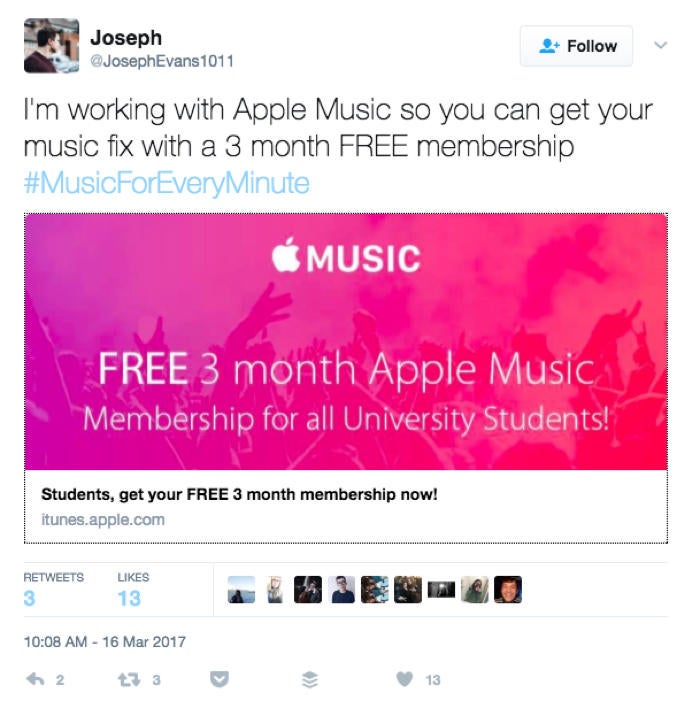 Apple will reward the top promoters with other perks, like potentially getting access to the forthcoming Apple Music Festival, which took place in the U.K. last year. Apple is said to have recruited these ambassadors via a targeted Facebook campaign asking U.K. students to apply.
In addition, Apple partnered with Social Chain, a U.K.-based ad firm with a special focus on influencer marketing, which is basically rallying a bunch of popular people on social media to share promotional content about different brands. Social Chain has also worked with Spotify, Microsoft, and Huawei.
The marketing firm got itself into some hot water recently. The U.K.'s Competition and Markets Authority found that Social Chain's influencers had sometimes failed to disclose that some content they were sharing was actually paid-for advertising.