The new revision of macOS Sierra has just been released by Apple. macOS Sierra 10.12.4 is now available for Mac users, but before you install it, here's the lowdown on the new features. When you do decide to update, be sure you back up your Mac's data first.
Night Shift
The major new feature in macOS Sierra 10.12.4 is Night Shift, which made its debut in iOS 9.3. Night Shift is available on the following Macs:
MacBook Air (Mid 2012 or later)
MacBook (Early 2015 or later)
MacBook Pro (Mid 2012 or later)
Mac mini (Late 2012 or later)
iMac (Late 2012 or later)
Mac Pro (Late 2013)
With Night Shift activated, your Mac's display adjusts its colors so it uses less blue light and instead uses what Apple calls "the warmer end of the spectrum." You'll notice a yellowish cast on your screen when you use your Mac at night. During the day, your Mac will go back to using more blue light.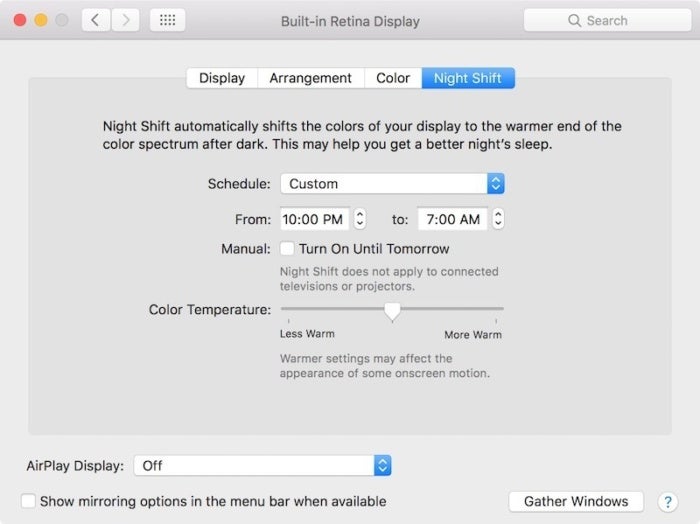 If you have a multiple displays connected to your Mac, the Night Shift setting will be available only on the display that you've designated as the primary. To see which display is your primary, click on the Arrangement tab in the Displays system preference. The display with the menu bar is your primary. You can change this by clicking and dragging the menu bar to the desired display.
[Further reading: How to adjust macOS Sierra 10.12.4's Night Shift settings]
Other new features
According to the release notes, these features are also included in macOS Sierra 10.12.4.
Adds Siri support for cricket sports scores and statistics for Indian Premier League and International Cricket Council
Add dictation support for Shanghainese
Resolves several PDF rendering and annotation issues in Preview
Improves the visibility of the subject line when using Conversation View in Mail
Fixes an issue that may prevent content from appearing in Mail messages
Find out more about the security content of 10.12.4.