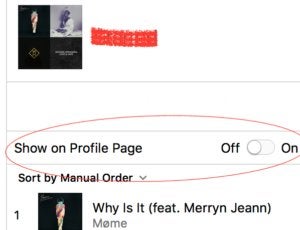 Update: Apple has re-released the iTunes 12.6 update. If you installed the previous version, you'll find the new iTunes 12.6 update in the App Store; if you haven't updated to iTunes 12.6 yet, you may see two iTunes 12.6 updates in the App Store. The newest version number is 12.6.100.
The revision removes a "Show on Profile Page" toggle that appeared on the Playlist edit page. According to users on Reddit, the toggle didn't seem to do anything, and was possibly left in by mistake. Perhaps this is a feature Apple is working on but not ready for the public.
While Apple's new products announced on Tuesday grabbed all the attention, Apple also made an update to iTunes that movie renters will enjoy.
iTunes 12.6 is now available, and it has a new feature that the company dubs as "rent once, watch anywhere." If you rent a movie on your iPad, iPhone, or Apple TV, you can now watch the movie on all those devices.
Prior to the 12.6 update, iTunes movie rentals on the iPhone, iPad, and Apple TV were restricted to the device the rental was made on. Also, iTunes movie rentals could be made on a Mac and then transferred to an iPhone or iPad by performing a sync. You could also play a rented movie to Apple TV by using AirPlay.
Before you install the iTunes update and start renting movies willy-nilly, there is a catch. In order to take advantage of this feature, your iPhone, iPad, and Apple TV must have operating systems that aren't out yet. The iPhone and iPad require iOS 10.3, and your Apple TV must have tvOS 10.2. The iTunes 12.6 release is a sign that OS updates are coming sooner than later.
To get the iTunes update, launch the App Store app and click on the Updates tab at the top. You should see the iTunes 12.6 update after the app makes a check with Apple's servers.
What this means to you: In previous quarterly earnings calls, Apple has talked about the importance of its services, which includes the iTunes Store and video streaming. With increased competition from Netflix, Amazon, Hulu, and many others, Apple need to find ways to offer value to its customers. Making it easier to watch movies rentals across devices is one way to do that.