At a Glance
Expert's Rating
Pros
Quick UI that lets you choose which app to open a link
Cons
Doesn't work within a browser
Our Verdict
Best Prices Today: Bumpr 1.1
Plenty of people use their Macs with just one web browser and a single email client. But many people use different web browsers to be able to easily access multiple accounts, such as Gmail or other services, for work or for personal use. Designers need to test websites on multiple browsers. And some people use different browsers for specific uses; you may have one browser for everyday web use, and another for secure browsing.
With macOS, you can set a default web browser (you do this in macOS's system preferences under General) or email client (do this in Mail's preferences), and these settings determine which apps open when you click links. But when you want to open a link in another app, you generally have to copy that link, switch to the other app, then paste it. This works for URLs, but if you click a link to email someone, it won't work at all.
Bumpr ($4 through April 15, then $8; App Store link), from Scott Ostler and designer Khoi Vinh, helps you deal with these multiple apps. It offers a quick interface to choose among the apps you use for the web and for email. Click a web link in any app other than a browser, then click the icon for the browser you want to use in Bumpr's popup to view the page. This works in apps such as Mail, any Twitter client, Evernote, Slack, or any other app that displays hot links (links that are underlined).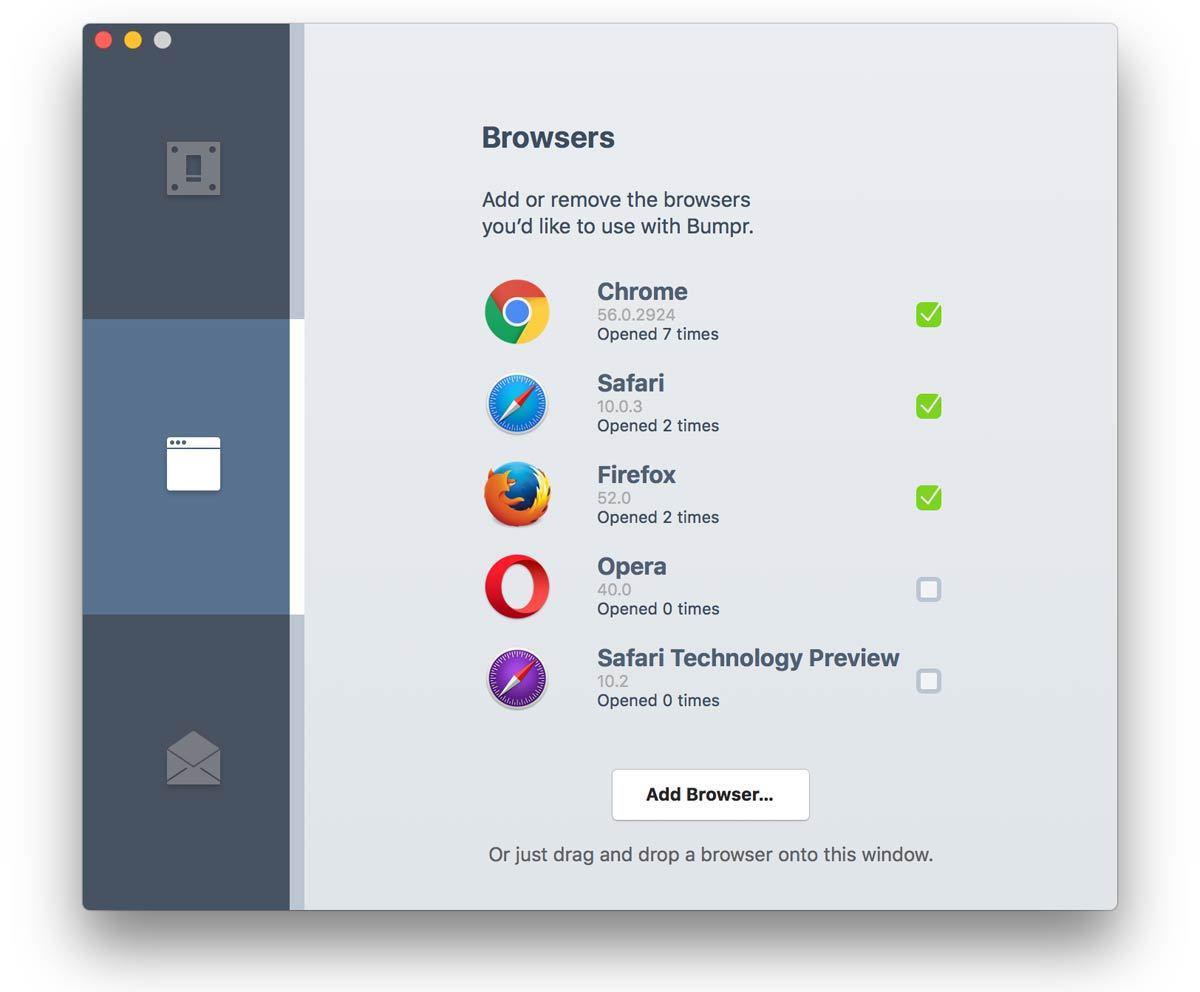 Bumpr also works with email links (the kind of link that's created with a mailto: URL, which opens a new message in your default email client). If you use multiple email clients, you can click such a link and choose which app creates the new message.
Bumpr automatically detects your web browsers and email clients; if not, just click a button to add them. You can choose which browsers and email clients display in its popup. You can have Bumpr automatically display the popup, or you can set it to only work when you first press the Shift key.

One thing I would like Bumpr to do is allow me to choose which web browser opens links from within a browser; or even open an existing page in a different browser via Bumpr. I don't have Flash installed on either of my Macs, so the only way I can view Flash content is with Chrome, because it contains its own built-in version of Flash. The developers informed me that this feature is definitely on their to-do list.
Bottom line
Bumpr is a great tool if you juggle multiple web browsers and email clients. If you're in this situation, you already know how much you need this app.
Best Prices Today: Bumpr 1.1