At a Glance
Expert's Rating
Pros
Lightweight and compact
Easy to set up and use
Provides the ability for individuals with account access to track your progress
Provides the ability to call for help from selected emergency contacts or medical/SAR responders while out of cellular communication range.
Cons
Requires an annual service fee that costs almost as much as the device itself.
Desirable, premium features drive the price of use even higher
Use requires a relatively clear line-of-sight with the sky
Our Verdict
The SPOT GEN3 is a simple but expensive way to grant yourself and your loved ones peace of mind, anytime you wander off the grid.
Best Prices Today: SPOT 3 Satellite GPS Messenger – Orange
Leaving behind the distractions of social media and email for an off-the-grid adventure can be amazing—until it isn't. Having your loved ones worry constantly about whether you've been eaten by a bear while you're away, or worse, experiencing a medical emergency when you're out of cellular range, are both situations that most folks would happily avoid. The SPOT GEN3, a $170 compact GPS locator beacon that can connect with Globalstar's satellite network from almost anywhere in the world, was designed to address issues like these.
Mentioned in this article
SPOT 3 Satellite GPS Messenger – Orange
Price When Reviewed:
$149.99
With its being smaller than a pack of cigarettes and weighing just four ounces (four AAA batteries included,) no one can complain about the GEN3 taking up too much space in their pack or weighing them down. Despite its compact size and light weight, the device is still rugged enough to survive much of the punishment it might encounter while you're on the trail. It's capable of operating in a temperature range between -22 degrees and 140 degrees Fahrenheit, at a maximum altitude of 21,320 feet and, with an IPX7 rating, it'll still work after being submerged in a meter of water for up to 30 minutes.
Getting started
Despite some aggravating setup instructions, getting started with the GEN3 only took me a few minutes.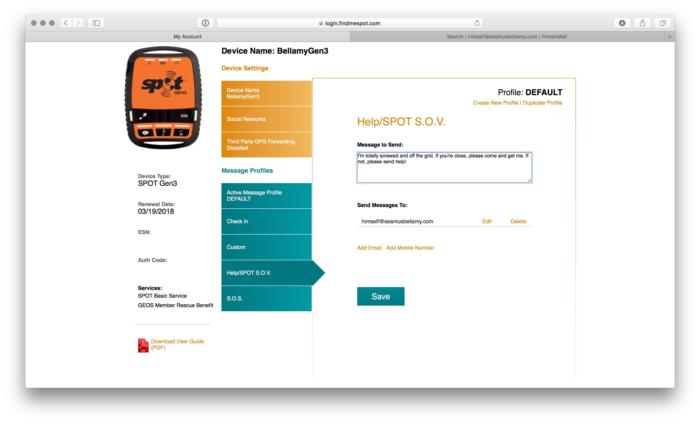 SPOT asks that you jam the device's four AAA batteries into it as part of the GEN3's activation process—don't do that, yet. A step down the line, you'll be asked for the GEN3's ESN number and Authorization code. Both are printed on a sticker in the battery compartment. Write both numbers down, insert the batteries, and you'll be ready to continue the activation process.
You'll be asked to provide some personal information, as well as a pair of emergency contact numbers for friends or family members you'd like to notify in case you get into a bind.
A pricey proposition
To use a SPOT GEN3, you'll have to buy a service plan. Starting at $150 a year or $15 a month, the price of activating your GEN3 isn't what I'd call cheap. As such, before investing in one of these things, I'd ask you to consider how often you think you'll be headed away from civilization and what price you feel is appropriate to place on your personal safety while you're out there. For me, living full-time in an RV and travelling to less than accessible spots on a regular basis, makes the cost a worthwhile expenditure. Your mileage may vary.
SPOT also offers a number of valuable added services that can send the cost of service even higher. The GEN3's base service plan lets the device send its geolocation to SPOT's servers via satellite. This information can be viewed by anyone with access to your account online or through the use of the SPOT App for iOS.
Upgrading to an Unlimited or Extreme Tracking package, however, allows for more frequent updates to SPOT's servers, letting your friends or loved check on your whereabouts and progress as you schlep through the woods. Pushing the GEN3's SOS button (reserved for emergency use only) will notify the GEOS International Emergency Response Coordination Center, who can contact local EMS and SAR resources to save your bacon, should you need it. However, for a small fee, you can upgrade your GEOS service to include a $100,000 insurance policy designed to cover the high cost of calling out premium search and rescue resources or air ambulance service.
And for you overloading types, SPOT also offers a vehicle extraction service which, for a few dollars more, will come and yank your ride out of the muck, no matter how far off the grid it might be. Again, do the math on what of all, if any of this is worth to you and shop accordingly.
I know this sounds like a lot, but honestly, you'll be set up and ready to go in five minutes.
How does it work?
Like any piece of hardware linked to a system of satellites, the GEN3 works best when it has a clear view of the sky. That said, I was able to get a signal under heavy tree cover and along the steep rock walls of Thetis Lake, near Langford, British Columbia.
It also worked fine for me in an urban setting, surrounded by high buildings. So, under most outdoor scenarios, I feel safe in saying that your signal will be able to reach its intended destination. In extreme circumstances, you might have to find a clearing or climb a hill in order to transmit a check-in message or call for help. But that hasn't been my experience.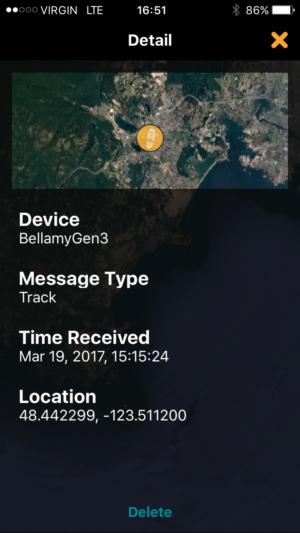 The GEN3 comes packing an accelerometer. After it's been turned on, push the tracking button. When you start moving, it'll begin to upload the progress of your trek to SPOT's servers. Using the device's check-in functionality for sending a custom text message to a pre-determined cellphone number or email address (setup using your browser before you leave civilization) is just as simple. The same goes for calling for help. But to keep you from accidentally having GEOS or your emergency contacts from running to help you, SPOT was smart enough to lock the GEN3's SOS and Help/SPOT Assist buttons under protective flaps. Sadly, the flaps could stand to be a touch more protective—they were in my opinion, far too easy to flip open. That leaves an expensive SAR call being a little too easy to make by accident for my taste.
Bottom line
The SPOT GEN3 is a simple but expensive way to grant yourself and your loved ones peace of mind, anytime you wander off the grid.
Best Prices Today: SPOT 3 Satellite GPS Messenger - Orange