These days, keeping up with games can be a full-time job. So how do you separate the signal from the noise, the wheat from the chaff, the Temple Runs from the Temple Jumps? Allow us to help by regularly selecting a game You Should Play.
I downloaded The Battle of Polytopia on a whim. The game's bright colors and retro-style graphics drew me in—and the promise of sweet turn-based strategy and world domination was just too much to resist.
And, honestly? I can't stop playing it.
The Battle of Polytopia is everything you want in a mobile game: It's free, with in-app purchases that are not at all necessary for a fully enjoyable experience; it's easy to learn; and it's ridiculously addictive. This turn-based strategy game asks you to pick a tribe—and each tribe has its own unique look, landscape, and starting technology—and battle AI-controlled opponents for total control of the map.
If you like turn-based strategy games, you'll love The Battle of Polytopia. If you've never played turn-based strategy games, you'll probably still like The Battle of Polytopia. Heck, if you hate turn-based strategy games, I'd still urge you to give this one a try—it's fun, cute, and casual, and not the chore that some turn-based strategy games can be to learn. Here's why you need to check it out before indie developer Midjiwan realizes that its value and starts charging for it: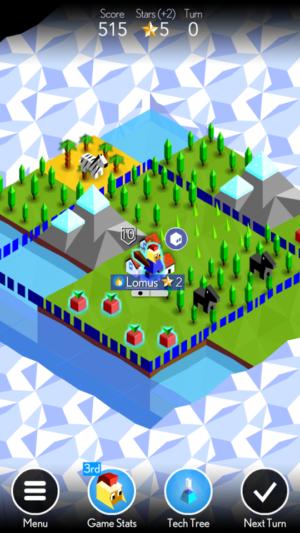 Casual turn-based strategy: If you've played Civilization, the classic world domination turn-based strategy game, you know it's a difficult genre to translate to mobile. There's just so much going on, from resource management to technology trees to defending your land from barbarians. But The Battle of Polytopia manages to take this whole complicated mess and boil it down to just the basics: A total domination game that can be played casually on your iPhone.
You begin the game, as your chosen tribe, in a randomly-selected location on an auto-generated map. Your enemies are lurking in the shadows, but most of the board (minus the 5 by 5 section that your tribe starts out occupying) is covered in polygonal white clouds. You start with one unit (a warrior, unless your tribe's strength happens to be a higher-level unit) and five stars (the game's internal currency), which you can use to start exploring the board.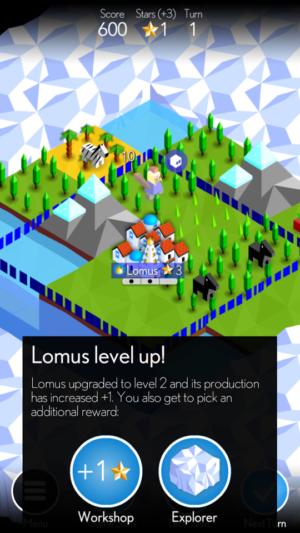 For each turn, you're allowed to do as much as you want or can with the units and currency you have. At the beginning of the game, this means you'll be able to move your first unit one or two spaces, and use your stars to purchase an additional unit in your capital city, harvest some resources (if your tribe's starting strength is a harvesting technology), or unlock an entry-level technology on your tech tree. When you've done all you can do, you'll tap the "Next turn" button in the lower right corner of the screen and wait for your enemies to take their turns. In later turns, you'll be able to do things like attack enemies and capture villages.
Tons of tribes: The Battle of Polytopia is free to play, and in-app purchases are completely optional—you'll still experience all the nuances of the game if you never spend a cent. The game starts you off with four free tribes, and an additional six can be purchased (each extra tribe costs $1, except for the Luxidoor tribe, which costs $3). You'll pay just $8 for the entire game—and it's totally worth it—but you don't have to make any purchases at all. This isn't your typical freemium game where play is limited by an in-game currency.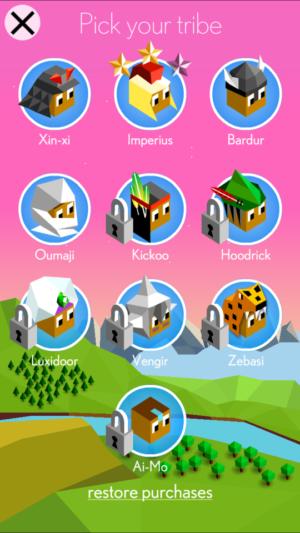 Each tribe has its own unique look, which influences the tribe's units, buildings, and starting landscape. Most of the tribes are loosely based on real cultures, but a couple are based on fictional cultures: The premium tribe Hoodrick is based on Robin Hood, while the premium tribe Vengir is based on dark fantasy blacksmiths.
Each tribe starts on a patch of its home turf—the trees, fruit, and mountains all mimic the tribe's cultural homeland. Your tribe's home turf can, in many cases, affect where you're placed on the board—some tribes always start in a corner, others are more likely to end up on islands, and the Ai-Mo tribe usually starts in a valley surrounded by mountains.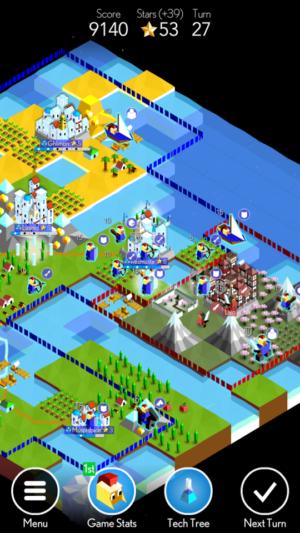 The four starting tribes are Xin-Xi (Chinese/Japanese), Imperius (Greek/Roman), Bardur (Scandinavian/Germanic), and Oumaji (Egyptian). The additional tribes include Kickoo (Amazonian), Hoodrick (Robin Hood), Luxidoor (Indian), Vengir (fantasy blacksmiths), Zebasi (Southern African), and Ai-Mo (Tibetan). Each tribe starts with one technology on the tech tree already unlocked, except for the Luxidoor, which starts with a better-equipped capital city and more money. The technology tree is identical across all tribes, but the technology you start off with definitely affects how you play.
Multiple ways to play: The Battle of Polytopia has two different play modes. The "Perfection" mode limits you to 30 turns, during which you must build the biggest, best, and most high-scoring civilization you can manage—while also staving off or even defeating the other tribes on the board. The "Domination" mode allows you unlimited turns and simply asks that you destroy the other tribes on the board (though you will get a higher "rating" if you can destroy these other tribes in as few turns as possible).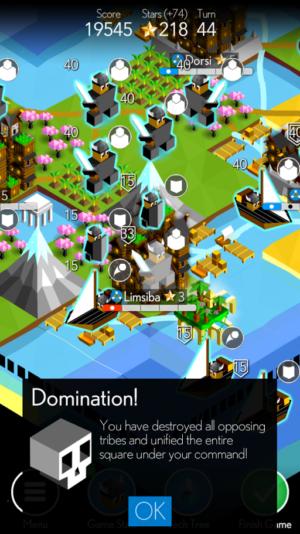 In both modes, you can pick the difficulty (easy, normal, hard, and "crazy") as well as the number of opponents you're playing against (this varies depending on how many tribes you've purchased in the app. Because you start out with four different tribe options, the maximum number of opponents you can play against in the free version of the game is three. In Perfection mode, all games are played on a map of 256 tiles; in Domination mode, map size depends on the number of opponents you're playing against (one opponent is 121 tiles, two opponents is 196 tiles, three opponents is 256 tiles, and four or more opponents is 324 tiles).
The game currently has no online multiplayer mode, but it does have a pass-and-play mode that lets you play with friends using one device. There are two pass-and-play styles—"Glory" (first to 10,000 points wins) and "Might" (first to capture all capitals wins), and you can play with up to nine friends if you've purchased all 10 tribes.
With everything this game has going on, the Battle of Polytopia is difficult to put down.