Susan writes in with a privacy concern. She texted a photo to an acquaintance, and was disturbed when that person was able to know her home address.
I have location turned on for my photos, which really comes in handy so I know where I took the pics. But I don't want to share the location with those that I text. Apple says there is not a way to privately share photos without metadata unless I turn off metadata for my use as well. They suggested maybe turning to a third-party app.
This is unfortunately correct, and it's an odd missing piece from a company that's relatively good about preserving your privacy in relation to other people and companies. It's possible that Apple views the GPS coordinates attached to images (geotagging) as something that it wants you to take the volition to either disable entirely or recognize you could be sending.
Nonetheless, it would seem reasonable to have a Messages setting that let you say, "Strip metadata" or "scrub location" when sending images.
If you want to disable this entirely, go to Settings > Privacy > Location Service > Camera and set it to Never.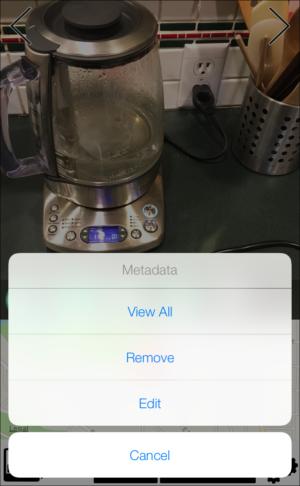 I tested round-tripping an image from macOS using iCloud Photo Library, as Photos lets you delete location information (via Image > Location > Remove Location). However, location doesn't appear to be a property that's modified when sync across devices, and the copy in Photos for iOS retained the GPS coordinates. This was true even after removing the location and cropping the image. (I confirmed this in Exify for iOS, which showed the photo had been updated after syncing but retained the GPS data.)
There are a number of iOS apps that let you manipulate a photo's EXIF metadata, which includes GPS coordinates, but I can't find one that offers that as a single purpose or affordably that doesn't come with serious drawbacks, like only being able to work on the last several photos taken.
The only one I can find that has a generally positive consensus is Photo Investigator, which requires a $3 in-app purchase to unlock the necessary feature. That might seem steep, but given it's the only seemingly reasonable option, it's a one-time fee that's justifiable.
Ask Mac 911
We've compiled a list of the questions we get asked most frequently along with answers and links to columns: read our super FAQ to see if your question is covered. If not, we're always looking for new problems to solve! Email yours to mac911@macworld.com including screen captures as appropriate. Mac 911 can't reply to—nor publish an answer to—every question, and we don't provide direct troubleshooting advice.