Nineteen years ago, Steve Jobs unveiled his simplified Mac product strategy of a box divided into four squares: Power Mac, PowerBook, iMac, and a question mark that would eventually be filled in by the iBook. These days Apple can't fit its key product lines, let alone individual products, in four squares. But there are strong signs that Apple is in the midst of executing a strategy to simplify its product lines and, ultimately, make it easier for consumers to understand what products Apple is offering.
The Mac evolution
For a long time, Apple has split the Mac laptop product line in two, with the non-pro laptop (iBook, MacBook) separate from the pro model (PowerBook, MacBook Pro). The introduction of the MacBook Air confused things quite a bit, given that it wasn't powerful enough to be a pro-level laptop, but it was so expensive that it couldn't reasonably be considered a mid-range model.
These days, the MacBook Air is on the way out. It seems to still exist mostly because it's the cheapest of all Mac laptops, and by all accounts still sells incredibly well. But it's clear that Apple's ultimate goal is to drop the MacBook Air and leave the Mac laptop line with two names: MacBook and MacBook Pro.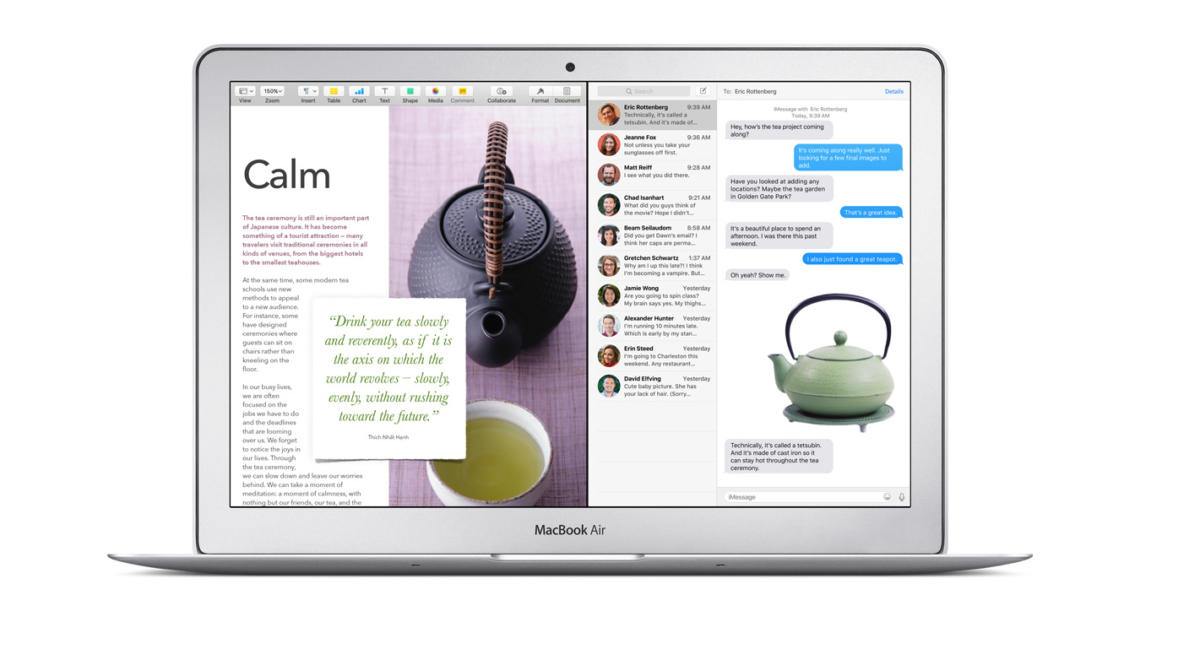 As was the case before the Air muddied the waters, each product name can encompass a variety of different products. There's currently only one MacBook, but there are three MacBook Pro models—two with a Touch Bar and one without. And we can identify traits that define a MacBook Pro, from price to more powerful processors to Thunderbolt 3 ports.
As has been Apple's tradition basically forever on the Mac side, Apple really doesn't want to sell last year's model of Mac concurrently with its latest model. The slower 2015 MacBook isn't being sold alongside the current 2016 model, for example. Sometimes, an older generation is kept around for specific and quirky reasons—witness not just the MacBook Air, but the old-style 13- and 15-inch MacBook Pros, which Apple still sells, but only if you scroll way down Apple's webpages. These are side effects of a transition to a new product line; wait long enough and they will disappear.
No more Air
Apple's announcements from last week suggest that the company is beginning to apply the same product-line approach to the iPad that it's been applying to its laptops for ages. The Air name lingers in the MacBook line, but it's been eradicated from the iPad, replaced by a new iPad that's based on the iPad Air's body but has somewhat upgraded internals. With this move, Apple has opened a clearer space between the iPad and the iPad Pro, in terms of both price and features. It's very much meant to parallel the MacBook and MacBook Pro.
And, after several years of creating lower-priced products by taking last year's cutting-edge model and selling it at a discount, Apple's removed throwback models from the iPad price list entirely. People who want to buy a new iPad are no longer force to choose between the high-powered iPad Pro and an array of rapidly aging models from previous years; now they can choose between the iPad Pro and a more affordable iPad. It's simpler and clearer.
I would expect that when Apple does decide to update the iPad Pro, it will do so in a way that irons out the differences between the current 9.7- and 12.9-inch models. They'll share the same processors and screen technologies and charging ports and the product line will make even more sense. (And, like laptops, the models will be differentiated more by screen size than by anything else.)
Apple Phone?
The big question is, does this move to simplify the naming of the MacBook and iPad lines suggest that Apple will do the same for the iPhone? Apple has already taken a step in this direction by releasing the iPhone SE—which, like the new iPad, combines older tech in an affordable "new" product with a simple name.
Rumors abound that this fall, in addition to updating the iPhone 7, Apple may also release a more dramatic new phone design. If you think about those rumors in the context of Apple's current naming schemes, it's at least plausible that Apple might choose to name that dramatic new iPhone—full of cutting-edge technology and a high price tag—the iPhone Pro.
Then the update to the iPhone 7 could simply be called the iPhone 7S, or (if Apple really wanted to get simple), just the new iPhone (2017). Apple could even drop the Plus suffix from its larger phones, if it wanted. Instead, it could market the iPhone as coming in 5.5- and 4.7-inch models.
Will it happen? As I tell everyone who comes to me with a theory that it's only a matter of time before the iPhone becomes Apple Phone and the iMac becomes Apple Mac as a part of a grand renaming scheme, sometimes the power and value of an existing brand is enough to override a company's desire for consistency. The iPhone is Apple's most important product by a country mile. It's become wildly successful, despite the fact that it's a little confusing that Apple sells models from multiple years at different price points. The addition of an iPhone Plus variant didn't confuse people—it boosted sales.
So, it's entirely possible that Apple will tread much more lightly when it comes to simplifying iPhone product naming. But I have to admit that the currently circulating iPhone rumors fit nicely with the idea of naming those products iPhone and iPhone Pro. They fit, quite nicely, in the modern version of Steve Jobs's box.