Among the many things I find frustrating about the Apple TV experience—and yes, there are more than a few—the Siri Remote is near the top of the list. The small slab of metal, glass, and plastic was billed as one of the marquee features of the new set-top box when it debuted back in fall 2015, but my experience with it has been largely underwhelming.
I was, at the time of its introduction, hopeful about the Siri Remote's potential. Apple went so far as to call it "the only remote you'll need."
After using it—or mostly not using it—for the last two years, I feel pretty confident in saying that it most emphatically is not.
Function falls short of form
The Siri Remote is an example of Apple's idealistic design. Were the Apple TV the only device connected to my TV, the remote might very well be fine. I would still have a bone to pick with its annoyingly symmetrical design, the fact that it's small and easily misplaced, and the annoyance of trackpad scrolling, but there are aspects I wouldn't find wholly objectionable.
Unfortunately, the Apple TV doesn't exist in a vacuum. I've easily used up all four HDMI ports on my HDTV, and the Xbox One and the Fire TV get a fair share of attention. Since the Siri Remote doesn't accommodate either, and their remotes don't work with the Apple TV, I'm already in trouble.
So even though my Logitech Harmony universal remote may not be quite as attractive as the Siri Remote, it wins out on functions. It's comfortable to hold, and I can easily tell which way is up without looking at it. Mostly, it works with all of my connected devices, which is the biggest utility win of all.
Talking to the TV
The Siri Remote, however, does have some features I miss on my Harmony remote: the clicks on the edge of the trackpad to jump back or forward 10 seconds, for example. Scrubbing on the trackpad is also a lot easier than the fast-forward and rewind buttons used on other set top boxes, which are largely unchanged from what we used for VHS tapes.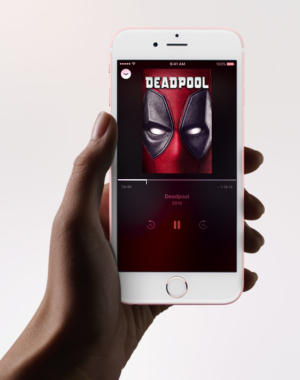 I do find the Siri Remote preferable to using my iPhone as a remote, though obviously the Apple TV Remote app on iOS makes text entry far more pleasant and efficient than picking out letters one-by-one from an onscreen menu.
Then there's Siri itself.
The other week I was watching a Netflix series and found myself sick of the opening credits by episode two. So I picked up the Siri Remote and was about to scrub forward when I remembered Siri was supposed to be able to handle this. "Skip forward one minute" I said, and sure enough, it jumped to almost the exact end of the credits. (How great would it be if you could just ask it to skip the opening credits?)
But as much as I like the potential of Siri on the Apple TV, I would prefer it if it were built not into the remote but into the box itself. That way I wouldn't have to cast around for the remote when I want to use Siri, and it would be easier to replace the remote with a universal option for all the other times when I don't want to use Siri.
This would also potentially save on some of the cost of the Apple TV. Right now, replacing a Siri Remote costs $79—more than half of the cost of the entire box. Perhaps it would make more sense to provide the Siri Remote as an upgrade option, and offer a cheaper remote for a more entry-level box—maybe even the model that shipped with the previous Apple TV.
A "Hey Siri" option for the Apple TV would be quite welcome and, I believe, entirely doable. There are challenges, but if the Amazon Echo, Google Home, and even iPhone can listen for "Hey Siri" as they're playing back audio, it seems to me an Apple TV—with the right microphone technology—could handle this as well.
As far as false positives go, Apple's already made some movement in this direction with the voice-training it uses on the iPhone. Admittedly, it would have to be slightly more complex on something like a set-top box, which will get used by more than one person in a household, but I would be surprised if the company isn't investigating this already.
I don't think broadening Siri's utility or replacing the remote will fix all of what ails the Apple TV, but I do think that they're both critical pieces of how we interact with our TVs, which is different from how we interact with our phones, tablets, and computers. There's no one-fits-all design approach here, and the Apple TV should get just as much thought as Apple's other platforms.