When Apple released iTunes 12.6 a couple of weeks ago, some new features were added to the app, which I discussed in this column. But there were also some minor changes, and I've been getting a lot of email asking about some of the smaller tweaks. In this week's column, I cover a number of questions about the quirks of iTunes 12.6.
Can I haz artwork?
Q: I'm pretty sure I used to be able to right-click on an album in iTunes and choose Get Album Artwork to download artwork from the iTunes Store. Now the only place I find that option is in the File menu, and that gets artwork for the entire library. What happened?
The Get Album Artwork menu item is useful if you've ripped a CD and haven't told iTunes to automatically download artwork. Or if you've downloaded music from somewhere and want to fetch artwork for it.
In iTunes 12.6, that option is available, but it's in different locations depending on how you're viewing your music.
If you're in Artists, Genres, or Composers view, click the … button in an album's header to choose Get Album Artwork.
If you're in Albums view, right-click an album's artwork or the musical note that displays when there is no artwork to choose that menu item.
If you're in Songs view, and you have the artwork column visible, you can choose Get Album Artwork by right-clicking the artwork area.
As you say, the File > Library > Get Album Artwork menu item tries to get artwork for the entire library. This may replace your existing artwork, so I don't recommend that you use it.
Where's my visualizer?
Q: I noticed that when I updated to iTunes 12.6 most of my visualizers disappeared. Is there a fix for this, or has Apple killed off third-party visualizers?
I hadn't realized how many people use the iTunes visualizer until iTunes 12.6 was released. I've gotten lots of emails about third-party visualizes no longer working, or even showing up in the View > Visualizer menu. (If you're not familiar with the iTunes visualizer, read this article.)
A report from one visualizer developer says that iTunes no longer accesses third-party visualizers. This suggests that Apple is shutting the door on these tools. This could be for security reasons; similar to the way apps are sandboxed—not allowed to access any resources outside of the apps themselves—perhaps iTunes is locking down its access to third-party tools.
How do I clear Up Next?
Q: I like using Up Next to queue up my music, but sometimes, when I've started playing an album, I want to clear the queue and add something else. There used to be a Clear button at the top of the list, but it's gone. How do I clear the queue now?
Funny how Apple, long known for intuitive interfaces, can break something as simple as this. It makes sense for the Clear button to be at the top of the queue, especially if you have a lot of music in your Up Next list. But Apple's design team thought it might be nicer to put it at the bottom of the Up Next queue. This is fine if you only have a few tracks in Up Next, but if you have a long list, you have to scroll way down to see the Clear button; which isn't even a button any more.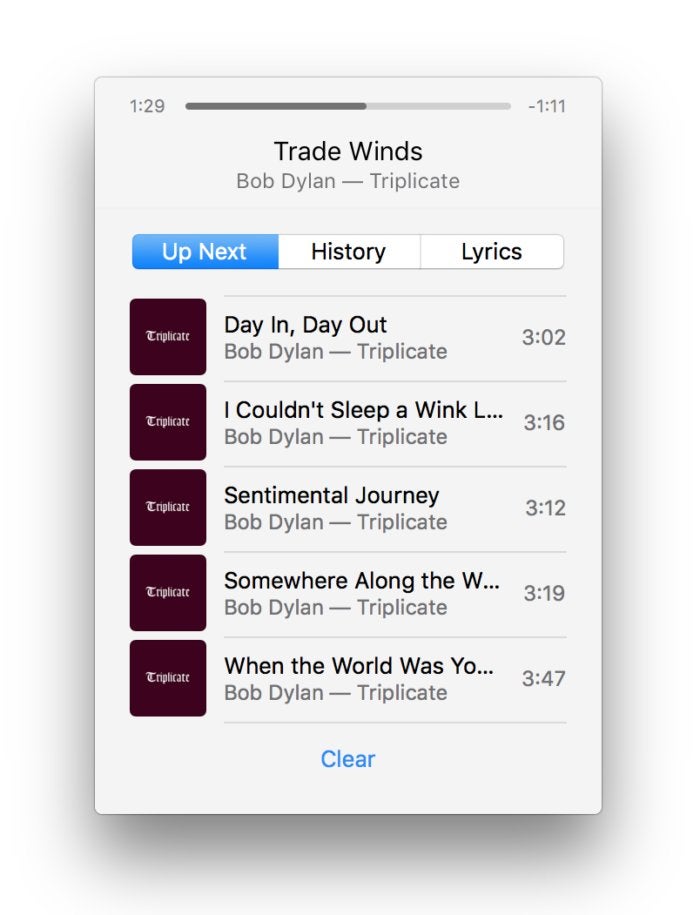 Up Next displays up to 20 tracks, and if you have a Mac with a large display, you can see them all if you click the Up Next button in the iTunes toolbar. But on a smaller Mac, such as a laptop, or if you're using the MiniPlayer near the bottom of your display, you won't see it unless you scroll.
Where'd my seasons go?
Q: I buy a lot of TV series from the iTunes Store store. But with the latest version of iTunes, I can only see one season at a time. Is there any way I can see all the episodes of all the seasons of a show?
I never really liked the way iTunes showed all the seasons and episodes of a TV series when you viewed it in your iTunes library. Apple has changed the display, making it similar to the way Netflix lets you select a season to view its episodes.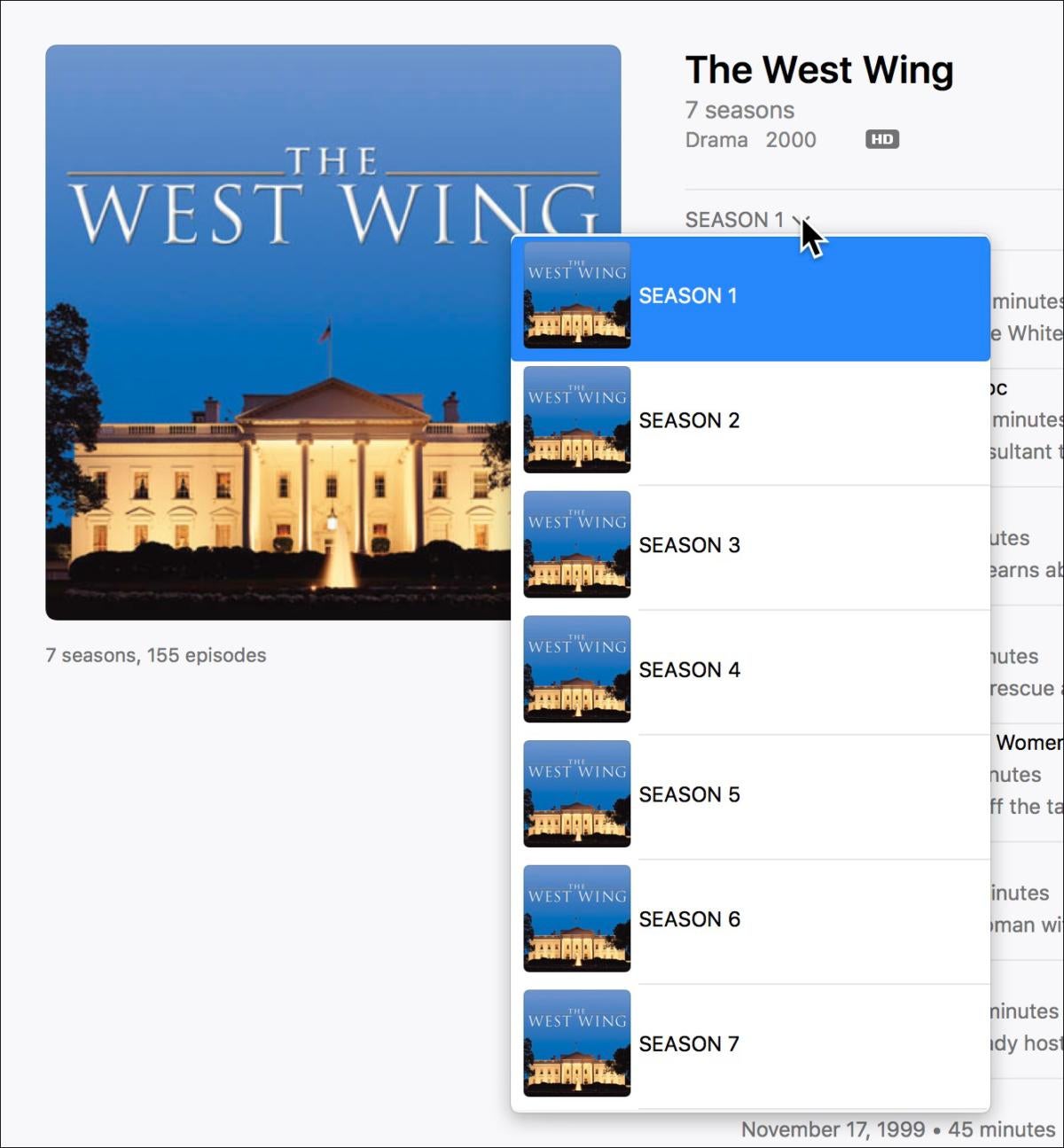 If, however, you do want to view all your episodes of a show, say to find a specific episode, you can do so by creating a smart playlist with the following conditions:
Match TV Shows for the following rules
Show is show name
Choose View > Show View Options, and, from the View As menu, choose Playlist, TV Show List, or Episode List.
Have questions of your own for the iTunes Guy? Send them along for his consideration.