Channels DVR with Channels apps
Channels began as an Apple TV app that let you connect to an HDHomeRun tuner and watch live television. That was a nice missing piece that let me continue to use my Apple TV even when I wanted to watch a live program, rather than switching to my television set's UPnP interface or another approach. The company that makes it, Fancy Bits, added an iOS version. After initial releases, these apps added short buffers, so you could pause.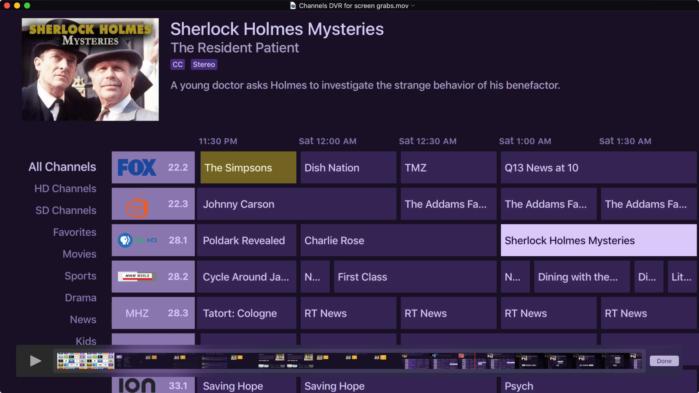 Now they're in testing with Channels DVR, server software that can run on a Mac or a surprisingly large number of other platforms. The macOS version works through a web browser and offers access to all the features, but that's just for convenience. The most natural place to use it is via the tvOS app. (Support within the iOS app is coming.)
Using a standard programming grid, you can select programs and then opt to record. For shows, a "pass" option allows recording all episodes or new episodes, and keeping all of them or selectively pruning. While there's a search feature, at this stage of the beta, it only matches against titles. The descriptions are short compared to Plex, and only include one or two names in the cast of or of guests on a show.
The only problem is an $8-a-month subscription ($96 annually) that may be pricing itself too steeply compared to Plex, though they have a very different approach. Channels deal for that price is all its apps, programming guide information, and an ecosystem that allows remote access to stored programs and plan recordings remotely.
It's the best replacement for eyeTV, however, offering superior versions of similar features. If you want to intermingle watching live television and recording often based on scanning or searching a program guide, it looks like Channels DVR and the Channels apps will serve you better than Plex. (You can also buy the Channels apps without a subscription for just watching live TV.)
SiliconDust HDHomeRun DVR
It shouldn't be surprising that the makers of the hardware are also working on a DVR option. The company is offering free and paid access to its beta program, but the free flavor only shows a few hours of listings and doesn't allow recording. The paid version is $60 a year, and includes a TV Guide subscription with two weeks of program listings. The TV Guide subscription countdown doesn't start until it releases its full production version, the company notes on its website, after which renewals are $35 a year.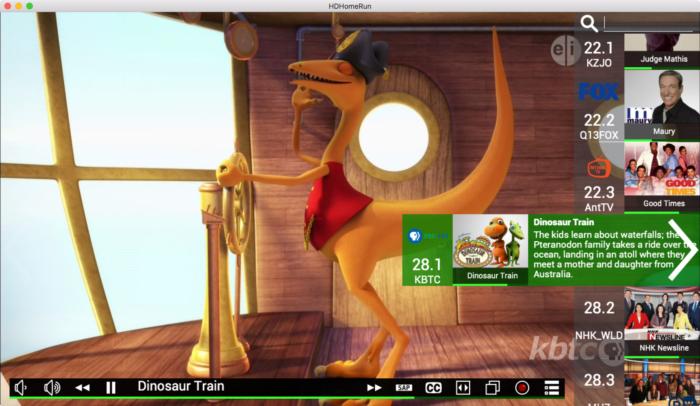 SiliconDust wanted to pack everything into the same interface. Live TV shows in the main view, and clicking or pressing Escape brings up controls for the current broadcast and a list of channels at right with the current program name and a bar that shows the portion of a show currently complete. Click a menu button, and you're dropped into tabs for seeing recorded programs, viewing a guide, or looking at upcoming schedules.
The guide is Plex-like, divided into a chronological view, TV shows, movies, and sports, and using a program or box-art image for each item. Search appears to cover all associated program details, which are thin like Channels.
The interace is not very Mac like nor entirely intuitive, but it's still in development. There's no remote access for reaching programs via the DVR, and you can't choose where to store recordings. (They're oddly dropped into the top level of the Users folder in an HDHomeRun folder.) There's also no SiliconDust iOS or Apple TV app either for live television or interacting with the DVR.
SiliconDust says the software will work with four of its tuner models past and present—Connect, Extend, Expand, and Prime—and the DVR software is available for Mac, Windows 10, and some network-attached storage (NAS) systems, with playback options via its apps in macOS, Windows 10, and Android.
Note: When you purchase something after clicking links in our articles, we may earn a small commission. Read our affiliate link policy for more details.