These days, keeping up with games can be a full-time job. So how do you separate the signal from the noise, the wheat from the chaff, the Temple Runs from the Temple Jumps? Allow us to help by regularly selecting a game You Should Play.
I love Yo-Kai Watch, so naturally I had to download Yo-Kai Watch Wibble Wobble, a casual match-3 style game with bright, adorable graphics, an energetic soundtrack, and plenty of levels to keep you occupied.
If you aren't familiar with Yo-Kai Watch, it's a Japanese character-based franchise similar to Pokémon. Instead of collecting Pokémon ("Pocket Monsters"), the protagonist in Yo-Kai Watch befriends "yokai," which is a Japanese term for spirits, monsters, and demons in Japanese folklore. Yo-Kai Watch Wibble Wobble uses the characters from the franchise, including my favorite character, the popular two-tailed cat spirit Jibanyan. (If you'd rather hunt Pokémon, check out our guide to Pokémon Go.)
Yo-Kai Watch Wibble Wobble is a must-play for Yo-Kai Watch fans, but familiarity with the franchise definitely isn't a requirement. This matching game features a unique twist that helps it stand out against other similar titles: The items you're matching are constantly moving ("wibble-wobbling," you might say), so it's a bit more challenging than the typical Candy Crush.
Yo-Kai Watch Wibble Wobble is a freemium game with a liberal in-game currency policy—we've gone into more detail about how Wibble Wobble's freemium model helps/hurts the game in our other gaming column, Freemium Field Test. If freemium doesn't tempt (or taunt) you, here are a few other reasons to add this game to your repertoire:
A different take on the genre: Yo-Kai Watch Wibble Wobble is a matching game with gameplay similar to Best Fiends. Each level pits you against an enemy—a disgruntled yokai—and your goal is to defeat them with attacks from five yokai that you've befriended.
But the yokai you've befriended aren't regular yokai: They've been turned into "wib wobs," or round, jelly-like creatures that bounce around the screen. To attack the enemy, you'll need to pop wib wobs by tapping them with your finger. The bigger the wib wob, the more powerful the attack—and you can make wib wobs bigger by linking them together (this is the matching element of the game) before you pop them.
The other matching games you've played probably have static pieces, which makes lining up a long match easy to do. But Yo-Kai Watch Wibble Wobble's extra physics element has all the pieces bouncing and wibble-wobbling around the board, so you'll need a mix of speed and dexterity to beat your enemies. Oh, and did I mention that your enemies are also attacking you while you're trying to line up wib wobs and pop them?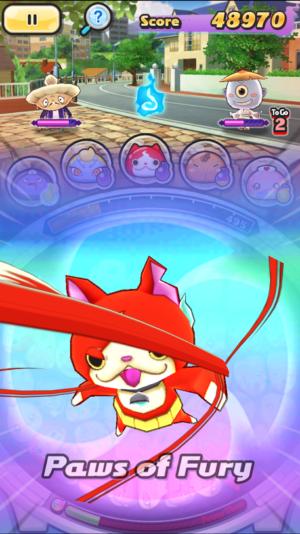 There's an element of strategy to Yo-Kai Watch Wibble Wobble as well: Each of the yokai you befriend has a special power, called a "Soultimate move," which can help you in battle. Soultimate moves are available as you pop that yokai's wib wobs, and not all Soultimate moves are attacks—many are defensive; some will restore your health meter, while others will increase your team's defense.
It'll keep you busy: This game may look like a kid's cartoon—probably because it's based on a kid's cartoon—but you won't get bored easily. Yo-Kai Watch Wibble Wobble has plenty of different elements to keep you busy: The game has more than 350 levels spread across 15 different worlds, plus more than 20 different "hidden" maps that can only be accessed if you meet specific criteria when beating certain levels. Like a lot of other freemium titles, Yo-Kai Watch Wibble Wobble also hosts special events throughout the year, so if you play regularly you'll be able to access unique maps and win limited-edition prizes and characters.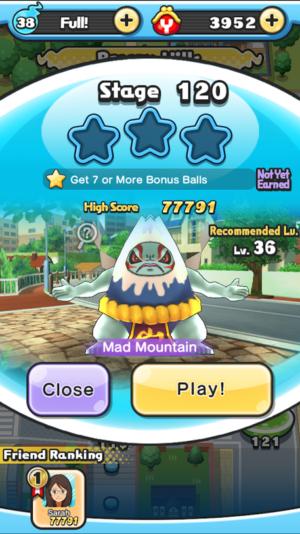 The main goal of each level is to beat the enemy by matching and popping wib wobs quickly. Each level also has three stars that can be earned on top of simply passing the level. Before each level, you can tap on a star to see the requirement that must be met for you to earn that star—sometimes they're easy to obtain (e.g. earn a specific score), but often they'll require some strategizing. For example, some stars will require you add a specific yokai to your team, or require that you pop less than 80 wib wobs total.
When you pass a level, you may be able to befriend the yokai that you just defeated—but not always. In many cases you'll have to bribe the enemy yokai with items, such as chocolate or sushi, and even then there's no guarantee your bribes will stick. The secondary goal of the game is to "collect 'em all" (or, well, befriend them all), so you may spend a lot of time trying to befriend tricky yokai. The yokai you befriend also have two separate leveling systems—a base leveling system, which increases as you play with that yokai on your team, and a Soultimate move leveling system, which increases as you befriend the same yokai over and over again.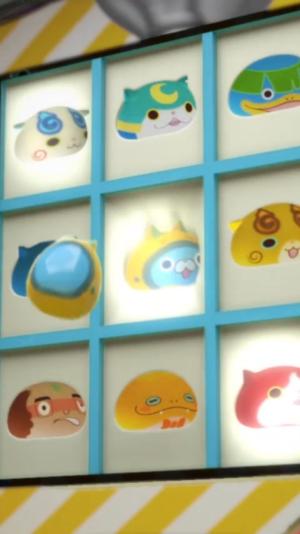 It's super fun: This game is bright, adorable, and ridiculously fun. For all of the movement in the wib wobs, the graphics are extremely smooth and even feature 3D interludes when a yokai performs its Soultimate move. The soundtrack is upbeat and peppy—basically everything is energizing.
Yo-Kai Watch is already an animated series, but the yokai are made even more cartoonish and cute as they are transformed into wib wobs. The opening sequence of the game features a factory squeezing little wib wobs onto a conveyor belt before slinging them into a printer for color.
In short, Yo-Kai Watch Wibble Wobble will definitely brighten your mood with its saturated graphics and surprisingly intense, competitive gameplay. If competition is your thing, the game also features a leaderboard and a weekly competition—the Score Attack—where you race against the clock to do as much damage as possible to a special yokai (which changes weekly), and are awarded prizes based on your leaderboard status.
Developer: Level-5 Platform: iOS (iPhone and iPad) Price: Free