At a Glance
Expert's Rating
Pros
Quick, fun multiplayer gameplay, good assortment of games to choose from
Each player can use their smartphone or tablet as a controller
Cons
Network connection to jackbox.tv website can be shaky
Games occasionally drop out and need to be restarted
Our Verdict
Best Prices Today: Jackbox Party Pack 3
In 1995, You Don't Know Jack set a new standard for what a multiplayer trivia game could be on a computer. At the dawn of multimedia, players sat around a Mac, listen to trivia question presented by a snarky-yet-appealing announcer, and then wildly stab at their respective keys on the keyboard to submit their answers, generally while laughing out loud and insulting each other at the same time.
This tradition lives on in Jackbox Games' Jackbox Party Pack 3 ($25, available in the App Store), wherein up to eight players can compete against each other in five assorted games (Quiplash 2, Guesspionage, Trivia Murder Party, Tee K.O., and Fakin' It). To start, the player launches the game on their Mac while each player (host included) logs into the jackbox.tv website via their smartphone or tablet, chooses a user name, provides the four-character room code ID assigned by the game, and joins the round.
All of this is pulled off with the same cool bells, whistles, and snark you'd expect from a You Don't Know Jack game. Slick graphics, great music and sound, and playful commentary from the host pull you in as you answer trivia questions, face punishments for answering questions incorrectly, draw pictures on your device, try to guess which player might be lying about part of their lives, and ponder terrible quips and slogans to put on t-shirts in order to outscore your friends.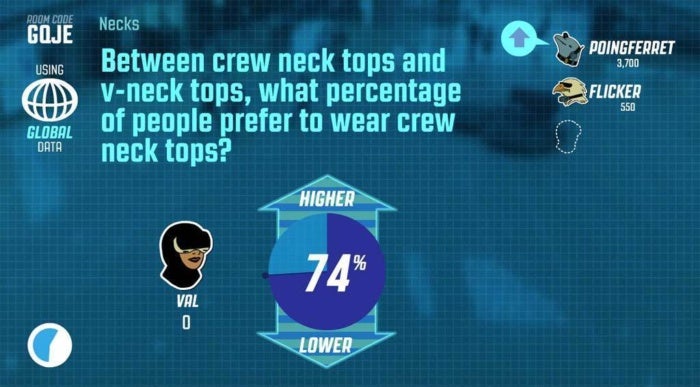 What makes The Jackbox Party Pack 3 unique is that it's moved beyond several friends sharing a keyboard and the close quarters that used to accompany this. Instead, everyone brings their own controller to the game via their device, which allows players to have some elbow room and relax a bit. It's easy enough to hook the Mac that's hosting the game up to a projector, let people get comfortable, have them log in, choose a game to play and let loose.
Even under circumstances where a Wi-Fi network for your smartphone or tablet proved unreliable, it was easy to log into the jackbox.tv website through a cellular connection and have a good, responsive experience with the game. Granted, there were a few times during testing where the network connection to the website cut out prematurely, but it was easy enough to stop the game round, let everyone log in, then start the game again.
The Jackbox Party Pack 3 isn't perfect in its communication with its corresponding website and there are a few kinks to sort out towards this end, but the game is still fun, engaging and proves that it can break away from the keyboard and give everyone a means of playing through their preferred device.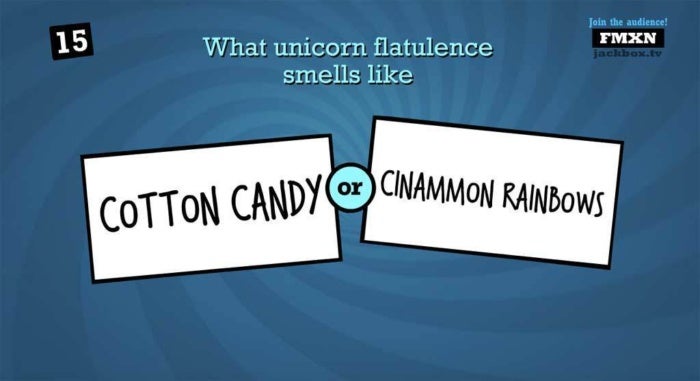 The games themselves prove to be excellent party fare, although Trivia Murder Party and Tee K.O. seemed to be the crowd favorites for their use of dark humor and having to try to draw a winning t-shirt design on their device using only their fingers within a 30 second time limit.
Bottom line
At a reasonable $25, The Jackbox Party Pack 3 is worth your consideration as a party game that can run on any Mac running OS X 10.6 or later. And, once your friends have arrived and the snacks have been served, it's time to show them who the trivia master truly is.
Best Prices Today: Jackbox Party Pack 3