At a Glance
Expert's Rating
Pros
Can be recharged via AC power, solar panels or a 12V connection.
Large battery reserve can recharge multiple laptops, phone, and tablets, or power small 12V appliances
Cons
Heavy and slow to recharge.
Our Verdict
This portable power station is rugged, reliable, and well worth the money.
Goal Zero specializes in portable batteries, totable solar panels and 12-volt lighting hardware. Last March, while preparing to live full-time in our 35-foot motorhome, I picked up one of the company's Yeti 400 Portable Power Stations ($460) and a pair of Nomad 20 Solar Panels ($200 each). After employing them on a regular basis for over a year, I'm ready to share my thoughts on whether or not the Yeti 400 is worth its asking price.
The Yeti 400 Portable Power Station is designed to be a one-stop portable power solution. Given its compact size, 10.25 by 8 by 8 inches, you'll be surprised to find that the Yeti 400 weighs close to 30 pounds. Much of this weight can be attributed to its 396Wh ATM Lead Acid Battery and Pure Sine Wave inverter—but its tough overbuilt case gets some of the blame too.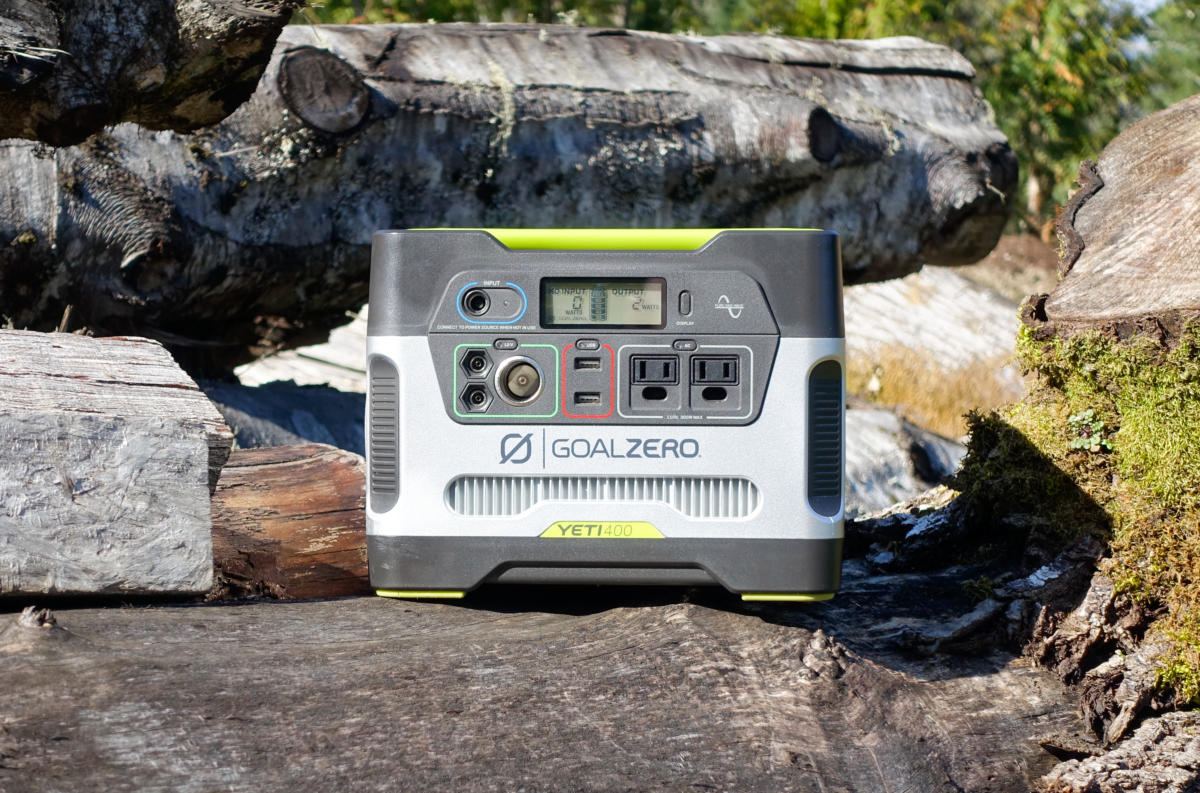 The front panel of the Yeti 400 is where the nerd magic happens. An LED display indicates the battery's charge level, how many watts of power are flowing in or out of the battery, and what's currently drawing power. You'll find all of the Yeti 400's connection ports here too. There's an input to charge the Yeti 400 using solar panels, its included AC adapter, a 12-volt adapter like the one you'll find in your car, or via Goal Zero solar panels like the Nomad 20. And there's outputs galore: a collection of 12-volt ports, two ports for connecting a variety of laptops, a pair of USB ports, and two grounded AC ports—everything you'll need to power your gear.
The Yeti 400 is equipped with a power management system so you can't overcharge it. And when you're using it, it'll stop the flow of power before the battery's reserves are depleted, to keep from damaging the battery.
Why buy one?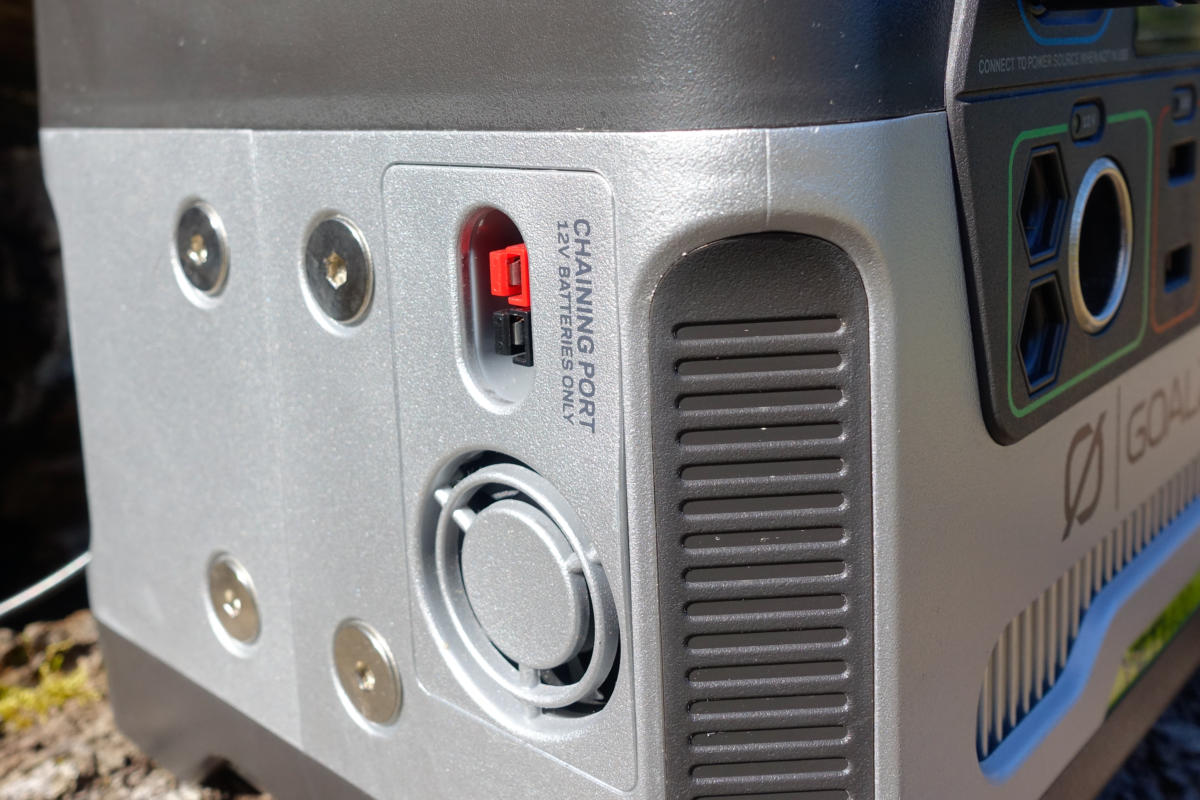 If you're hardcore into car camping and want to get away from it all—provided "all" doesn't include Bluetooth speakers, GPS hardware, laptops, or other modern tech that upgrades your time in the great outdoors from camping to glamping—then you'll likely dig the Goal Zero Yeti 400. And if you live in a region where Mother Nature habitually knocks the power out for long periods of time, a Yeti 400 is a great extra to include in your home's emergency kit.
It can keep your smartphones and tablets charged up for days to keep the lines of communication open, juice up an emergency radio or power 12-volt hardware like a Fantastic Fan or an electric kettle to make waiting for the electricity to come back on more comfortable. And no matter whether you're camping or waiting out a storm, the Yeti 400 can light up your life: You can chain up to eight of Goal Zero's 350 Lumen Light-A-Life LED Lights to it, making it possible to illuminate a campsite or a kitchen for hours at a time.
One of the first hurdles I had to overcome when my partner and I started living on the road full-time was figuring out how to power all of the hardware I use for work. When our motor home is connected to an outside power source, our electrical outlets work just like the ones in a regular house. Off the grid, we can rely on our coach batteries to power our fridge, lights, and water pump. But for the time being, the coach batteries aren't tied into an inverter, so they won't send power to our electrical outlets. For that, we have to crank on a gas generator.
The generator will charge ourcoach batteries and power everything in the RV. That's great! But it's noisy and produces a lot of fumes. That sucks. Eventually, we'll be able to afford to install an inverter to tie our coach batteries to our AC system and a solar array on our roof to keep everything charged and ready to use—but that's months and thousands of dollars down the road. In the meantime, the Yeti 400 has helped me to keep my computer, iPad Pro, iPhone, and other gear powered up when no AC power is otherwise available.
How well does it work?
Setting up the Yeti 400 is easy. Plug it into the power source of your choice and charge it up. Done. It's possible to draw power from its batteries while it's charging, which is nice. But doing so will slow the charging process down. You don't want that, if you can avoid it. This is a big battery and it takes a long time to top it off.
Over the past year I've found that the average charge time for my Yeti 400 is just under five hours using its AC adapter. When the weather's good, chaining a pair of Nomad 20 solar panels together will charge the Yeti 400 in about 20 hours. With its battery topped off, I can recharge my 12-inch MacBook with Retina Display close four times, recharge my iPhone and 9.7-inch iPad Pro upwards of 10 times each, or even power my 27-inch Thunderbolt display while I watch movies and recharge my laptop with its power adapter for just shy of three hours.
Outside of Apple hardware, I've used the Yeti 400 to cook a roast in a slow cooker overnight, light up my campsite while grilling or setting up camp in the dark, and recharge smaller battery packs to use on a day away from the RV.
Frustrations and limitations
The Yeti 400 is just large enough that, sooner or later, unless you have a garage or closet to store it in, it's going to get in your way. Mine lives on the floor under my desk, and I'm constantly banging my toes on it. I'd store it on a shelf, but it's so heavy that I'm afraid it could damage my motorhome.
I'm also not crazy about the limited number of things it can charge. The Yeti 400's pair of grounded AC outlets lull you into thinking that the power station can provide enough voltage to run anything you can plug into it. But it can't. Don't expect to power any high-powered hardware like hair dryers, dehumidifiers, space heaters, or household refrigerators. Keurig machines like the Oxx CoffeeBoxx? Forget it.
This doesn't mean that the Yeti 400 is a lousy investment—far from it. So long as you understand its limitations, it can be a valuable addition to a campsite, cottage, RV, or emergency kit. Should you want to power larger appliances, consider looking into a larger Goal Zero power station, like the Yeti 1250 Portable Power Station. Finally, like most batteries, the Yeti 400 will lose power over time. To keep it powered up and ready to use, Goal Zero recommends either leaving it plugged in to charge constantly, or charging it once every three to six months. As a forgetful sort, I find the latter option to be less than ideal.
Bottom line
While expensive, for anyone who prefers that their time in the wilderness come with some of the comforts of home or worry over blackouts in the face of a natural disaster, the reliable electricity that the Goal Zero Yeti 400 Portable Power Station provides is well worth the price.