At a Glance
Expert's Rating
Pros
Sophisticated tools for editing photos
Non-destructive method of storing edits requires no central library
The raw develop profiles are good, and you can add other camera-specific profiles manually
Cons
Doesn't incorporate layers or other more advanced tools that you'd turn to something like Photoshop for
Brief delay when opening images as editing metadata loads
Our Verdict
Best Prices Today: Picktorial 3.0
Apple has never been the biggest player in photo editing, but when it chose to discontinue Aperture and throw its efforts behind Photos for Mac, many developers saw an opportunity to jump into the field. One of those, Picktorial 3.0 ($40 introductory price, $69.99 SRP; available on the App Store) is a Mac-only image editor built for photography that takes a fresh approach to how photos are adjusted and managed.
Editing and retouching
Picktorial tries to be as minimal as it can be while still providing the tools required of a modern photo editor. That includes the adjustments you would expect for adjusting tone and color, from white balance to clarity to curves to saturation. The application has its own raw processing engine to work with raw-formatted image files; it can also load DCP color files, such as those found in Adobe Camera Raw and for specific camera models. A host of presets also deliver pre-made looks.
However, the Retouch tools are where you're able to dig into the most interesting edits. They're geared toward actions: adjusting tones, patching blemishes or dust spots, smoothing areas like skin, removing noise, or adding blur with the Defocus tool that simulates the effect generated by a lens's aperture setting.
Each type of retouching effect is applied as a mask using a brush, linear gradient, or radial gradient, so you can work on specific sections instead of across the entire image. I found that approach a little confusing at first, since in order to sharpen an entire image, for instance, you have to apply a mask to the entire image using the Sharpen controls.
Picktorial doesn't offer layers, as found in many other applications, but each Retouch tool can have multiple edit points that have their own settings.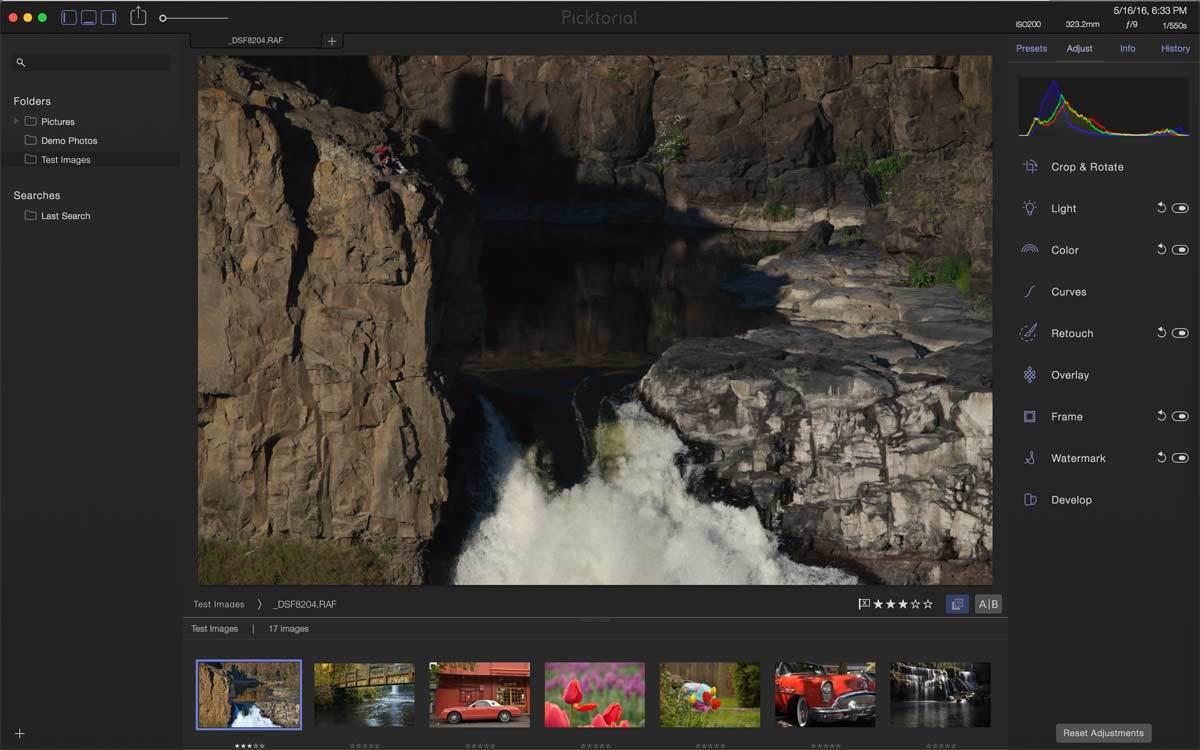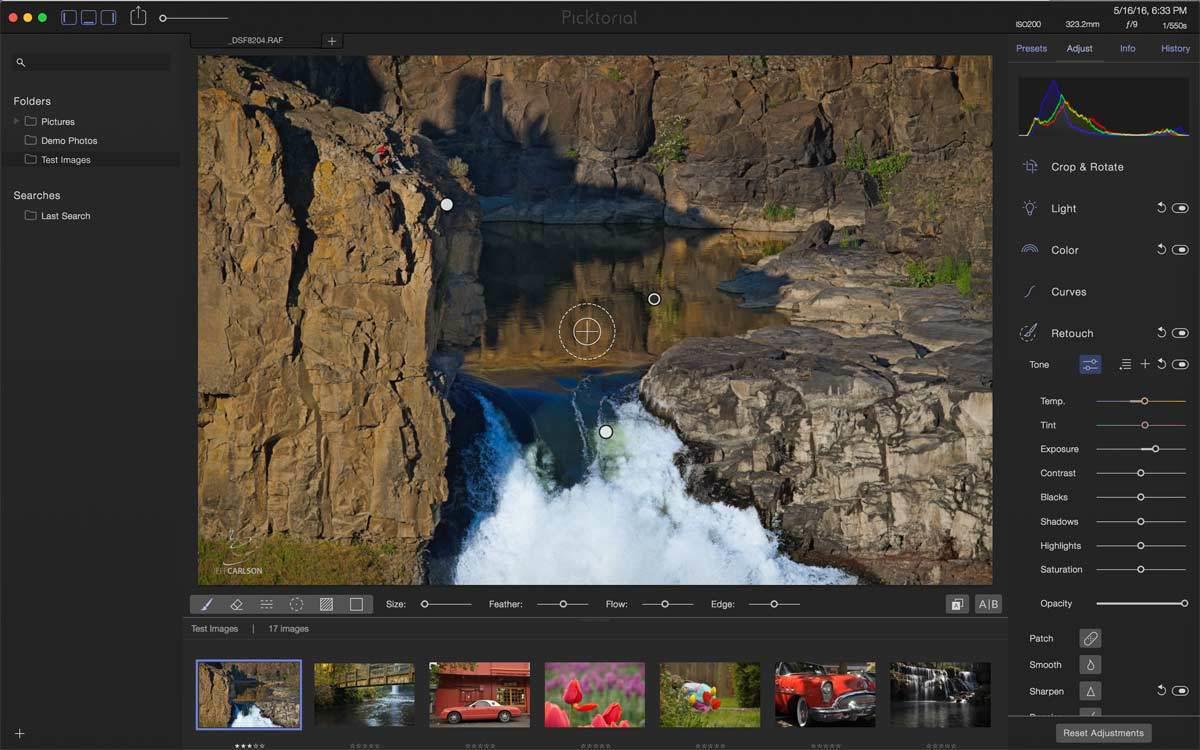 Within those Retouch tools is a surprising degree of edibility. Clicking the Customize Tools button reveals more controls than are immediately available.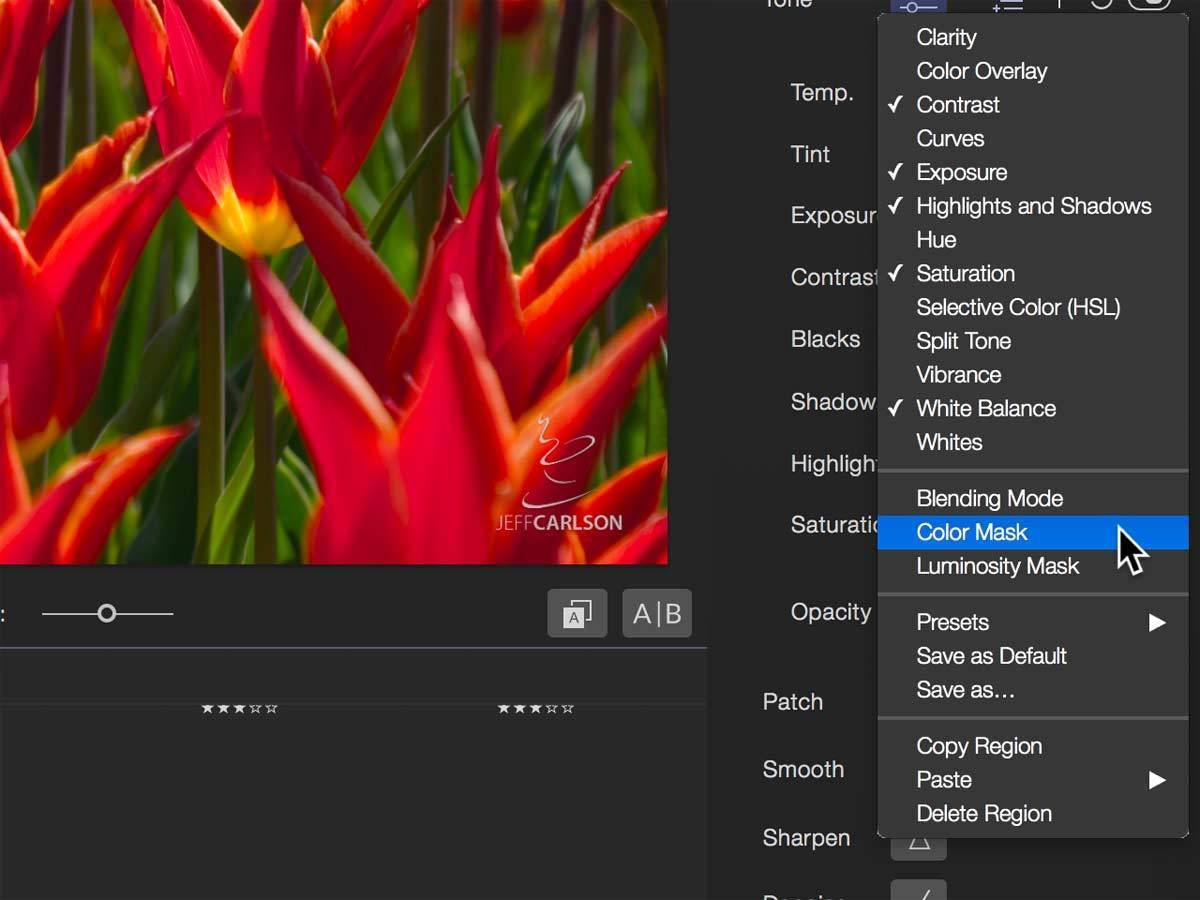 That includes options such as Clarity and Vibrance, but it also reveals selection tools like Color Mask, which applies the adjustments only to a range of colors. You can also adjust individual hue, saturation, and luminance values for each selected area.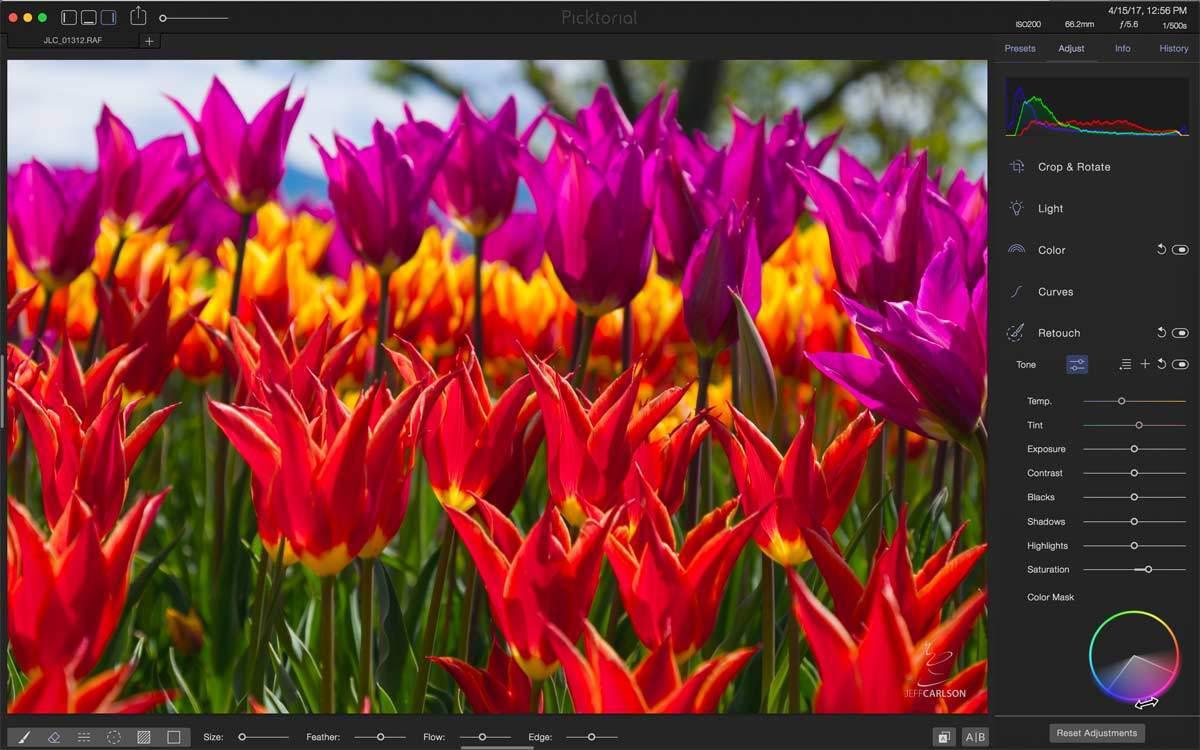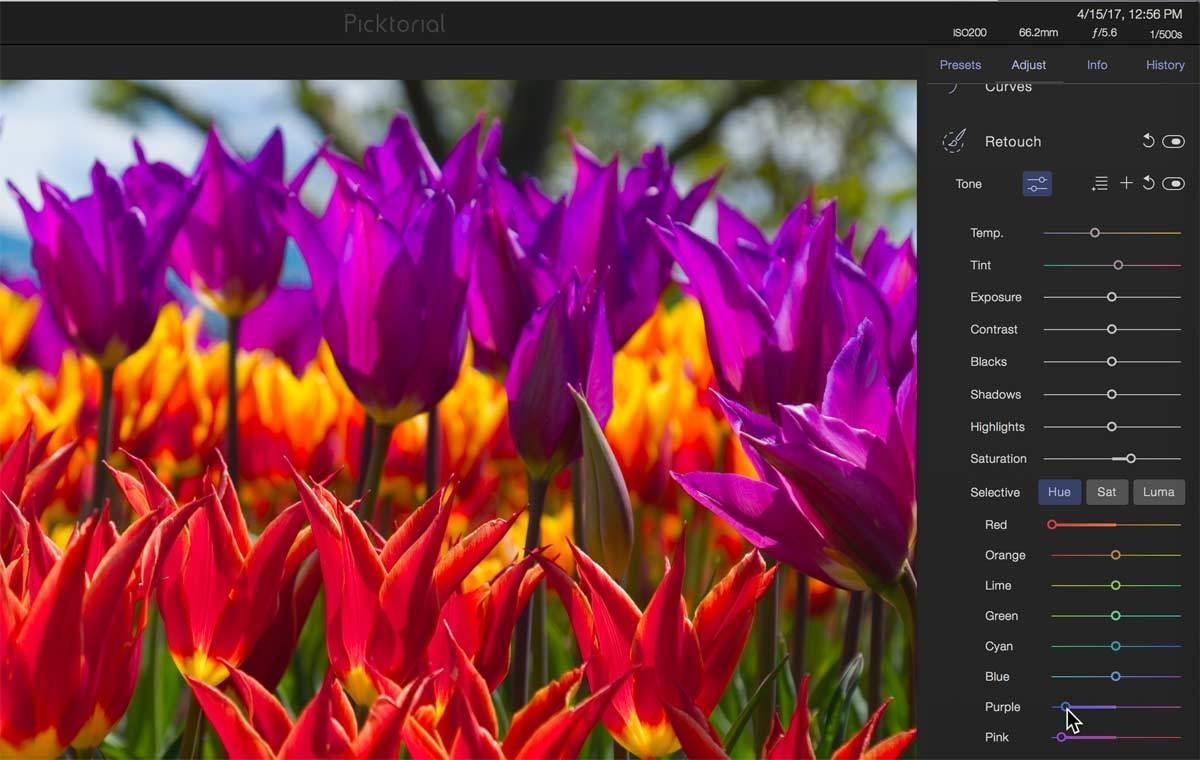 If that isn't enough, Picktorial also lets you create luminance masks to make adjustments only in the light areas of selections, and apply blend modes to just selected areas. In short, what initially appears to be a fairly flat level of editing opens up unexpected depths of tonal adjustments.
You'll also find tools for applying a custom watermark, overlaying textures, and adding frames, from an adjustable vignette effect to faux film edges.
Save different
More novel is Picktorial's approach to working with the image files themselves. Unlike Lightroom or Photos, which manage photos and edits from a central library database, Picktorial uses your Finder hierarchy for organization. It doesn't wait for you to feed it an image at a time, though. When you add a Finder folder to Picktorial, it displays the contents in a Browser at the bottom of the screen (which can be hidden while you're editing), and continually refreshes it for changes.
But that's just a convenience that avoids file-management overhead. Picktorial is also a non-destructive editor, meaning the original raw files aren't touched, and raw and JPEG photo edits can be rolled back if you want. Normally those edits are tracked in an application's database, but in the case of Picktorial, the edits are stored in the .xmp metadata files that accompany raw images, or directly within the JPEG image.
The advantage to this approach is that you get the benefits of working with a pseudo catalog, where your edits and metadata are available for all of your photos, without the overhead and central organization of a master library file to keep track of it all. And if you're working on multiple Macs, you can simply send the image files (and their associated .xmp sidecar files for raw photos) to another computer via Dropbox or another and be able to open it in Picktorial there with all edits intact.
That leads to another benefit. If you already manage your library using Photos, you can edit images using Picktorial's tools within Photos by way of a Photos extension. Normally, after you edit a photo via an extension, the adjustments you make are baked into that edit; you can revert back to the original photo, but if you re-edit it, you're making the edits on top of the last edited version.
Since Picktorial stores the edits in either the .xml file (for raw) or as metadata within the JPEG file, your adjustments are saved between sessions. Local adjustments, masks, and slider settings can be edited as if you hadn't left the Photos edit interface.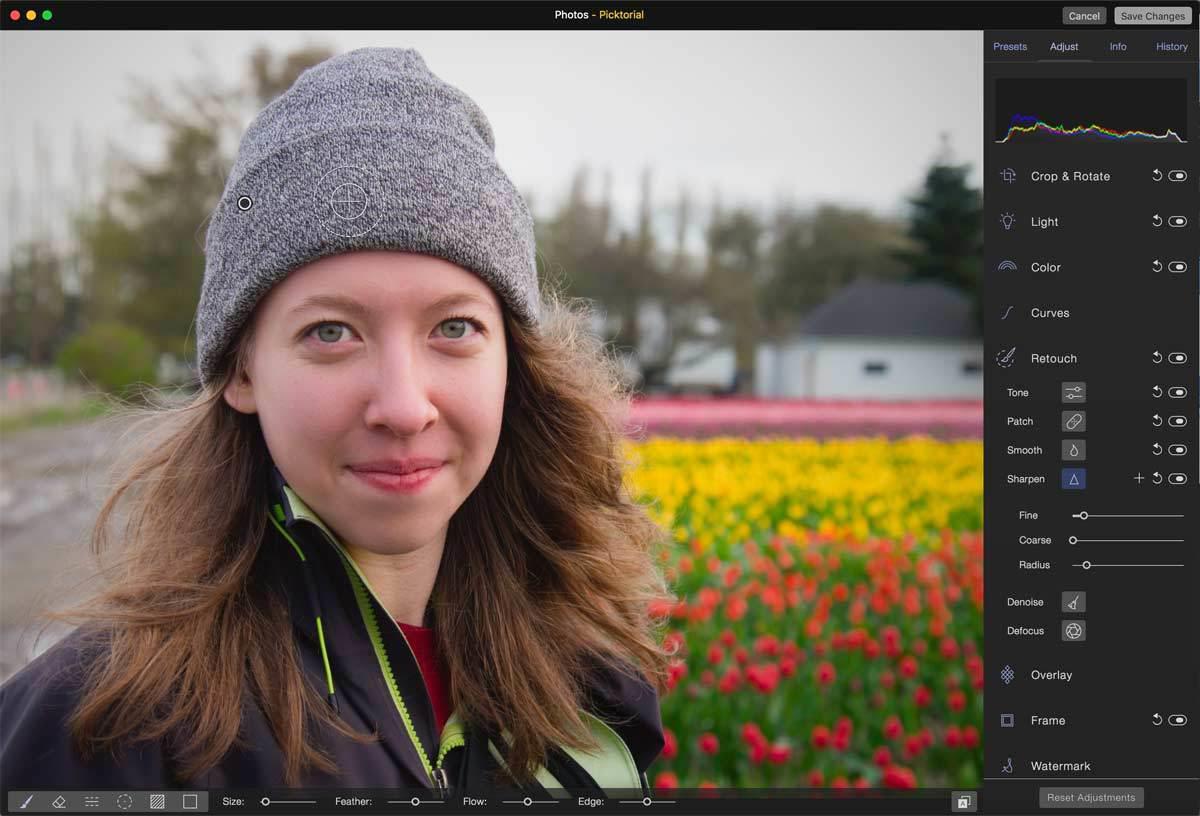 One minor downside to how Picktorial stores adjustment information is that it takes a few moments for edits to load when you select an image in the Browser. A JPEG preview of the edited photo is also stored within the metadata, so there's a small lag as the image is loaded, even on my late-2016 MacBook Pro with Touch Bar.
Bottom line
Picktorial's adjustment and retouching tools cover nearly every situation for most photographers, and the non-destructive, non-library approach to working with files makes it a flexible option for editing images across multiple Macs and in the Photos app with iterative changes.
Best Prices Today: Picktorial 3.0