At a Glance
Expert's Rating
Pros
Unlimited number of custom color schemes
Analyze photos for quickly creating palette with dominant colors
Eyedropper tool for selecting any color on the screen
Cons
Color schemes can't be shared with other Chronos apps
Discounted upgrade from previous version only available for limited time
New features mostly limited to color tools
Our Verdict
Best Prices Today: PrintLife 4.0.1
Does your band needs to make a flyer to promote an upcoming show? Want to create letterhead for a new business venture with minimal effort. You'll find plenty of template options from Chronos' PrintLife 4 desktop design software, which just received a colorful new upgrade.
Rainbow connection
At first glance, PrintLife 4 ($50) looks untouched from version 3.0, which I reviewed in late 2015. That upgrade offered a major user interface overhaul along with new visual flourishes like 3D headlines, built-in texture overlays, and photo effects, all of which help produce dazzling results for printing any kind of custom media.
Dig a little deeper and you'll find extensive new color options, the same ones Chronos introduced earlier this year in iScrapbook 7, the company's digital scrapbooking software for Mac. This includes a variety of color wheels supporting RYB and RGB primary colors, along with built-in tips that educate users on how to use them properly.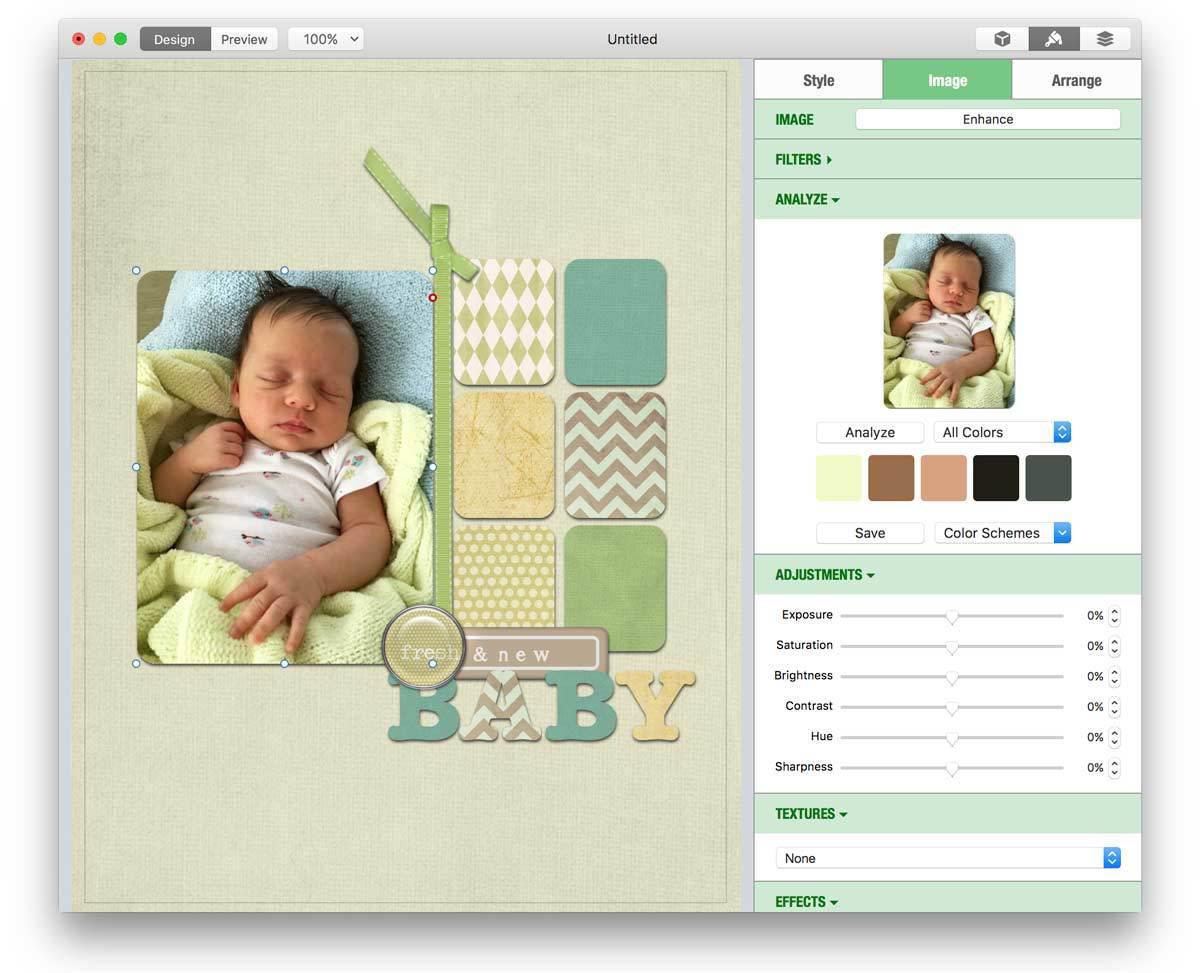 The same features also power PrintLife 4's new color schemes, which allow designers to save an unlimited number of custom palettes, which can be easily reused in other projects. Unfortunately, existing color schemes created in iScrapbook 7 don't show up in PrintLife 4 or vice-versa, and can't be otherwise imported or exported; here's hoping Chronos adds cross-application compatibility with a future update.
Color schemes make PrintLife 4 feel more like professional design software, while remaining easy to use in the iLife tradition. While new color options are a compelling reason to purchase, the software also includes a robust lineup of templates along with more than 5,000 included pieces of artwork—nearly 8GB of high-quality stuff—plus you can import images from anywhere, including directly from your Apple Photos library.
Analyze this
Another PrintLife 4 feature borrowed from iScrapbook 7 is the ability to analyze a selected photo and quickly create a palette comprised of the dominant colors used in that image. This comes in super-handy for creating a new color theme that can then be used to apply complementary colors to a project background or other elements so they won't clash with the overall design.
Equally convenient is the eyedropper tool, which is used to lift colors from any pixel on the screen and apply it directly to a placed object or existing color scheme. Rounding out PrintLife 4's focus on color is the ability to create up to 100 different tint blends from a pair of source hues, offering more potential pigment choices than a box of Crayola crayons.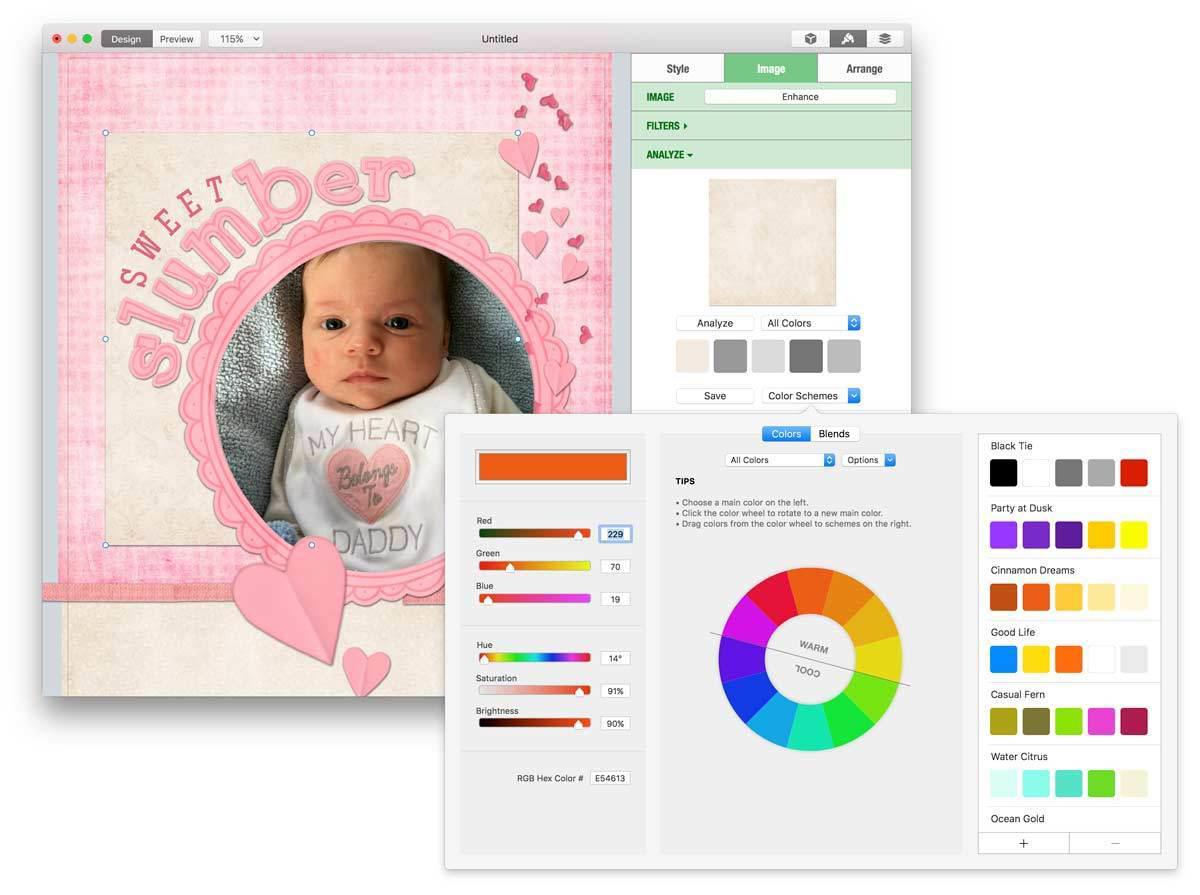 While I find PrintLife an invaluable, versatile, and easy-to-use design tool for Mac, I do feel it's time for Chronos to consider porting apps like this one to iOS, preferably with cloud storage and cross-platform support in tow that would allow starting a project on the iPad and completing it on the desktop, for example.
It's worth noting Chronos no longer sells traditional upgrades from previous versions. Instead, existing customers are encouraged to purchase new versions as they launch at "a very generous discount"—typically half price—for a limited time only, a move that strikes me as a little consumer-hostile. You'll also need to be running macOS Sierra 10.12 or later, which is required to run the latest versions of all Chronos apps.
Bottom line
PrintLife 4 spices up an already impressive and easy to use Mac design application with a generous splash of color tools for new creative options. Now what about mobile?
Best Prices Today: PrintLife 4.0.1