Did you forget to mark your calendar for the orgy of charts and numbers that is Apple's legally mandated quarterly release of its financial results? If so, have no fear–I remembered to mark mine for next Tuesday, May 2, when Apple will release the results in the early afternoon (Cupertino time) and then offer some of its executives up to financial analysts in an hour-long telephone call.
This is the season where Wall Street tries to intuit where Apple's stock price will go, and those of us more focused on Apple's products will scrape for any suggestion about how those products are selling and what might come next.
It can be easy to joke about these quarterly rituals–I've already done it several times, and this is only my third paragraph–but they're vital opportunities to take a rare glimpse into Apple's inner workings and the thinking of Apple executives about the company's business strategies. Yes, it's a choreographed dance, but that doesn't mean that we can't glean understanding from it.
The first fiscal quarter of 2017, which Apple reported on January 31 of this year, covered the last three months of calendar-year 2016 and was a record quarter after a few tough quarters in which revenue shrunk for the first time in recent memory. At the time, Apple suggested that its next quarter would generate between $51.5 and $53.5 billion in revenue, which would make it a second straight quarter of slight year-over-year revenue growth.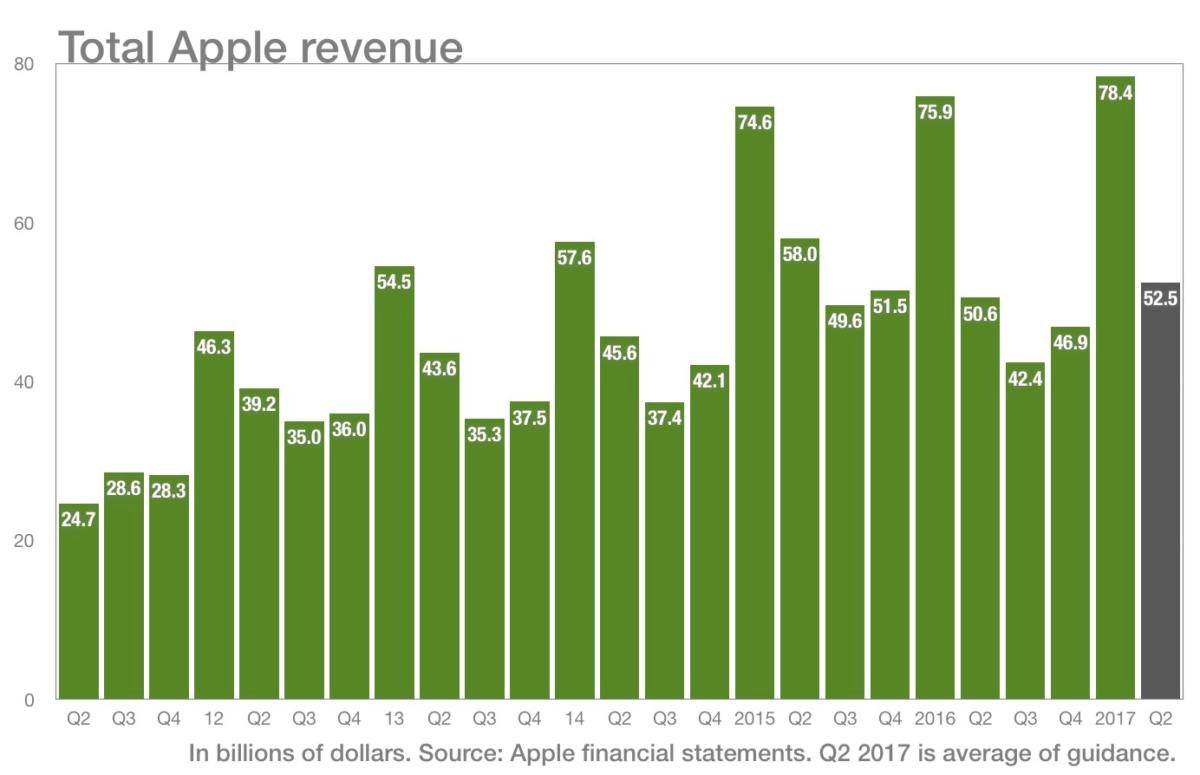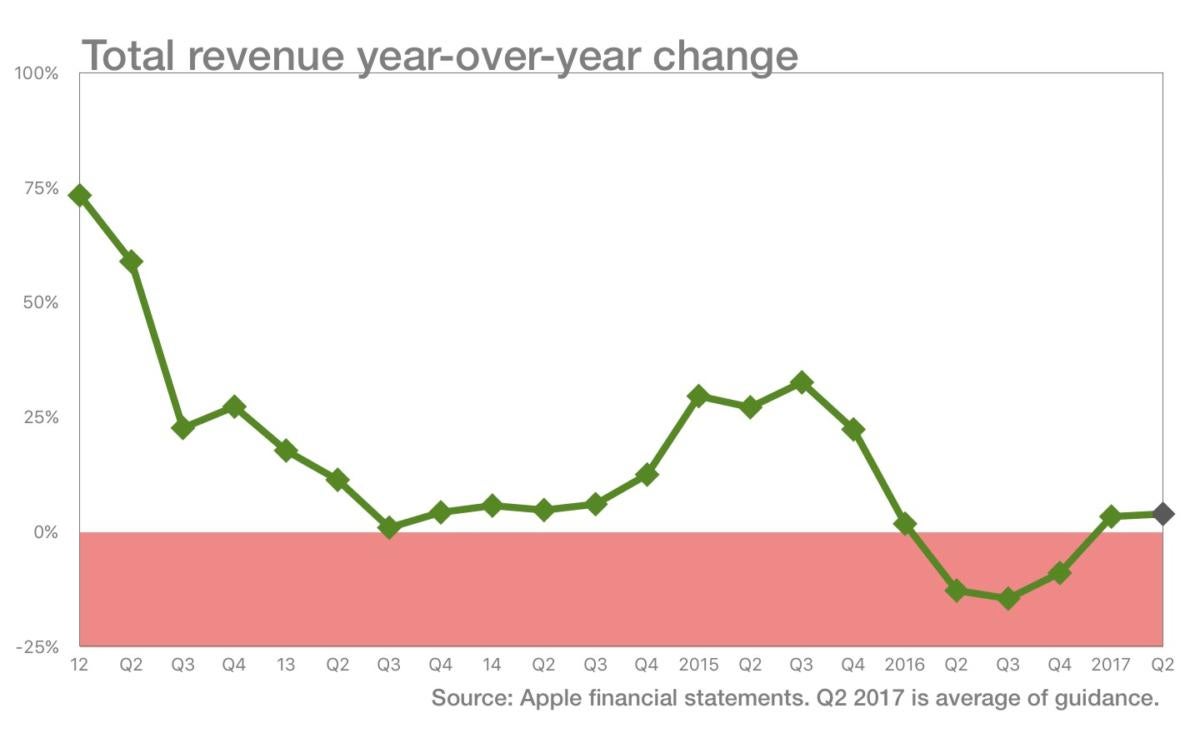 Apple is rarely wrong about its future guidance, and is actually still living down a reputation for being too conservative with its estimates and surprising the investment community with breakout quarters. That hasn't happened in a little while, though some analysts think Apple might have been too conservative in estimating this quarter's total revenue. Either way, if Apple meets or beats expectations, Wall Street will be happy with the trend–but will be looking carefully at the guidance for next quarter to see if it will continue.
Here are a few other things to watch for on May 2:
An iPhone sales update. General consensus is that iPhone sales will be just under 52 million, which is about a 1 percent increase over the same quarter a year ago. At this point, sales stability going into the fall release of new iPhone models is probably all anyone's looking for from the iPhone.
What's up with China? Apple's rapid growth in China hit a wall a little more than a year ago. Apple CEO Tim Cook has insisted repeatedly that in the long run, China will be Apple's largest region, but in the previous three quarters Apple's China sales have slipped below its European sales. Will China turn the corner this quarter? And if not, what will Cook say on the conference call with analysts about the issues Apple faces there?
Can Services growth continue? The biggest growth in Apple's portfolio is currently in the company's Services line, which has been increasing consistently for a few years now. Apple's been heavily promoting this bright spot on its ledgers, but can it keep pace with the excellent growth it's shown up to this point, or will it show signs of leveling off? If it's the latter, Apple will have some explaining to do.
What's going on with the Apple Watch? Apple doesn't break out numbers for Apple Watch sales, but Cook will frequently characterize watch sales when he's discussing matters with analysts. We're unlikely to hear any tangible numbers, but if Cook mentions record sales or strong year-over-year growth, that will be a sign–and if he says nothing at all, that's a sign that this might have been a sleepy quarter for watch sales.
Is the Mac growing again? According to Gartner, Mac sales are up, with an estimated 4.2 million Macs sold in the first quarter. After an entire year where Mac sales slid down when compared to the previous year, a second straight quarter of even slight growth–as Gartner predicted–would be a good sign.
The iPad turnaround: Is it happening yet? Tim Cook insists he's still bullish on the iPad, and with the bifurcation of Apple's tablet product line between a stripped-down $329 model and the higher-end iPad Pro, maybe it's ready for a comeback. But a lot of us–myself included–have been expecting a boost in iPad sales for a few years, and it just hasn't happened. The introduction of the $329 iPad in early April means it won't show up on this quarter's results, but in the conference call, Cook may offer a little commentary that indicates how well the lower-priced tablet will be received.
Stick with Macworld for complete coverage of Apple's results on the afternoon of May 2, and I'll see you back here next week for more charts and analysis of where Apple's been and where it's going.