At a Glance
Expert's Rating
Pros
Rugged, versatile iPhone 6 case with stereo speakers
Works in docking mode or wirelessly via Wi-Fi and Bluetooth
2,900 mAh battery provides up to 120 percent power boost
Cons
Case too bulky for everday use
Four-watt speakers are modest improvement over iPhone hardware
Recharging can only be done via micro-USB port
Our Verdict
Peri Duo ($189.99 MSRP; $150 on Amazon) combines a protective case for iPhone 6/6s with a pair of stereo speaker grilles molded into the back for pumping up the jams without carrying around a separate Bluetooth speaker.
It's a novel idea, but as you might imagine, the speakers add weight (5.4 oz.) and over three-quarters of an inch of extra bulk to the device that make it less than ideal as a smartphone case.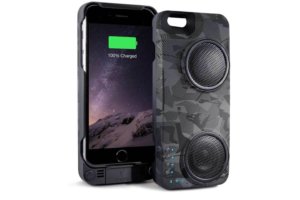 Thankfully, Duo has been designed with this dilemma in mind. Unlike many cases that require a crowbar to pry a device from its grasp, this one uses a patent-pending mechanism that slides down the Lightning connector, clearing a path for the iPhone to be inserted with ease. Slide the connector into the iPhone and it's snugly secure in the case.
While powered on and attached to the case, the Lightning connection sends audio directly to the speakers for up to 15 hours of playback on a single charge. But it also taps into the case's built-in 2,900 mAh battery, enough to charge up a completely depleted iPhone with another 20 percent in the case to spare. The case can only be recharged using the micro-USB jack on the bottom, but on the plus side, both Duo and attached iPhone charge simultaneously connected this way.
No ordinary case
Although Peri Duo works best with an attached iPhone 6/6s, the case also supports Bluetooth, making it compatible with a wide range of devices for up to 20 hours of music playback at a time. Using the Mode Select button the back of the case, I had no problem pairing with my iPhone 7 Plus, although a new model called Duo Slim is expected this year for the latest models.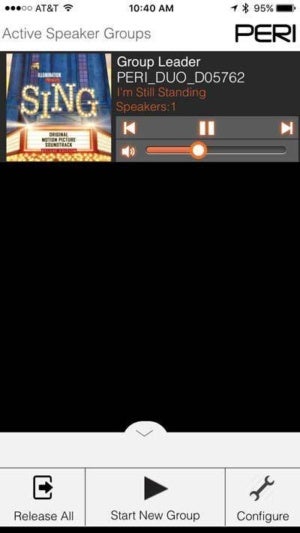 Duo can be configured as an AirPlay speaker on up to five different Wi-Fi networks, allowing music to stream in higher resolution, up to 96kHz. Unfortunately, the four-watt speakers aren't quite up to this challenge, since they only pump out a maximum volume of 100 dB. They do sound better than an iPhone 7 alone with similar stereo separation, but are no match for decent Bluetooth speakers.
Using the free Peri Audio companion app, "Quick Link" allows up to 64 of the company's cases to wirelessly stream the same tune. I was unable to test this feature, but it certainly sounds neat. The main limitation is that a single Duo case is rather pricy, so you'll need friends with deep pockets to get that party started. There are four color options to choose from: White/Silver, Red/Charcoal, Rhymesayers, and Black/Silver. Since my own iPhone 7 Plus doesn't fit, I hijacked my wife's iPhone 6s for testing. She was rather embarrassed being seen in public holding a bulky case with two silver speaker grilles on the back, but younger kids thought it was cool.
Bottom line
Peri Duo more than doubles the battery life of an iPhone 6/6s while providing a marginally better pair of speakers, but its versatility is mostly negated by the cost and additional bulk.