At a Glance
Expert's Rating
Pros
Flexible, friendly interface customization options
Perspective grid tool aids accuracy and output
Enhanced layer effects
Brush designer extends creative choices
Cons
Awkward on screen brush resizing options
Intensive brush design tools occasionally mar performance
Our Verdict
Best Prices Today: ArtRage 5
ArtRage mimics traditional media painting and drawing, complete with real world paint, canvas textures, brushes, and colors, striving to replicate the artistic process and its results. ArtRage 5.0.4 ($79), the newest version of this enthusiast art package, lets you sketch and paint freehand with a variety of natural media tools, as well as import, trace, and otherwise manipulate photos.
Launched originally as a free app, ArtRage has progressed as a hobbyist tool targeted to creative users of any skill level. ArtRage 5, the newest version, maintains its ease of use and friendly, colorful look and feel, while layering in increasingly professional tools and interface enhancements.
ArtRage concentrated on all the right things for the version 5 upgrade: workflow, layers, multiple documents, improvements in rotating and transforming canvases, sleek tools, and added options for creating and tweaking brushes and integrating perspective. Version 5 promotes increased flexibility and encourages greater skills, but doesn't force them on anyone who just wants to noodle around and have fun drawing and painting.
Docking mode
ArtRage's default interface is non-traditional, set up as a modified artist easel, where you can view and select all the available tools and colors, punctuated by independent pods that offer a diverse array of features like stickers, stencils, tracing, references, and color samples. Select from a variety of tools on the tool picker at the bottom left side of the canvas and then mix colors from the color picker on the right side. That interface may come naturally to some users, especially if they are using a pen tablet to draw by hand, though drawing with the mouse works well too.
For digital painters accustomed to a more traditional software layout featuring panels and tool windows positioned on either side of the canvas, ArtRage now has a new docking mode that lets you choose commands from a familiar pulldown menu descending from a menu bar, and allows you to float or dock the panels at the side of the window, where you can hide and show their contents. That proved more convenient and less disorienting than moving my arm around a tablet and depending on my iffy hand-eye coordination to tap the canvas at exactly the right spot.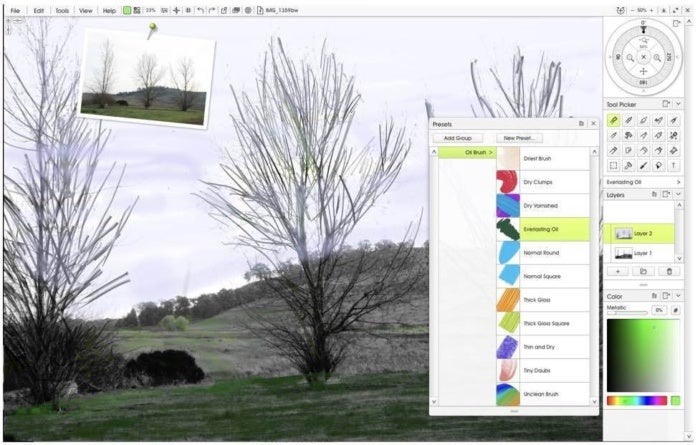 Specialized panels like the Brush Designer must float, and cannot be docked. A Lights Out mode for both layouts lets you choose a dark menu interface, which has become fashionable in recent years. Even though I generally prefer docking mode, the ability to move back and forth at will was even more helpful.
New brush tools
With ArtRage 5, you can now use the new Custom Brush to create variations that integrate with the app's canvases and color mixing tools. Using presets like Artistic, Blenders, Fun, Nature and others from the Settings panel, you can individually tweak opacity, grain, and smoothing features and create your own presets.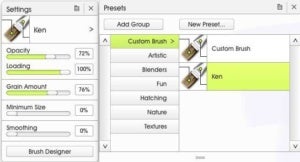 But that's just the beginning. Experienced digital painters, and those longing for more special effects will get inspiration from the new Brush Designer, which facilitates the creation of brand new brushes using the Head, Stroke, and Color settings and sampling them in the preview window's test area. The designer is spacious and features a number of built-in adjustments like Rotation Jitter, Grain Size, and Scale With Head. Users who have no clue as to what all these controls do will be able to observe in either actual size or magnified view what their brush strokes and dabs will look like on their painting.
Building and tweaking brushes can put demands on system resources, and depending on your settings, these functions could affect performance so that strokes may lag and not immediately respond to your mouse or pen. I found that happened at various points, alongside the appearance of a progress bar, in some cases. Mileage will vary, so the more powerful your Mac, the fewer problems you will encounter.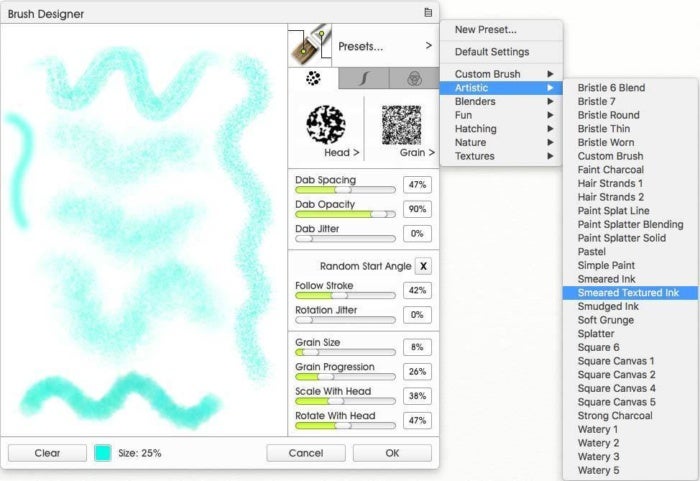 Perspective and guides
The new version of ArtRage features one- and two-point perspective, allowing for customized perspective layouts to aid in creating and designing buildings, landscapes, and backgrounds. You can edit and adjust lines and spacing in the layout and have as many planes (walls and floors) as you want. A Snap to Perspective feature can be used alongside the Transform Mode or to help you draw straight lines freehand. The dynamically generated perspectives were snappy and responsive.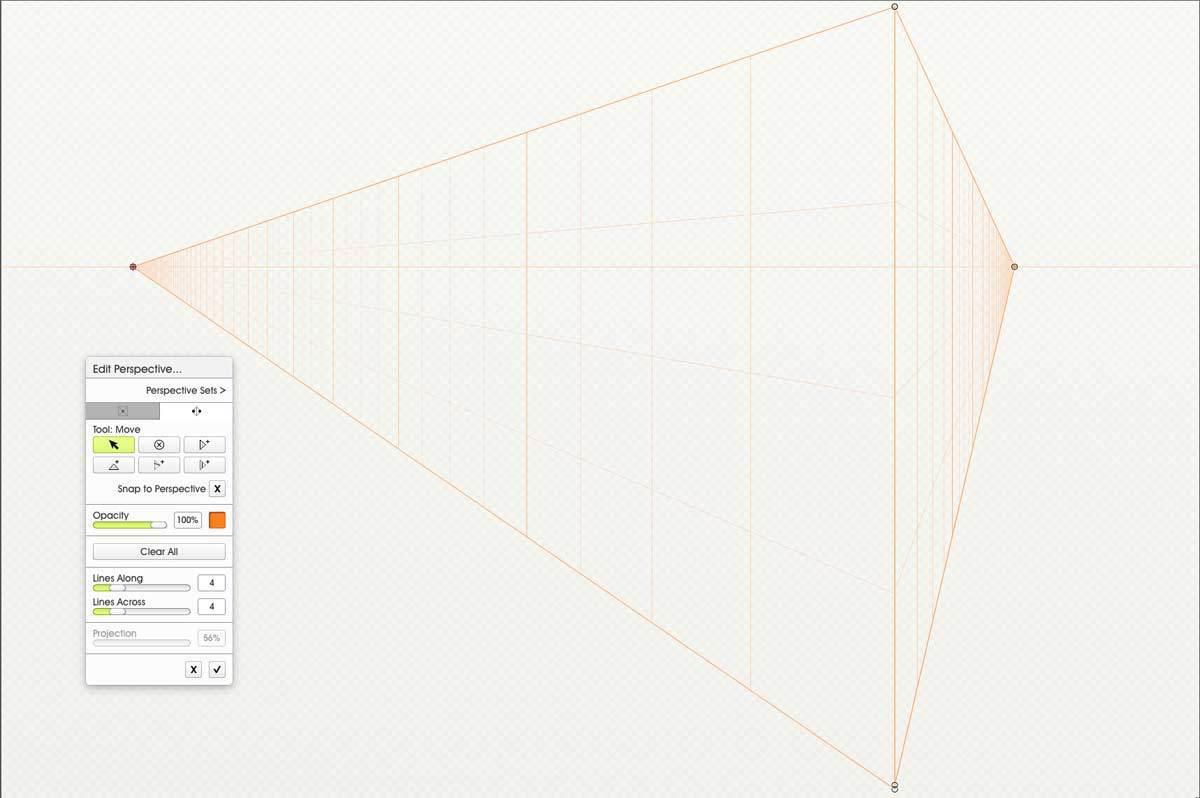 Also new in this version are easily accessible horizontal, vertical, and combined horizontal and vertical guides. They give your composition a defined structure, but also provide a way to help you draw straight lines. A simple thing, but immensely helpful.
Improved tools, layer effects
In addition to launching new brush tools, ArtRage 5 delivers some enhancements to the Pencil and Pastel tools in the form of noise controls. The addition of Noise Amount and Noise Scale help you control the look of your strokes.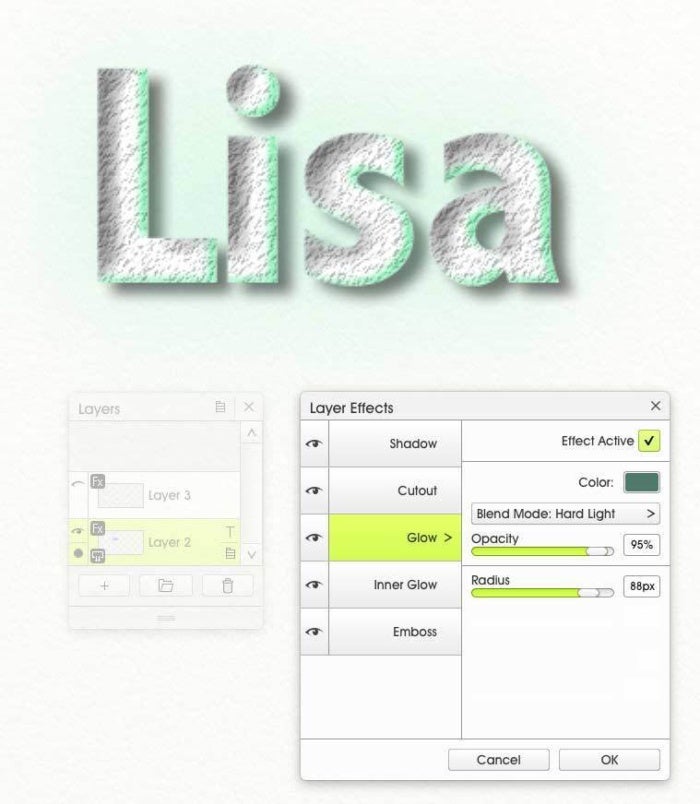 Layer effects let you add non-destructive highlights, shadows, and 3D effects—Shadow, Cutout, Glow, Inner Glow, and Emboss—to individual layers. You can customize and combine effects properties, and even load custom textures. These effects are dynamically applied and can be revised at will. Photoshop-style blend modes give your art a unique look. The Warp tool, similar to Photoshop's Liquify feature, smears, swirls, and distorts brush strokes. A Remove Color Matte feature can delete or preserve specific colors from a layer.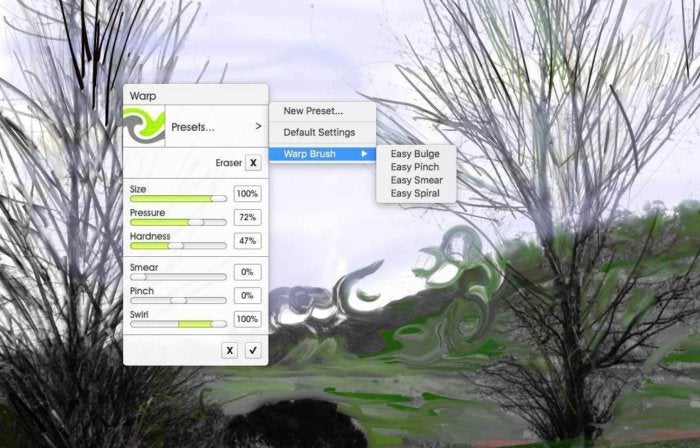 Room for improvement
Overall, ArtRage 5 stays true to its familiar look and feel, however small items could be improved. For example, though there are multiple ways to adjust brush size, the process is still a bit awkward unless you have set an express key via your pen tablet that makes it faster, or use a keyboard shortcut. In Classic mode, you must drag the tool size indicator, sometimes clicking and dragging multiple times to get the size you want. In Docking Mode, a tool picker adjustment also appears in the menu, where you can adjust a brush size by typing in a number. Sliders, which are used in many other parts of the program, would be more intuitive. As it stands, holding down the shift key and dragging left or right on the canvas, remains the simplest way to change brush size.
Bottom line
ArtRage 5.0.4 is a powerful, natural media painting app that's fun to learn and use. The version 5 upgrade is packed with valuable brush and composition enhancements that make it well worth considering if you own previous versions of the package. If you are new to ArtRage, and are looking for an intuitive painting app, it is a fine place to start.
Best Prices Today: ArtRage 5