Reader Harold and his wife, Ginnie, were puzzled about setting up Mail in macOS to use their business's return email address when they replied from an iCloud account. Harold notes, "I hate the thought that I will have to type it in every time but I can't seem to figure out how to do this."
It's a feature, but it's not obvious in the least. When you set up an account in Mail, or it's synced from iOS, Mail prefills a lot of values. This includes the Email Address field you find in Preferences > Accounts in the Account Information tab. For our Mac 911 account, for example, it prefills the email address that's used to login to the service at which this mail is hosted.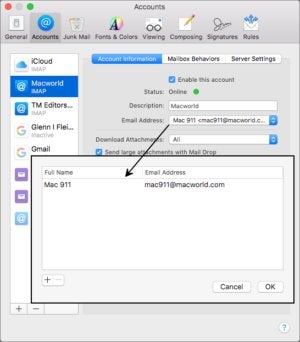 But note that it's a pop-up menu. Click it, and you can choose Edit Email Addresses. This lists all return addresses associated with the account. For my iCloud account, I have my account name for @icloud.com, but also the old @me.com and @mac.com—sometimes I have to deal with some service where I registered long ago with me.com or mac.com addresses, and it requires a matching returned address.
Click the + button to add a new address, and then after you click OK, you can choose it form the Email Address popup menu.
I should note that this doesn't handle the behind-the-scenes jiggery-pokery that mail servers engage in to assure that mail sent from a given domain is permitted to be sent from that domain. Large ISPs and services that offer email accounts, like Google, use special domain and other records that let them tell other mail servers that messages from @whatever.com should only be sent by a given set of listed servers. In some cases, that can prevent email from being delivered; in others, it can just make the incoming mail server score your message as more likely to be spam.
Ask Mac 911
We've compiled a list of the questions we get asked most frequently along with answers and links to columns: read our super FAQ to see if your question is covered. If not, we're always looking for new problems to solve! Email yours to mac911@macworld.com including screen captures as appropriate. Mac 911 can't reply to—nor publish an answer to—every question, and we don't provide direct troubleshooting advice.