Apple's iOS and Mac app stores revolutionized software distribution. They provide one-stop shops for apps from vendors around the world, allowing software developers to offer their products without worrying about setting up distribution contracts. They also take care of the fulfillment (billing and downloads), saving developers time and hassle. In exchange, Apple takes a 30 percent cut of sales, which is fair for the service they provide.
But there's one thing you can't do in Apple's app stores: you cannot provide a new version of your apps to existing customers at a discount. You can't offer upgrade pricing.
Upgrade pricing makes a lot of sense for software. It helps developers retain customers and it rewards loyalty. Upgrades are generally very similar to existing versions, with a few new features and perhaps a refreshed interface, so it's not fair to expect users to pay full price. If you do, many users won't opt for the new versions, and developers generally prefer if most of their users run the latest versions of their software.
But Apple has shied away from offering upgrades in their app stores, and Phil Schiller, in a recent interview given in India, has doubled down on this.
The reason we haven't done it is that it's much more complex than people know […] And the upgrade model, which I know very well from my days of running many large software programmes, is a model from the shrink-wrapped software days that for some developers is still very important, for most, it's not really a part of the future we are going.

I think for many developers, subscription model is a better way to, go than try to come up with a list of features, and different pricing for upgrade, versus for new customers. I am not saying it doesn't have value for some developers but for most it doesn't, so that's the challenge. And if you look at the App Store it would take a lot of engineering to do that and so would be at the expense of other features we can deliver.
Schiller has made it clear that upgrades are off the table. Apple has too many other things to do; it's too difficult to implement; it's "not really a part of the future."
Apple doesn't generally use the excuse that something is too hard. But Schiller makes it clear hear that this process is complex. Let's think about this. When you visit one of Apple's app stores and view an app you own, Apple knows you have already purchased it. If it's not on your Mac or iOS device, you see a cloud button allowing you to download the app. But Schiller says:
For example, the App Store has one price for an app, when you see it, you see if there's a price on it, that's the price. It doesn't have multiple prices for multiple tiers of customers so to engineer that in, it's not impossible, but a lot of work for a small segment of software…
I can't imagine it's that difficult to link that purchase information to a new version of an app in order to offer a discounted upgrade price to eligible users. Apple knows when you bought an app, and what price you paid; it doesn't seem like an additional variable is complicated.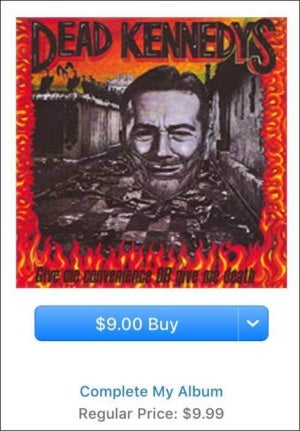 Apple already knows how to do this in the iTunes Store; it's called Complete My Album, for music, or Complete My Season, for TV shows. If you buy a song or two, or an episode of a TV series, you can buy the rest of the album or series at a lower price. This is what Schiller describes as "multiple prices for multiple tiers of customers."
I don't know about you, but I find app subscriptions annoying. They work fine for, say, Office 365 or Adobe Creative Cloud, which are expensive app suites, but I'm not going to buy a subscription to a $5 or $10 app that gets upgraded every couple of years. Developers who can't or don't want to offer subscriptions are stuck in the middle of this issue, and they'll be the losers. It's not that Apple can't offer upgrade pricing, it's simply that they don't want to.