Shubham Sagar has an issue with iCloud storage:
Currently, my Storage Plan is 50GB and I have turned almost everything off from getting synced with iCloud. It still shows 2.82GB used.
Shubham has 600MB of storage used by iCloud Music Library, but no backups, no iCloud Drive on his Macs, no stored email, and no iCloud Photo Library. What's up with that? This clearly happens to other people as well, as I can find similar postings in many forums complaining about this a year and two back. If it were just hundreds of megabytes, it might not matter. But with a free account including a paltry 5GB, nearly 3GB being used invisibly is a big hit.
There are a few possibilities. One is that Apple's accounting can be out of whack between what's stored and what it reports is stored. That might explain why this is reported by users sporadically, but it's not widespread. Given the number of iCloud users with free 5GB accounts, Macworld and others would surely hear of it if it were happening to many people.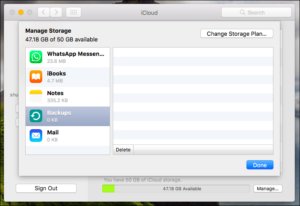 Another is that it might relate to photo and video storage. If iCloud Photo Library had been enabled, deleted media can be stored here for 30 days before it's removed even after disabling that sync. A few users report that's what Apple tech support told them, but it's impossible to know how accurate that is, since Apple doesn't document that detail. (Apple told me that deleted media in the Recently Deleted album doesn't count against iCloud storage, but since something is wrong, it's unclear whether this is a bug related to that.)
Some folks speculated that it might relate to iMessage storage, but there doesn't seem to be any provision to use iCloud for that data, which is stored locally in iOS or macOS depending on your transcript settings in macOS's Messages, and can be wiped in iOS if you backup and restore a phone.
Another way to check on usage is to mount iCloud Drive in macOS or use the iCloud Drive app, which, if they show you a different number available then the iCloud system preference pane or the Settings > Your Name > iCloud > Storage listing would indicate you should get in touch with Apple.
Ask Mac 911
We've compiled a list of the questions we get asked most frequently along with answers and links to columns: read our super FAQ to see if your question is covered. If not, we're always looking for new problems to solve! Email yours to mac911@macworld.com including screen captures as appropriate. Mac 911 can't reply to—nor publish an answer to—every question, and we don't provide direct troubleshooting advice.