Instagram introduced its disappearing Stories, a format created by Snapchat, nine months ago. In that time, Stories has racked up 200 million daily active users. Despite criticisms of Instagram's unoriginality, Stories have clearly been a success. But they've been missing one feature that makes Snapchat such a joy to use: the filters that transform your face. That changes now.
In an update rolling out to Instagram users today, the Stories camera has a new face icon with eight filters that transform you into a different version of yourself. The koala and bunny filters will definitely be a hit with kids, and there are flower crowns for the teens. There aren't quite as many filter options to choose from, and it's unclear if Instagram will refresh its filters regularly like Snapchat does, but it's not a bad start. You can use the filters on both front-facing and rear-facing shots.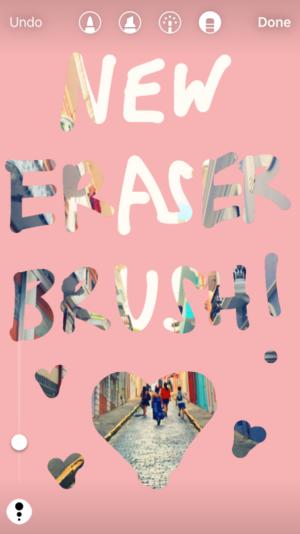 While face filters are the biggest addition, Instagram is also putting some smaller, equally fun features into Stories. Rewind joins Boomerangs as a quirky Instagram video format, letting you shoot clips that play in reverse. Then there's an eraser, which disguises your photo or video and lets you drag a brush to reveal certain parts of the shot. You can also add hashtags to your Stories, so people can tap them to explore more tagged content.
Instagram is experimenting more with tags, specifically location tags. TechCrunch spotted a test that Instagram is doing around place-based stories, so when you tap a location tag that someone has added to their Story, you can see other Stories added to that location. This is an Instagram original—Snapchat has done Stories around special events and is testing a Story Search function, but location-based Instagram Stories will fully leverage Instagram's robust location graph. People already use Instagram's location tags in the main feed to explore cities and research new restaurants via photo and video highlights, but location-based Stories will now let you see more off-the-cuff content.
Why this matters: Instagram is much easier to use than Snapchat is, and now that the app has adopted one of Snapchat's most popular Story features in selfie filters, people who were using both apps may default to Instagram. The location-based Stories test is a totally unique feature that could make Instagram feel even more fresh (and even more addictive). Snapchat's first earnings report as a public company didn't go that well, so the app may be exploring ways to stay competitive.
Snapchat copycat
Instagram isn't bothered by the Snapchat comparisons (or even the accusations of theft). The Facebook-owned company continues to credit Snapchat with inventing the concept of Stories.
"This is the way the tech industry works," Instagram product head Kevin Weil said during a Tuesday talk at TechCrunch's Disrupt NY conference. "Good ideas start in one place, then spread across the entire industry. It's a format, and it's going to be adopted widely."
He pointed to Pixar, which was the first to perfect computer-animated films. Now computer animation is the standard.