At a Glance
Expert's Rating
Pros
Passthrough USB-C power
Compact
Enough USB Type-A ports for peripherals
Supports an external drive
Cons
No USB-C data port
Not enough wattage on Type-A ports for some users
Our Verdict
Dodocool's DC30 7-in-1 USB-C Hub ($44.99 MSRP; $36 on Amazon) packs a lot of ports and desirable features into a handsome, robust small package that also modestly priced. The hub includes 4K HDMI, three USB 3.0 (5 Gbps) Type-A ports, SD and microSD slots, and passthrough power. The USB-C port can't be used for data transfer.
It lacks a bit on the power front, which could affect your purchase depending on what you need to do with a hub or a dock. You can only plug in a single hard drive to the hub, and the entire hub maxes out at 900 milliamps (mA), which translates to 4.5 watts, whether for bus-powered devices or recharging an iPhone or other hardware. That might not be enough, but in such a compact space and at such a low price, that's one of the tradeoffs.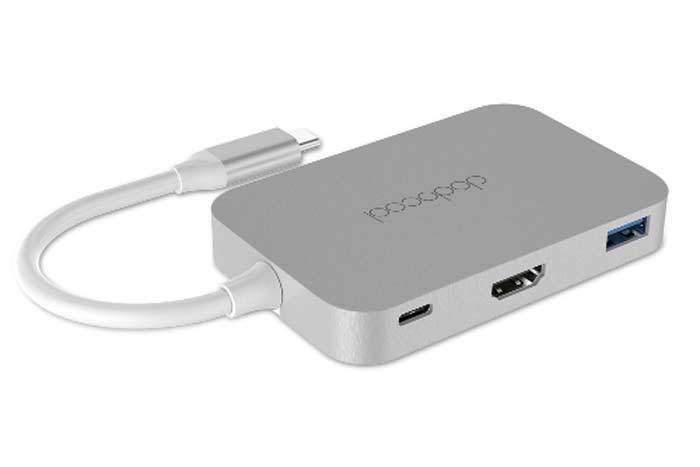 The model I tested had very tight tolerances on its USB-C port, making it a little hard initially to insert cables. The integral 5-inch USB-C jack (including the connector) is reinforced and snicks nicely into a 12-inch MacBook's port. I don't love integral connector, because they can be bent or damaged in transit, and then the entire unit has to be repaired or replaced. But Dodocool has tried hard to make theirs resilient, and it's also easy to lose a removable USB-C cable—and a pain to replace one that supports high-wattage power passthrough.
In testing, the hub performed as expected with external video, passing through DisplayPort over HDMI to a 4K monitor with smoothly streaming playback, and had the same throughput rates and consistency as the best of other docks with a USB 3.0 SSD drive and SD and microSD (TransFlash or TF) cards. Although the manual isn't explicit, you can only use one card type at a time. (The manual notes you can use SD or TF cards, but not that you can only use either at once.)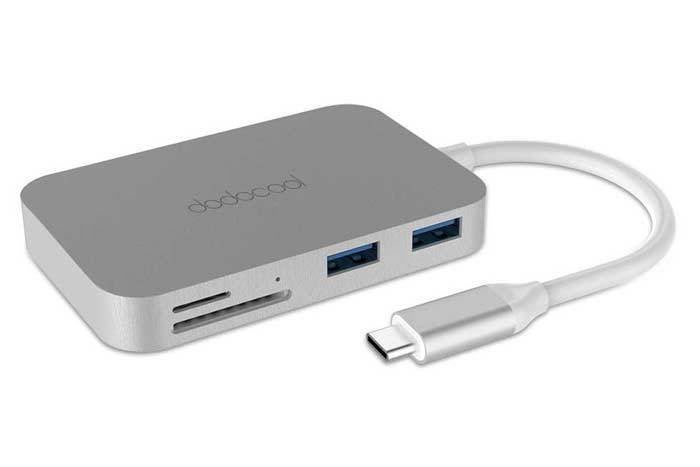 Bottom line
Some travelers and desktop users might need gigabit ethernet, VGA, more bus power, or a 10 Gbps USB 3.1 Gen 2 port, but I expect most people will find the Dodocool the right mix of features and price tag.