At a Glance
Expert's Rating
Pros
A better alternative to iTunes for managing iOS devices, backups
Copy from one iOS device to another in a single step
Save iOS backups anywhere with Time Machine-style archives
Cons
Accessing Messages, calls, Contacts, Notes requires device backup
Long initial thumbnail scan with iCloud Photo Library
Some operations slower than using iTunes
Backup archives must be saved to Mac or PC volumes
Our Verdict
Best Prices Today: iMazing 2.2
iMazing ($40 for a single-user license; multi-user licenses available) is an iOS device management utility designed as an alternative to iTunes. Available for Mac or PC (the license can be used on either platform), iMazing doesn't sync files in the traditional sense, but rather acts as a conduit for transferring files between desktop computers and iPhone, iPad, or iPod devices.
Think of iMazing as iTunes without media purchasing or playback, but a whole lot more versatile. iMazing also does many things Apple's media player can only dream of, like exporting iMessage conversations. Annoyed by how iTunes saves device backups on your internal drive? With iMazing, you can store these enormous files anywhere you'd like, and browse archives with Time Machine-style simplicity. (Archives work on Mac or PC-formatted volumes, not on network-attached storage devices.)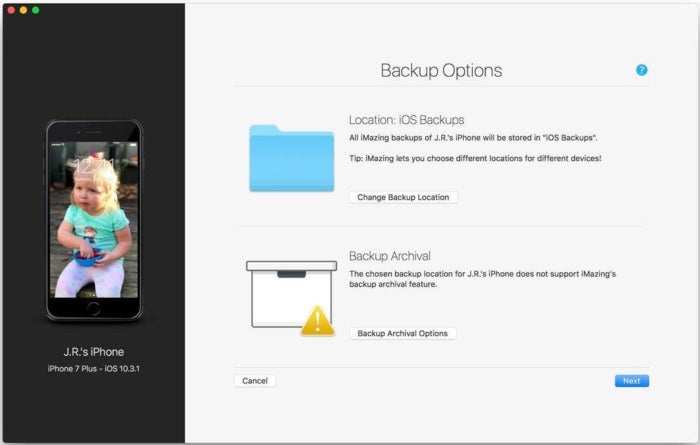 In addition to managing apps, photos, music, videos, notes, call logs, and voice memos, iMazing 2.2 adds the ability to transfer ebooks and PDF documents to iBooks. Better yet, photos can now be transferred from computer to iOS via drag-and-drop, although albums created this way can't be deleted from the Photos app and won't be included in backups.
There are other limitations to be aware of. Certain data types including Messages, call history, voicemail, Contacts, and Notes can only be accessed from a backup, rather than the device itself. As a result, iMazing occasionally feels slower to use than iTunes. My personal pet peeve is how long the application takes to perform an initial scan of iCloud Photo Library thumbnails, although devices with fewer images won't have this problem.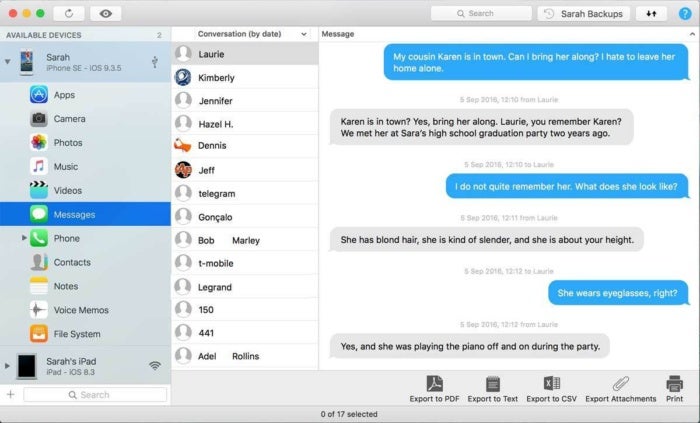 Restore and transfer
One of iMazing's coolest features is the ability to copy content between devices, quite handy for upgrading to a new iPhone or iPad. Rather than restore from iTunes or a lengthy iCloud backup, you simply connect both devices, start the transfer, and sit back while the software does its thing. It's a more streamlined process that puts Apple's cumbersome method to shame.
iMazing 2.2 makes other welcome improvements to the traditionally front-loaded restore process. Rather than having to connect a new device via Wi-Fi to activate and update to the latest version of iOS, iMazing seamlessly handles these tasks as part of its restore wizard.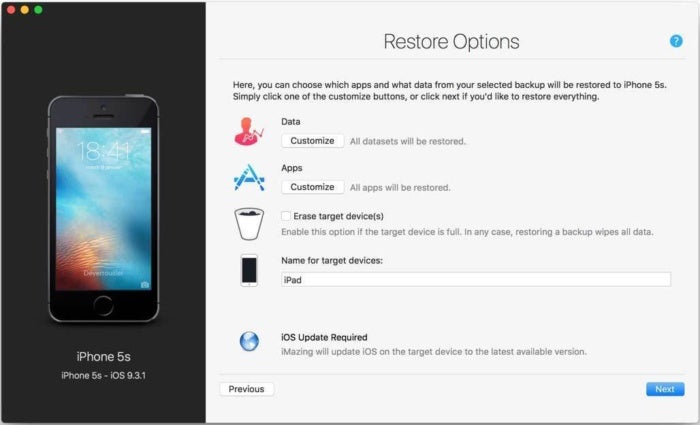 You'll endure fewer annoying iOS Setup Assistant screens during a restore, since the software automatically takes care of many account login prompts for you. (Signing in to install App Store updates is still required, however.) Similar conveniences extend to updating or reinstalling iOS itself. Since devices are always connected to the utility over Wi-Fi, iMazing detects when the current version is out of date and offers to update with a click.
You can also do the same with a complete reinstall, even during a restore. Although like iTunes, you won't be able to downgrade to older iOS versions once Apple has stopped signing them. There are plenty of smaller improvements too, like a new preferences tab for Devices, with options to prevent iTunes from performing automatic backups or launching after connecting a device.
Bottom line
Keep iTunes around for buying or playing media files, but when it comes to managing iOS devices and transferring media files, it doesn't get much better than iMazing 2.
Best Prices Today: iMazing 2.2