The bigger your iTunes library, the harder it is to keep it coherent. In this week's column, I answer two questions about managing a library. The first asks how to sort artists by their last name instead of their first name, so it's easier to find music in a large library, and the second discusses how to rip CDs when your main computer is a laptop without an optical drive.
Sorting artist names
Q: I would like to sort the artists and composers in my iTunes library by last name so they're easier to find in lists. I know I can do this by entering the name in the Sort Artist tag, but this will take a long time. Is there any quick way to do this?
By default, iTunes sorts everything by its first word (with the exception of A, An, The, and equivalents in other languages). So it sorts John Cage at the letter J, and Buddy Holly at B. But some people find it easier to have names sorted by their last name, so they can glance at a list and search for the first letter of that name, instead of the first name.
There are two ways to do this. The first involves changing the actual name of the artist or composer. In my library, I sort all classical composers in Lastname, Firstname order. So I have Bach, Johann Sebastian; Cage, John; and Rautavaara, Einojuhani. I find it easier to spot a composer's name this way, because the sort word – the last name – is at the beginning of the list. You can do this by selecting all the tracks by a composer, then pressing Command-I to display the Info window. In the Composer field, type their name in Lastname, Firstname format, then click OK.
But I don't do that for artists. I have Bob Dylan, Buddy Holly, and Brad Mehldau display as is, meaning that I have to glance at the second names—which aren't always lined up – to see where I am in a list.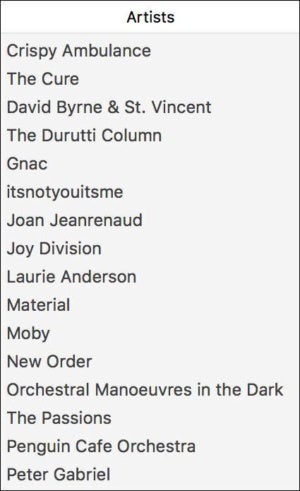 But why not have those artists display with their first names first, but sorted by their last names? This is possible. Select all the tracks by an artist, click Command-I, then click Sorting. This tab of the Info window lets you tell iTunes how to sort the artist, album, album artist, or composer. In the Artist section's Sort As field, enter the artist's name in Lastname, Firstname format.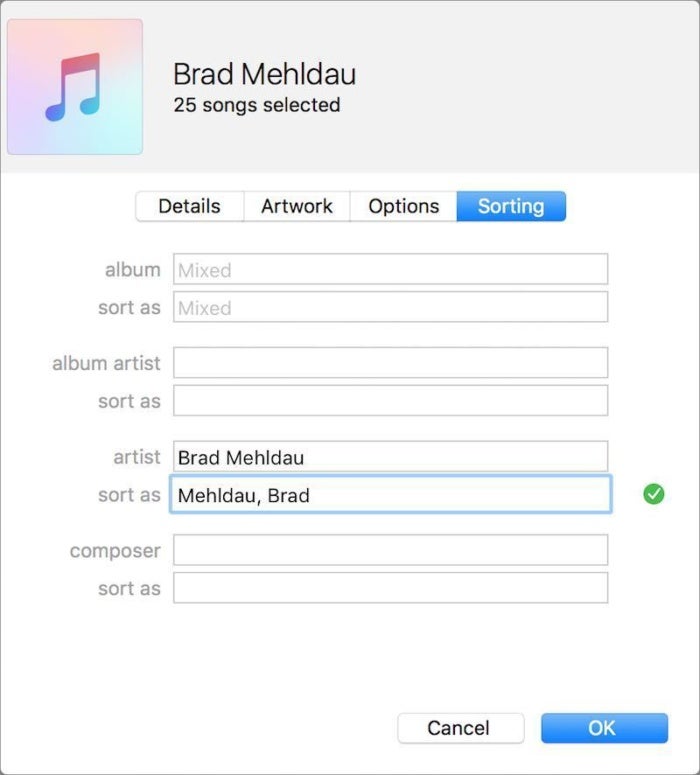 It can take a while to do this for all your artists, but there's a shortcut. Doug Adams' Artist to Last First AppleScript can set the sort tag this way for a whole batch of music. It can change a name to Lastname, Firstname order, and insert it in the appropriate sort tag, and it can even move the "The" at the beginning of a band's name to the end, so you could have The Jimi Hendrix Experience display as Jimi Hendrix Experience, The.
Ripping CDs on a laptop
Q: I have a MacBook without an optical drive, and most of my iTunes library as stored on an external hard drive using an app called TuneSpan. I also have an old iMac with an optical drive. How can I use the old iMac to rip CDs and get them in my MacBook's iTunes library? Can I use my external drive in some way?
It's almost as if Apple doesn't want people to buy CDs any more…
To start with, if you don't want to use iCloud Music Library, you have the problem of storing a large media library on a laptop that may not have a lot of storage. TuneSpan, which we covered back in 2012, lets you move some or all of your iTunes library to an external drive.
When you want to add more CDs to the laptop, you have two choices: use a second computer, which you have, or buy an optical drive and connect it to the laptop via USB. You can get an external, self-powered optical drive for about $25, and this might be a good thing to have if you plan to rip a lot of CDs.
If you rip CDs on the iMac, you can just copy them to any external drive, then add them to your iTunes library. This is important; you can't just put them in the iTunes Media folder on the external hard drive you have. You have to connect that drive and add the files to iTunes in order for iTunes (and in your case TuneSpan) to then move the files to a location that it understands.
You could also copy them in other ways, such as over your network, using File Sharing, or via AirDrop. I discuss nine ways you can copy files from one Mac to another in this article.
Have questions of your own for the iTunes Guy? Send them along for his consideration.