Update: The Day to Night collection is now available for purchase on Nike.com.
As a follow up to the Apple Watch NikeLab released in late April, Nike on Monday announced the Day to Night collection of Nike Sport Bands for Apple Watch Nike+.
The Day to Night collection is made up of bands that are, "inspired by a shade of the sky," according to Nike. The four bands are available in colors that match the four colorways of the Air VaporMax Flyknit running shoe.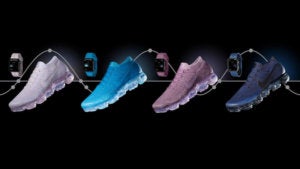 While Nike's announcement specifically states that the new bands are for Apple Watch Nike+, there's nothing about the new Day to Night bands that add functionality to the watch. You should be able to use the new Nike bands regardless of the model of your Apple Watch.
The Day to Night collection goes on sale on June 1 for $49. If you want to buy a matching pair of Air VaproMax Flyknit shoes, you'll have to head to your nearest Nike store or other athletic gear store and be ready to shell out $190.
When you purchase through links in our articles, we may earn a small commission. This doesn't affect our editorial independence.