Reader Sandie has a iPad and a Windows 10 system, and wondered how to use Apple's two-factor authentication (2FA) with that setup. Apple doesn't offer 2FA tools under Windows, but you don't need a Mac or a second iOS device to get the advantages.
Setting up 2FA on a single device is relatively easy, because the assumption is that you don't have a second device ready yet, and you can validate yourself through a code sent via text message or read aloud to you by a computer-generated voice on a call placed to a phone number you provide.
After that, any attempt to log into an account on an iOS or macOS device that isn't yet trusted (or hasn't been recently validated) results in a location dialog on all of your iOS and macOS devices that are linked to the same Apple ID asking you to allow or reject the authentication request.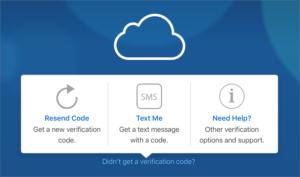 But you can also bypass that. With a Web login, for instance, you can click or tap the Didn't Get a Verification Link. That allows you to select Text Me or Use Phone Number (depending on whether you've verified SMS or a voice number or both) and have the code delivered that way.
Now if you want additional insurance that you won't lock yourself out if you lose your iOS device and access to your phone number at the same time (say by losing your phone or having it stolen), use the 2FA setup section at the Apple ID Web site to add other trusted phone numbers, such as a spouse, partner, family member, or close friend. Follow these steps:
After logging in to appleid.apple.com, click the Edit button at the far right of the Security section.
Click Add a Trusted Number.
Enter the number and select whether it can receive an SMS or voice call.
Click Continue. Apple texts or call you with the code.
Enter that code and click Verify.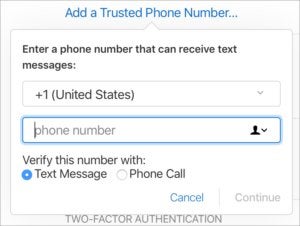 That number is now another method you can use as a method in case your other aren't available. (It's also a weak point: if someone gets your password and can access one of these phone numbers that is less under your control, they can break into your account.)
You can also paradoxically use a trusted device to log in on a trusted device, again typically for a Web login. In iOS, tap Settings > Password & Security and then tap Get Verification Code. On a Mac, go to the iCloud system preference pane and click Account Details, then click Password & Security and Get Verification Code. (The Password & Security click may not be required.)
Ask Mac 911
We've compiled a list of the questions we get asked most frequently along with answers and links to columns: read our super FAQ to see if your question is covered. If not, we're always looking for new problems to solve! Email yours to mac911@macworld.com including screen captures as appropriate. Mac 911 can't reply to—nor publish an answer to—every question, and we don't provide direct troubleshooting advice.