David Whitton finds that when he sends email using iCloud from Apple's Mail app in macOS that the outgoing messages can wind up arbitrarily in the Sent mailbox in either the iCloud account or the On My Mac section.
Seems there is no way of knowing which will happen, nor to force one or the other. They get sent from On My Mac or from iCloud for no apparent reason!
This is a concern for him, because the On My Mac archived messages don't appear to him on other devices, like his iPhone.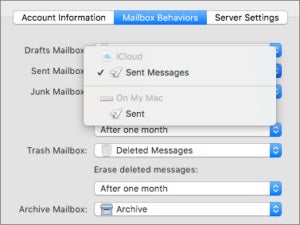 Mail organizes mailboxes by local and remote storage, generally preferring server-hosted messages using IMAP. If you have multiple accounts, the Mailboxes section will show generally used mailbox names with an expansion triangle to the left of each name. This lets you manage these common folders in one place. All your custom folders typically appear beneath a label in the mailboxes sidebar that has the name you use in Mail > Preferences > account name > Account Information in the Description field.
The exception is On My Mac, which indicates all the local folders on the computer you're currently using. You can drag messages among those mailboxes locally, but you can also drag and archive messages from any hosted mailbox into the On My Mac area, or vice-versa, which uploads messages back into mail-server folders.
But Apple also lets you set behavior in the account section under Mailbox Behaviors, choosing for several kinds of mailboxes—Drafts, Sent, Junk, and Trash—whether you want to use a hosted mailbox or one stored locally, organized under On My Mac.
David had three questions related to this, which can all now be solved:
How to move the current sent messages from On My Mac to iCloud?
Make sure the Sent mailbox showing under Mailboxes reveals the iCloud mailbox.
In the On My Mac section, selection all the messages in the Sent Messages folder.
Drag those messages onto the Sent mailbox for iCloud.
This may take a while, depending on the number of messages and your Internet connection's throughput.
How to file the messages correctly in the future?
In the Mailbox Behaviors section, from the Sent Mailbox pop-up menu, select Sent Messages under the iCloud label.
How to stop Mail from re-creating the On My Mac Sent Messages mailbox?
Taking the above step should prevent it. But make sure that if you have multiple accounts, that you've changed the behavior for the sent mail for each account.
Ask Mac 911
We've compiled a list of the questions we get asked most frequently along with answers and links to columns: read our super FAQ to see if your question is covered. If not, we're always looking for new problems to solve! Email yours to mac911@macworld.com including screen captures as appropriate. Mac 911 can't reply to—nor publish an answer to—every question, and we don't provide direct troubleshooting advice.