The app economy is a huge business, and app development is in high demand. For students wanting to learn how to write apps, Apple has good news for them: On Wednesday, the company announced that it has released a new app development curriculum for people who want to learn how to write apps. And it's free through the Apple iBooks Store.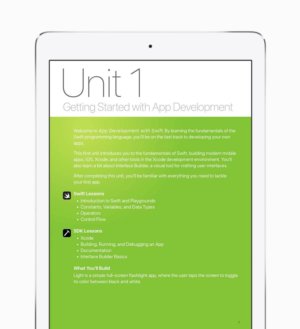 According to Apple, the App Development with Swift training is designed as a year-long course. Anyone who participates will learn how to code using Swift and create apps. Apple also has its Everyone Can Code program for K-12 grades.
"We've seen firsthand the impact that coding has on individuals and the US economy as a whole," said Apple CEO Tim Cook in a press release. "The app economy and software development are among the fastest-growing job sectors in America and we're thrilled to be providing educators and students with the tools to learn coding."
Apple also announced that the curriculum will be used in courses offered at six community college systems in the U.S. this fall. The college systems are:
Alabama Community College System
Columbus State Community College
Harrisburg Area Community College
Houston Community College
Mesa Community College
San Mateo Community College District
Apple introduced the Swift programming language at the 2014 Apple Worldwide Developers Conference. Swift was designed to be easy to use replacement to Objective-C, while still maintaining performance and flexibility.