Since it first introduced HomeKit back in 2014, Apple has been dancing around the idea of the smart home and automation. Since then, it's expanded its offerings bit-by-bit. It added the Home app in 2016, finally putting a front-end interface on controlling smart home tech and adding the ability to use the Apple TV as a home automation hub.
But despite those improvements, HomeKit has yet to really catch on. It's still missing more than a few pieces, but with the annual Worldwide Developers Conference just over a week away, it's possible the company has something up its sleeves to finally turn the smart house into a smart home.
The home hub
I've spilled plenty of ink on a theoretical Siri Speaker elsewhere, but the lack of a real home hub is part of why I think HomeKit feels so unanchored. Using the Apple TV (or an iPad) feels like a stopgap measure, chosen simply because they're devices that are almost always on and connected to your local network.
But with competition from the Amazon Echo, Google Home, and soon even Microsoft's smart speaker entries, the Apple-TV-as-home-hub feels particularly kludgy. Beyond its capabilities as a platform for automation (more on which in a bit), it's far less powerful or convenient than a comparable smart speaker device. Yes, it has Siri built in, but you have to turn on the TV and other attendant devices and then find a remote just in order to use it. Nobody's going to use that as the primary way of controlling their smart lights; that's the definition of a high-friction experience.
Meanwhile, the Home app on iOS is good for setting up scenes, but then you'll likely never visit it again. Even the Control Center interface takes too many taps and swipes to find the right options, and I constantly have to switch between the Scenes and Accessories views to find the thing I'm looking for. And don't even get me started on the Home app on watchOS—it's far too cumbersome and slow to be reliable. Even with it in my Watch's Dock I never use it.
A home hub needs to be integrated, easily accessible, and always available, and those are all places where a smart speaker fits the bill. A real home hub would go a long way to finally giving HomeKit some of the weight it's been lacking.
Automation station
One of the great advantages of smart home technology is the ability to easily automate your devices. Want your lights to turn on at a specific time? Your door to automatically lock when you leave the house? Your thermostat to know when you're not home and adjust the temperature accordingly? Yes to all of that. And while the Home app does offer some automation capabilities, the options are pretty limited and, in my experience, less than reliable. (I have a relatively simple automation that's supposed to turn off a light every night at 12:30 a.m. It works only about 75 percent of the time, and that's about the simplest automation you can have.)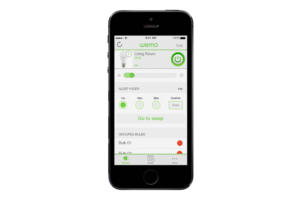 HomeKit currently offers automation based on arriving and leaving locations, time of day, when an accessory turns on or off, and based on some sensors. It's not bad, but within those categories, some of the options are limited. For example, you can turn a light on or off at sunset or sunrise, but not a set time before or after that. Belkin's WeMo app, by contrast, lets you select an offset from those times—an hour before sunset, for example. (For me, by the time the sun has actually gone down, it's already too dark and I've turned the light on manually.)
Belkin's WeMo also offers a nice feature in its "Away" mode, which can stagger timers by a random amount, while, for example, you're gone on vacation. That gives it a less predictable appearance, which better simulates someone being home. Clever features like that again showcase the real power of smart home tech, but Apple's options are rather staid and boring by comparison.
The house party of the first part
HomeKit adoption by third-party vendors has certainly increased over the past few years, but it still faces stiff competition from vendors focusing on their own standards or emphasizing compatibility with the Amazon Echo and Google Home.
I'm not sure that Apple is particularly interested in making its own HomeKit devices, but I can see arguments for it doing so. It would have an opportunity to show off its own best practices for creating devices, as well as showcasing the legendary combination of hardware, software, and services that the company likes to put forth as its greatest strength.
Apple smart bulbs or an Apple thermostat don't seem likely, but I could see the company developing smart sensors for things like temperature and humidity, light, and even air quality, all of which could be deployed to help bring more information into HomeKit, thus helping automate other, third-party devices.
Of all the HomeKit-related moves go, this seems like the least likely to me. And that's fine, because it's the lowest on my list, as well. A home hub and better automation would be the biggest steps to making HomeKit more attractive than it is today, and perhaps finally making the idea of an Apple-based smart home a reality.