Apple made a lot of promises when it revamped the Apple TV experience with the launch of tvOS 9. Two years later, there's still room for improvement. Obviously, we still don't have that all-new ambitious TV service that Apple was fighting for, hence why I'm still being held hostage by Comcast (for you East Coasters, that's our version of Time Warner Cable hell). But aside from these lofty dreams to revolutionize television, Apple still has a lot of low-hanging fruit when it comes to improving the fourth generation Apple TV powered by tvOS.
Most of our dream features have been inspired by the best of iOS and rightfully so. A lot of the updates and improvements Apple has made to tvOS since its initial launch stem from features first found in iPhone and iPads. So, don't be surprise during the tvOS portion of the WWDC keynote on June 5 when some of the updates seem familiar, and yet long overdue for the TV platform.
"Hey Siri" hands-free voice activation
Rumor has it that Apple is going to unveil an all-new Siri Speaker at WWDC, but what if it's instead an always-listening Siri remote for the Apple TV? All the Apple TV really needs to order to compete against Amazon Echo and Google Home is hands-free activation, and iPhones already have that in the form of "Hey Siri."
We've all been there. After some who-knows how many hours of binge-watching, Netflix rudely brings up that prompt asking if you're still there. All of the sudden, you have to emerge from your binge-hole, find the Siri remote and confirm your existence. Now imagine if all that could be avoided by shouting, "Hey Siri, I'm still here!"
One thing to consider if tvOS were better-equipped to handle voice requests is not for Siri on the nearby iPhone not to get confused. Maybe Siri could learn to differentiate when I'm too lazy to pick up up my iPhone and when I'm next-level lazy and can't even pick up the remote.
iPad-style Picture-in-Picture and Split View
It's weird that a feature called "Picture-in-Picture" is not originally part of tvOS. It already made it macOS Sierra. Picture-in-Picture and Split View (another iPad-exclusive productivity feature) seem tailor-made for the Apple TV experience. It may sound a little overwhelming to be able to watch two video streams at the same time, but an alternating mute option could make it more enjoyable experience. It beats having to switch back and forth between two channels.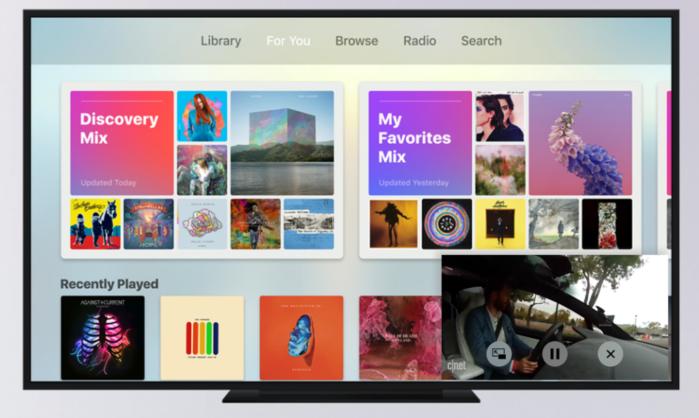 Plus, Apple is encouraging people to use their Apple TV for more than just binge-watching movies and shows – so this type of multi-tasking would be very welcomed. For example, Trulia and Zillow both have a tvOS app that lets you browse through real estate listings and even tour some available homes. A Split View feature would make it easy to compare the listings. Meanwhile, Picture-in-Picture sounds like the perfect solution for ordering from the Grubhub tvOS app without having to close out of Netflix, or making the most out of a commercial break by swiping on Tinder.
Netflix integration in the TV app
One of the best things about tvOS 10 was the debut of the TV app. By bringing together all the content from my installed apps, it quickly became my go-to whenever I wanted to find something new to watch or catch up on new episodes of my favorite shows. There is one little problem: It doesn't bring Netflix programming to the fold. Now that Amazon Video is rumored to be coming to Apple TV, however, I'm hopeful that Apple and Netflix can also settle their petty differences.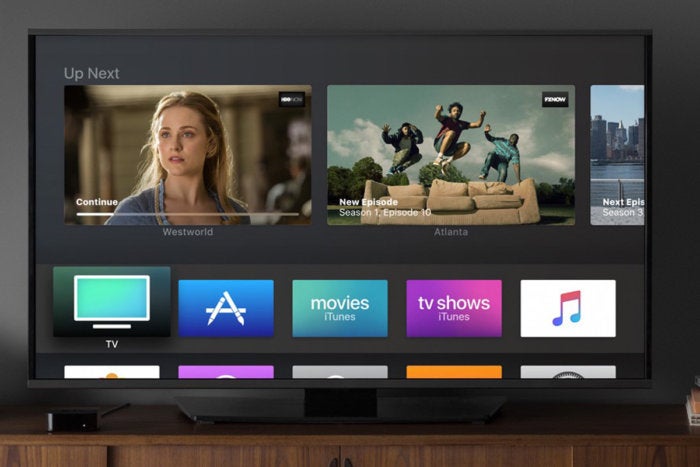 If the TV app gets integrated with more of these services, I can see it potentially becoming the home screen on the Apple TV. That way I won't have to navigate through a grid of logo apps that don't reveal anything about which shows and series each channel has. Did you know that Project Runway is now on Lifetime and that America's Next Top Model plays on VH1? Yeah, me neither…
Support multi-users with switchable profiles
I don't know about you, but it's likely that your household only has one Apple TV. Unlike an iPhone, the Apple TV is intended to be a shared device so it's ridiculous that it doesn't support multiple users. That way you could be able to switch to your profile and access all the content tied to your individual Apple ID, like your Apple Music playlists and your iCloud Photo Library.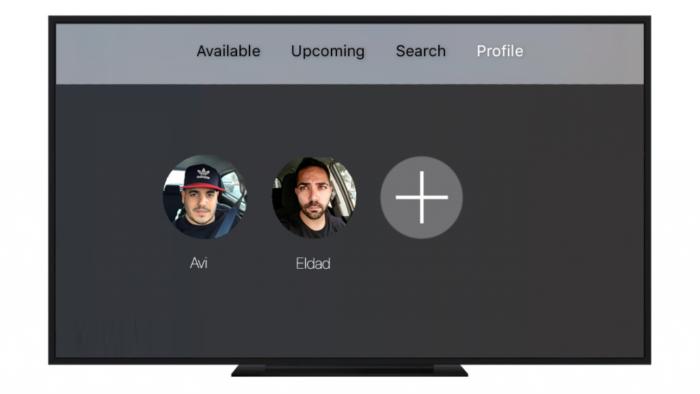 There is even a rumor going around that Apple is gearing up to announce this exact feature in tvOS 11 during WWDC. According to The Verifier, an Israeli tech site, tvOS 11 would make switching between profiles as easy as going from one app to another.
Dynamic screen savers with Today-like widgets
Don't get me wrong, I drool over those HD screen savers (especially the Dubai one), but there is no real use to them. And that's not very Apple of them. I would love to see tvOS 11 to steal another gem from iOS and bring a Today-style screen saver that surfaces widgets with the weather and the news, along with personal information like calendar events and reminders.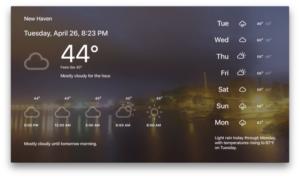 Notifications that are not annoying
It's a fine line between getting an important reminder and being bombarded nonstop, so that's why tvOS notifications should be implemented thoughtfully. I could see myself setting up notifications so that I know when important live events are coming on like a Giants game or a Giants game.
In addition to live TV reminders, tvOS could also pop-up very limited iOS notifications, like emergency calls, texts from your VIP contacts, or critical updates from your HomeKit-connected devices.
Now check out our other WWDC 2017 wish lists ?