At a Glance
Expert's Rating
Pros
Affordable, wire-free, battery-powered home security camera
Up to 1080p HD image quality with two-way audio, pan/tilt, night vision
Includes PIR motion sensor, batteries, wall mounting hardware
Cons
Manual recordings can only be made while iPhone app is open
Uses less common batteries, no AC power option
No web browser support, limited Mac app
Our Verdict
I've reviewed several home security cameras over the years, and always grapple with where to mount them close to a required electrical outlet. After all, wires can be severed or simply unplugged, disabling a camera before it ever has a chance to catch a glimpse of potential intruders.
Although Wi-Fi allows cameras to have one less tether, manufacturers mostly disregard the real elephant in the room—until now. The folks at Reolink have introduced the world's first battery-powered security camera, offering the freedom to move it anywhere around the home.
Cut the cord
Reolink Keen ($130 on Amazon) is a security camera powered entirely by four included CR123A batteries, powerful 3.0-volt cells typically reserved for photo accessories. There's no AC power option, so you'll want to keep a backup supply of these less common batteries on hand. Under normal conditions, a set of these batteries can power Keen for up to six months in standby mode.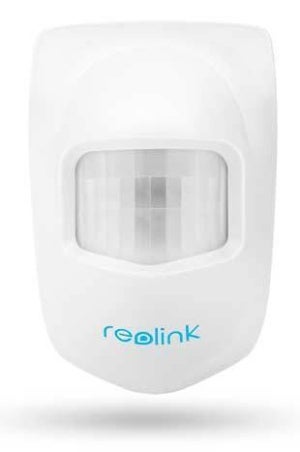 Roughly five inches tall and four inches wide, the all-black Keen resembles a small Russian nesting doll, thanks to its rounded top with speaker grilles on each side of the head that look a bit like ears. The camera lens view is 90 degrees wide, but the upper half of the body rotates, allowing the camera to pan 355 degrees horizontally or tilt 105 degrees vertically.
A pair of antennae protrude from the back, capable of picking up available 2.4GHz 802.11b/g/n Wi-Fi signals. Aside from the silver ring around the middle and the blue Reolink logo on the base, Keen is unobtrusive enough to fit into any environment, and the wireless portability makes it easy to relocate as needed; the box also includes everything needed for wall mounting.
Setup takes only minutes and is ingeniously simple: Install the free Reolink app on your iPhone or Android smartphone, tap Add New Device, and scan the barcode sticker on back. Keen uses voice prompts for entering wireless network credentials, then the app generates a QR code to pair the camera.
Mobile security
Reolink Keen offers three H.264 compression quality options: Fluent, Balanced, and Clear, with the latter offering the clearest maximum image resolution of 1920×1080 at a frame rate of 15 fps. Picture quality is good, and there's a built-in microphone just below the camera lens that allows two-way communication.
While Keen was designed for smartphone use, the hardware works to a lesser extent with Reolink Client for Mac or Windows. The software's automatic search fails to find Keen on your wireless network, but I could add the camera by manually entering its device UID from the QR sticker. Keen doesn't work with web browsers, so you won't be able to log in remotely without an app.
I was disappointed to discover recordings manually initiated on iPhone don't keep going in the background, instead terminating when the app is closed. This is an odd limitation considering the camera features a micro-SD slot (card not included) for up to 64GB worth of recordings, and makes it less useful for keeping tabs on kids or pets left home alone since you can't start recording as you leave.
Reolink includes a PIR motion sensor, which uses infrared to detect human or animal movement within 26 feet. You can set up Keen to automatically record when there's activity, optionally accompanied by email, push notification, or voice alerts. The motion sensor is a welcome addition, because it's less prone to being triggered by non-infrared objects like tree limbs or blowing leaves.
Bottom line
If you're in the market for a home security camera designed with smartphone users in mind, Reolink Keen is an affordable and easy-to-use solution that offers true wireless freedom.