When you set up a new iPhone or iPad, a few screens walk you through some of the most important settings for the device. You're asked to enter your Apple ID and password; you're asked if you want to use location services; and you get queried about Siri. But beyond that, iOS starts working with a slew of default settings. It's up to you to find them, figure them out, and tweak them.
Unfortunately, the iOS Settings app can be confusing. It's hard to find what you need to change, and some settings are buried in sub-sub-sub-menus.
I count 44 different top-level settings categories on my iPhone, and then 84 more because third-party apps also have entries, many of which contain options that are also found in the Location, Notifications, Background App Refresh, Cellular Data, and Privacy settings. Few of them contain any actual app settings, and those that do also provide access to those settings from the individual apps. If I add up the iOS settings and the app settings, I have a total of 128 top-level entries in the Settings app. And many users will have more than that, because they have more apps on their devices.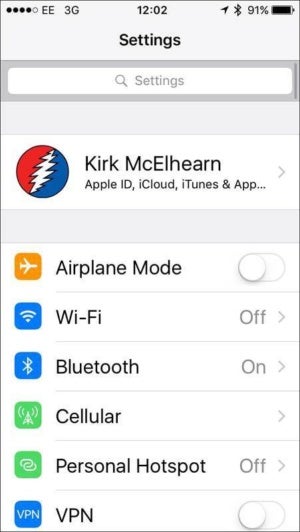 (For some reason, I don't always see these third-party app settings on my iPhone or iPod touch, but I do see them on both my iPads. When I started writing this article, they were not to be found on my smaller devices; the next day, when I was revising my draft, they were visible. Some users have reported this issue. This is a problem, because there may be app settings that I cannot access on certain devices.)
Fortunately, back in iOS 9, Apple added an option to search the Settings app. It wasn't visible though; you had to pull down on the screen to access a search box. In iOS 10, they changed this and the search box is always visible. So if you're trying to find a specific setting, you should be able to type its name in the search box and find it, right? Not really. If you search for "Automatic Downloads," an iTunes Store setting, you can't find it from the search box; if you want to find the "Enable 4G" setting, searching won't help; and so on. Many settings don't show up in the search box, and, while I could figure out where to find these, the search box is also a shortcut to not have to scroll and tap to get to a buried setting.
But the Settings app is still confusing. It's hard to know where to look for many of the settings, and if you don't know what a specific setting is called, you won't be able to search for it. In addition, there's no help for the settings; some have text explanations, but you can't have tooltips, or a Help icon in iOS, to provide more information.
I think Apple needs to rethink the way the Settings app works, and the way settings are organized. There are hundreds of discrete settings, making it very confusing to really get a handle on how things work on iOS. In addition, the existence of third-party app settings in the Settings app is wrong. In the early days of iOS, when there were few apps, this may have made sense, but it's more logical to look for app settings in the apps. It's also easier to access them, since you don't need to switch to the Settings app, perhaps change a setting, return to the third-party app to check how something looks, switch back, and so on.
Apple does a good job of choosing default settings that work for most users, but every user eventually needs to change some settings. It would be great if this were easier.