At a Glance
Expert's Rating
Pros
Keeps detailed records of what you do on your Mac
Lets you define projects
Lets you assign apps, websites, and more to projects
Cons
Lots of information can make it difficult to manage
Complicated pricing model
Our Verdict
Best Prices Today: Timing 2.0
If you need to track your time, there are plenty of apps that can help you. Many of them are designed for freelancers who need to track billable time so they can invoice clients, but others track activity on your Mac, so you can know where your day has gone. Timing ($29, $49, or $79) combines both of these features, allowing you to easily start and stop projects, to know how much to bill, and also see which apps you use, and which websites you visit.
For many people, this latter feature is a novelty; you can see exactly how much time you spend on Facebook or Twitter, for example. But some professionals may bill time spent in a specific app or on a specific website for their clients. If this is the case, Timing can automatically add up all that time, so you don't even need to tell the app when you've started working on a project and when you've finished.
Timing displays lots of information; in some cases, a bit too much. It takes a while to get used to this app, and fortunately the developer has a good deal of help on his website, as well as a five-day email course you can sign up for.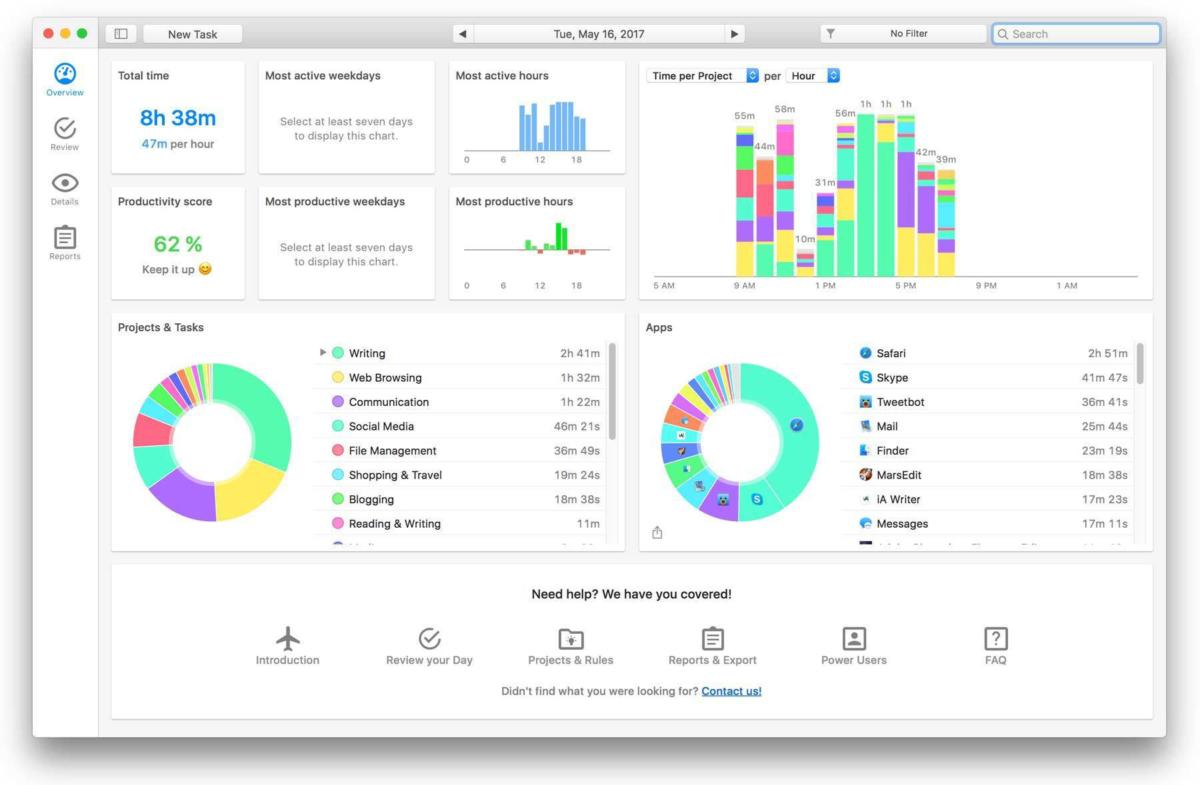 You can see a number of sections above, such as the timeline of the day's activity, and two graphs showing Projects & Tasks and Apps. There's also a productivity score section, which calculates how much of your time is useful, based on ratings you set by project.
While the app records all this data, and assigns it automatically—if you don't create your own projects and start tracking a specific project—that information isn't entirely valid. For example, I spent 1:32 browsing the web on the day in the screenshot above; but much of that web browsing was research for what I was writing. I could go to the Review tab and manually apply specific websites to my Writing project, or manually start and stop the project when I'm writing, but if I'm not actively tracking a project, I won't do this. It also counted time when Safari was the frontmost window, but when I may have been on the phone or making tea.
The Review tab is where you tell Timing what your projects are, and which apps, websites, and files you use for them. You can tell Timing that any activity with a specific app is part of a given project; you can also set websites, and even folders on your Mac containing files you work on for clients, so they, too, are counted in projects.
The Details tab breaks down each hour, showing exactly what you did, when, and for how long. Again, you can use this data to refine projects, or simply to see what you have been doing all day.
You can export reports in Excel, CVS, or HTML, and print them or create PDFs. You may be able to import these reports to your accounting app to then bill clients.
The pricing model is a bit arcane. With three levels (Productivity, Professional, and Expert) it's hard to know which one is right. And while this isn't technically subscription pricing, each one only offers free updates for 12 months, and each offers a different number of computers the app can be used on (two, three, or five).
I already have a time tracking feature in the accounting software I use ( FreeAgent), and it cannot import data from Timing or other apps, but if I didn't have that feature, I'd certainly use Timing to track those tasks where I bill clients. Otherwise, it's interesting to see what I do all day, and how much of my work is unproductive.
Bottom line
If you're a freelancer billing clients, you should check out Timing. If not, you may still want to try the app just to get a better idea of how you spend your time.
Best Prices Today: Timing 2.0