This may sound shallow, but looks matter, especially if you're preparing to sell your possessions via an online marketplace.
Just like staging can add thousands to the final sale price of your home, professional-looking photos of your used items—laptops, handbags, iPhone cases, those sandals that didn't quite fit—for sale on Craigslist, eBay, Amazon, or Facebook Marketplace can help to quickly move your items out the door.
Here are a few tips on how to take your best shot to get your best price.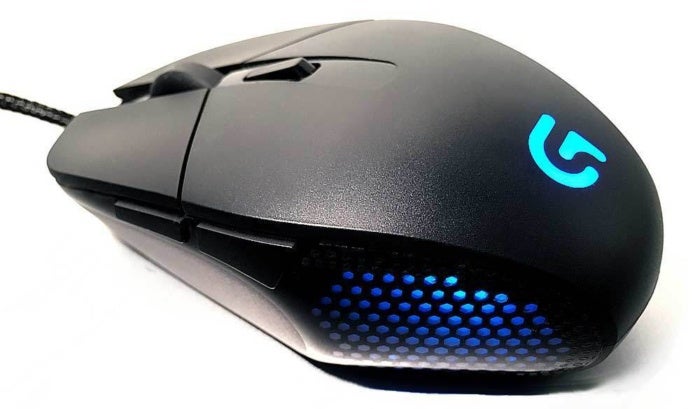 Use your iPhone camera
You do not need a DSLR (or the super high-resolution photos it produces) for an online store product shot. The iPhone 6s's 12 megapixel, f/2.2, 29mm camera works well. An iPhone 7 Plus has an even more advanced dual 12 megapixel camera setup of 28mm at f/1.8 and 56mm at f/2.8. Both feature phase detection autofocus, dual tone flash and more. Earlier iPhones have a respectable 8 megapixel camera, which works fine for online shots that you don't need to print.
Clean up your product
Spiff up your item before you start shooting. Anything you sell should look as pristine as possible, though no one expects a used product to look new. Make sure your item is free of dust, dirt, and debris. Capture multiple photos and zoom in on any defects. Do not use a stock photo. If you have the original packaging, be sure to include it in at least one of several photos.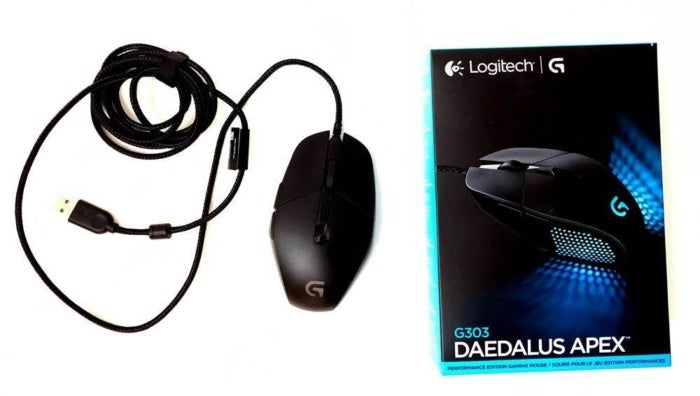 Clean up your surroundings
Your item should be isolated from its environment to keep the buyer's attention focused. Do not expose viewers to a messy living space with plates on the dining table or piles of clothes on the bed. Shoppers will move on from your sale item fast.
Light it naturally
Take your shot during the day using natural light from a window, or shoot on an outdoor deck or in the backyard. Avoid flash and the unflattering, distracting shadows it casts. Natural light also makes it more likely that your item is reproduced true to color. Shoot early in the morning or late in the afternoon for a softer, more flattering illumination, as opposed to harsh, direct, noon-hour sun.
Light it with lamps
Illuminating the scene can do wonders for the aesthetics of your image by making it easier and more pleasant to look at. Generally, a pair of lights, from opposite directions provides fill lighting on an object to wipe out most distracting shadows. You can set up your object with a poster board and desk lamps without having to buy special equipment.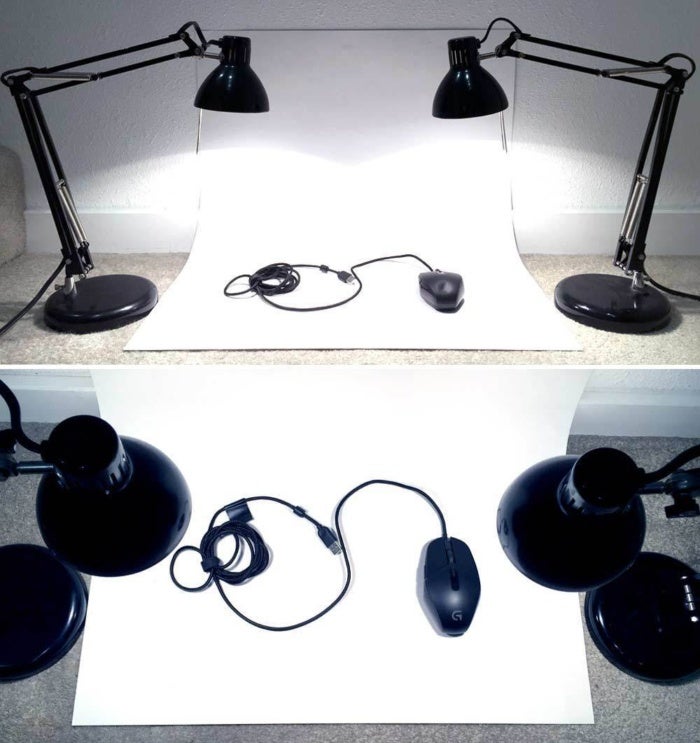 Use contrasting backgrounds
If your item is dark, use a light background. If your object is light, use a dark background. Plain carpeting, a towel, sheet, or blanket can provide an easy backdrop. Other options include mat board, foamcore bounce cards, white paper roll, or poster board, which is available in black or white. Place one sheet on the floor or table and the second sheet propped against a wall. Sometimes, one sheet is all you need.
Light it in a box
In order to eliminate harsh shadows from the image, you can opt to photograph your item from inside a light box. Buy a pre-made light box or easily construct one yourself. Just use any cardboard box you have in the house, cut, and line it with white tissue or thin paper. Maeling Designs has instructions on makings your own photo light box.
Shoot from all angles
Post multiple shots taken from different angles, highlighting different parts of the item. Go for full product shots, side shots, close-ups, back shots, and angle shots. Fill up the frame and shoot from the product level, and overhead.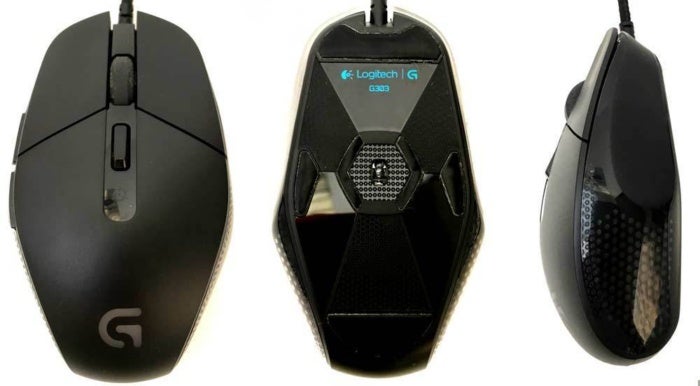 Use a tripod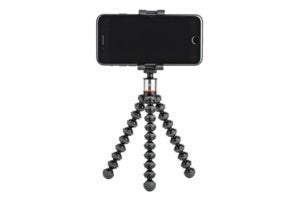 There are numerous portable iPhone friendly tripods available to hold your phone steady as you tap to shoot. You can also use the volume buttons on the earbuds that came with your iPhone as a shutter release.
One of our favorites is the Joby GripTight One GP Stand ($34.95 MSRP; available on Amazon). Photograph your item from any angle with this flexible mini tripod, designed to fit any iPhone, with or without a case. Its flexible, bendable legs wrap around surrounding objects to get uniquely angled shots while rubber foot grips provide stability on any surface.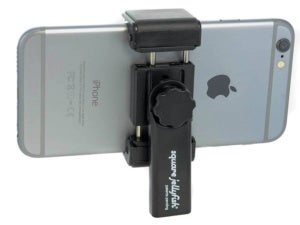 The Square Jellyfish Metal Spring Tripod Mount ($16.95) stand accommodates any smartphone model, from the iPhone SE to the iPhone 7 Plus, with or without a case. An aluminum mini-ballhead assures correct placement of your phone for optimal composition. Its spring-loaded grip and rubber foot tips stabilize your phone for the best shot.
The tiny Spring Tripod Mount lets you secure your iPhone and rotate it both vertically or horizontally. The unit's four springs offer a strong grip, while the tension-based arms hold your phone steady. Mount it to any tripod with a universal screw mount or use it with Square Jellyfish's other tripods.
Use enhanced lenses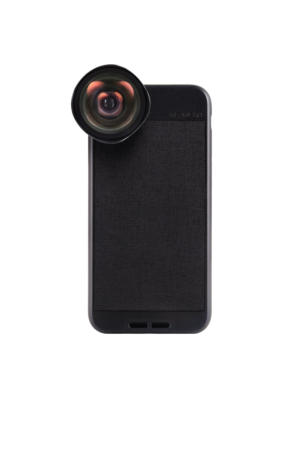 Generally, attaching a lens to the iPhone to enhance images is not necessary. However, if you are determined to use your iPhone as a quasi DSLR for products that may be hard to photograph without a telephoto or wide-angle lens, there are plenty of choices.
Moment Tele ($99.99) and Moment Wide ($99.99; available on Amazon) both offer fine optics, with the added advantage of not forcing you to use a proprietary case. These lenses fit the iPhone 6s/6s Plus and newer; for the iPhone 6 and older, check out Moment's original wide and telephoto lenses.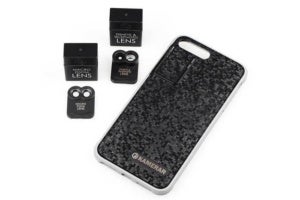 The Kamerar Zoom Lens Kit for the iPhone 7 Plus ($35; available on Amazon) offers a dual optics system with fisheye, telephoto, macro zoom lens, and case. The kit protects your phone, offering access to all ports. Snap the case on your phone and then attach your chosen lens.
Use apps
Over the years, a cottage industry of photo iPhone has emerged for almost any purpose you can imagine, offering both shooting and editing capabilities. Here are a few popular examples.
Camera+ ($3): With its separate touch exposure and focus, shooting and scene modes, and horizontal level, effects, and sharing features, Camera+ can zero in on the specific details of your sale item. The Clarity feature analyzes and makes intelligent adjustments to your photos.
Lightroom for iPhone (free): Use the mobile version of Adobe Photoshop Lightroom when you want to shoot Raw from your device. You can freely shoot and edit in DNG raw without being a Creative Cloud subscriber. However, you do need a Creative Cloud membership if you want to sync photos across all your devices, which is not necessary for this project.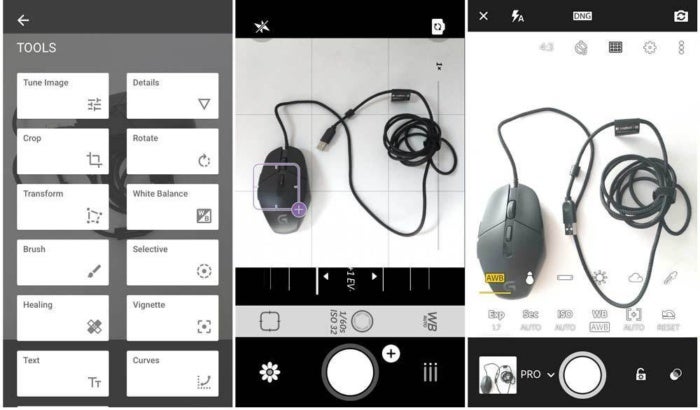 Snapseed (free): Snapseed is a one-stop-shop for all kinds of iPhone photo shooting and editing tasks, including crop, rotate, transform, white balance, healing, curves, lens blur, and more.
Clean up your shot
While you don't have to be a Photoshop jockey, use some free, cheap, or online tools to fix exposure, color correct, or sharpen shots. Apple's free Photos or Adobe's Photoshop Elements ($99) offer simple retouching tools. Don't overdo corrections; use software enhancements only for modest aesthetic improvements to the overall picture, not to make your product look better.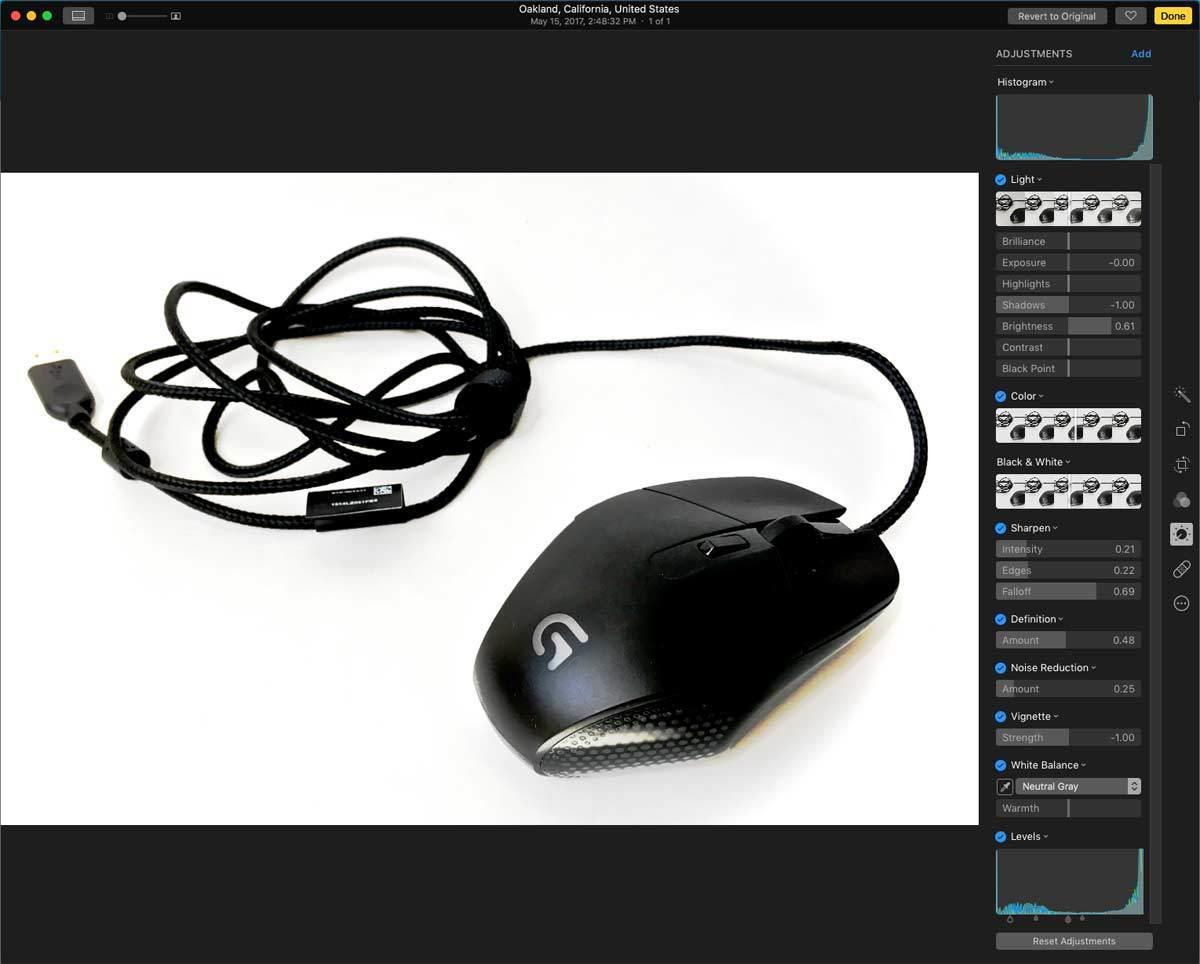 Avoid text, borders, and props
Your product shot is not a work of art. It's designed to sell the product. Do not add anything extraneous to your images that might be construed as trying to camouflage or distract from flaws. Do not use props, borders, or text directly on the image. Zoom in tightly around your subject so that it mostly fills the frame, but leave a little space on all sides for a pleasing view of the item or room to crop, if necessary.
Follow the rules
Some sites, such as eBay and Amazon publish specific guidelines on how your image will look best in their hosting environments. It's a good idea to follow those rules to the letter.
Good luck
Setting up your product shot for sale can be challenging, and may take a little planning time, but the above steps let you easily accomplish good results without any monetary investment. A successful sale gives your item a new home while putting some extra cash in your pocket.