New size, faster chips, and more storage—that's just a little of what you can expect from Apple's new iPad Pro lineup, unveiled during the Worldwide Developers Conference on Monday. Update 6-21-2017: This article has been updated to include more information from our review of the 10.5-inch iPad Pro, as well as a video review.
In addition to upgrading its 12.9-inch iPad Pro (which originally launched in 2015), Apple released a new 10.5-inch model that replaces the 9.7-inch iPad Pro (which launched in 2016). Here's what you need to know about the refreshed models, including all the new features, upgrades, and specs.
What's the latest on the new 10.5-inch model?
Apple introduced a new iPad Pro size: 10.5 inches. This model replaces the 9.7-inch iPad Pro that was released in 2016. The 10.5-inch model has a screen that's 20 percent larger that its predecessor, and thanks to reduced bezels and borders, it still weighs about one pound. The new display size makes it possible for this new iPad Pro to accomodate a full-sized digital keyboard, as well as a full-sized Smart Keyboard accessory.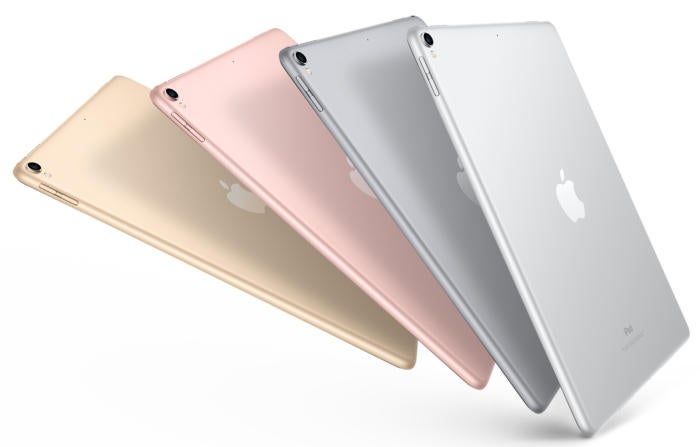 What does the iPad Pro cost?
10.5-inch iPad Pro:
$649 for 64GB, $779 for 64GB + Cellular,
$749 for 256GB, $879 for 256GB + Cellular
$949 for 512GB, $1079 for 512GB + Cellular
12.9-inch iPad Pro:
$799 for 64GB, $929 for 64GB + Cellular
$899 for 256GB, $1029 for 256GB + Cellular
$1099 for 512GB, $1229 for 512GB + Cellular
When can I buy them?
The new iPad Pro models are available to order now on Apple.com and will start shipping out the week of June 12. Both models will also be available that week in Apple Stores in the U.S., Australia, Canada, China, France, Germany, Hong Kong, Italy, Japan, Netherlands, Russia, Spain, Sweden, Switzerland and the UK. They'll be available to customers in India, Turkey, and United Arab Emirates later in June, and to customers in Brazil, Mexico, and South Korea in July.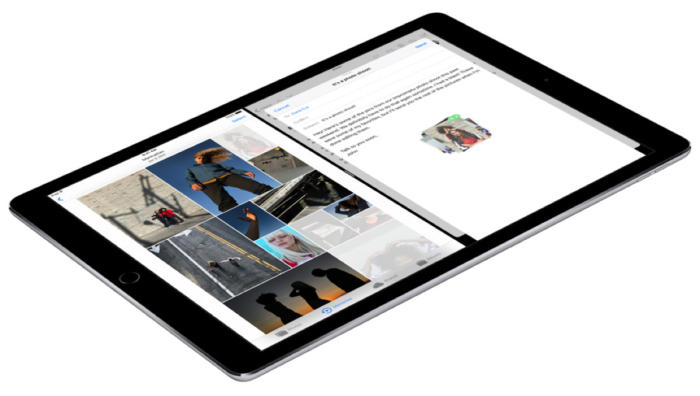 What colors can I choose from?
The 10.5-inch iPad Pro comes in silver, space gray, gold, and rose gold. The 12.9-inch iPad Pro is available in silver, space gray, and gold.
What about specs?
During WWDC 2017, Apple simplified the iPad Pro line. Both sizes are now identical in terms of specs: Same chip, same brightness, same cameras, same storage options, and same speakers. So the only real difference is the size (which affects weight, screen resolution, and battery size) and the rose cold option for the 10.5-inch. Here's a brief look at what you can expect in both models:
A10x fusion chip with 64-bit architecture
4GB of RAM
Retina display with True Tone
Refresh rate of 120Hz with ProMotion

64GB,

256GB, and

512GB

12-megapixel rear camera with 4K video recording
7-megapixel FaceTime camera with 1080p HD video recording
Four speaker system
And a headphone jack!
What iOS version do they run?
The new iPad Pros ship with the latest iOS 10.3.2, but they will get a bunch of new multitasking features in iOS 11 to be released in the fall. In the meantime, you can sign up to the public beta program to start testing these iOS 11 features later this summer. If you're already in the program for iOS 10, beware that some people have spotted issues with the iOS 10.3.3 public beta 3 on the 10.5-inch iPad Pro. Apparently, the latest iOS 10.3.3 public beta has a bug that prevents Split View and Slide Over from working properly.
What's ProMotion technology?
The iPad Pro models have a new trick up their sleeve. Apple has added a new feature called ProMotion which doubles the display refresh rate from 60Hz to 120Hz. ProMotion also helps to automatically adjust this refresh rate depending on how you're using the iPad Pro, as a way to conserve battery life.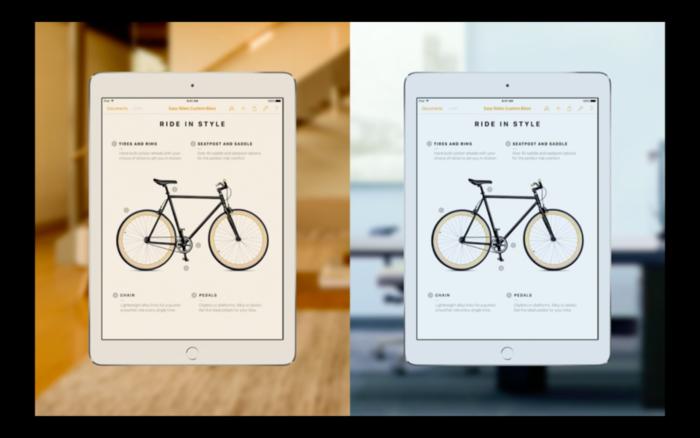 Does the 12.9-inch model have True Tone now?
Yes—Apple has upgraded the original iPad Pro with True Tone. This means the Pro dynamically adjusts the screen's white balance based on the lighting in the room to provide more-accurate colors on a paper-white screen.
So it looks good, but what about performance?
The iPad Pro models come equipped with the top-of-the-line A10x fusion chip, plus a six-core CPU (three high performance cores and three high efficiency cores) and a 12-core GPU. This gives the new iPad Pro models 30 percent faster CPU performance and 40 percent faster graphics performance than previous Pro models with the A9x chip. In our testing with GeekBench 4, the 10.5-inch iPad Pro scored 3875 in the single-core CPU benchmark, or 28 percent better that the 9.7-inch model.
And what about battery life?
Despite improvements in speed and performance, Apple says that the 10.5-inch and the 12.9-inch model will both deliver up to 10 hours of battery life, or 9 hours if using an LTE model on a cellular connection. During our review, the 10.5-inch iPad Pro delivered on this promise.
The 10.5-inch iPad Pro has a 30.4‐watt‐hour rechargeable lithium‑polymer battery, while the 12.9-inch iPad Pro's battery is a 41-watt-hour.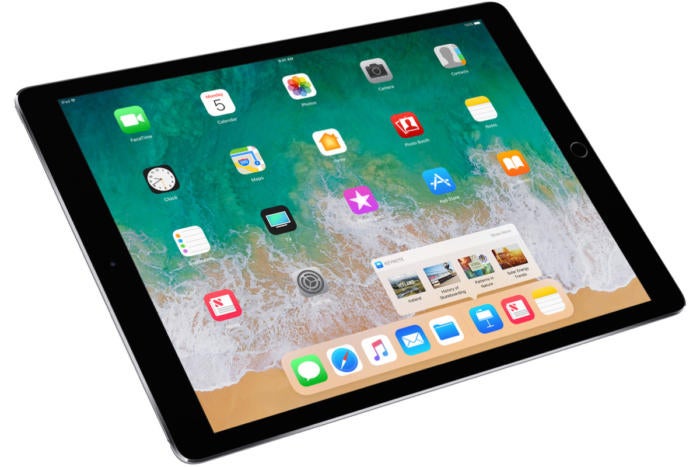 Can they take Live Photos or Portrait pics?
The iPad Pro has camera specs modeled after the iPhone 7, so Live Photos and all their new editing functions are available. Unfortunately, the iPad Pro does not have a dual-camera system, so you can't use it to take photos in Portrait mode like on the iPhone 7.
How's the sound quality?
The iPad Pro is equipped with four speakers, one near each corner to create an immersive "soundstage" experience. These speakers have also been programmed to produce a well-balanced sound, whether you are holding the iPad Pro vertically or horizontally. And a new casing design gives the Pro speakers 61 percent more back volume, a wider frequency range and up to 3x more acoustic output than previous iPads.
Do they support Apple Pencil?
Yes! Apple's $99 stylus is pretty self-explanatory. You can use it to add handwritten notes to your digital documents, but it's also got some cool technology that will be particularly intriguing for sketch artists.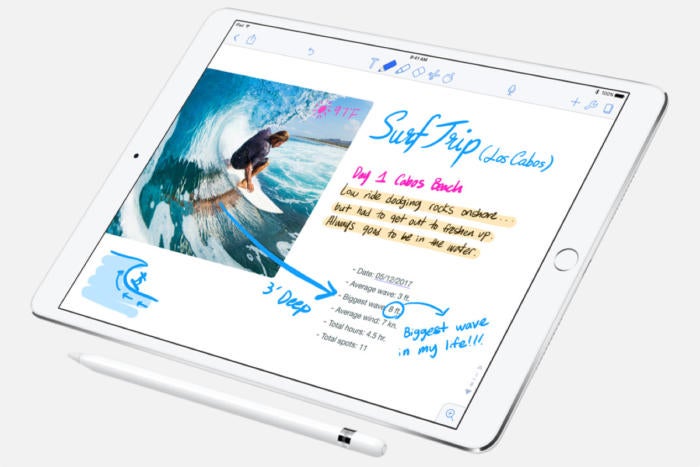 The Apple Pencil has several sensors on both its case and the tip that can detect the position, pressure, angle, and orientation of your strokes. Draw gently on the screen to create light strokes, or press down to draw thicker lines. Two sensors on the tip work with Multi-Touch display to detect whenever you're tilting the Pencil to create a shading effect. Apple Pencil can also be used simultaneously with your fingers, too, for those who have yet to graduate past the finger painting stage.
In iOS 11, Apple reduced the latency to an industry-best: 20 milliseconds. In addition, iPad Pro users can now use the Pencil to use Markup in screenshots and in documents scanned using the Notes app. In addition, the Notes app is able to search through your notes handwritten with the Pencil.
How do I charge the Apple Pencil?
Instead of an eraser at the tip, the Apple Pencil boasts a Lighting connector. Simply take off the cap and plug the Pencil into your iPad Pro. Fully charged, Apple Pencil lasts up to 12 hours. And just having the Pencil charging for 15 seconds will get you 30 minutes of sketching time.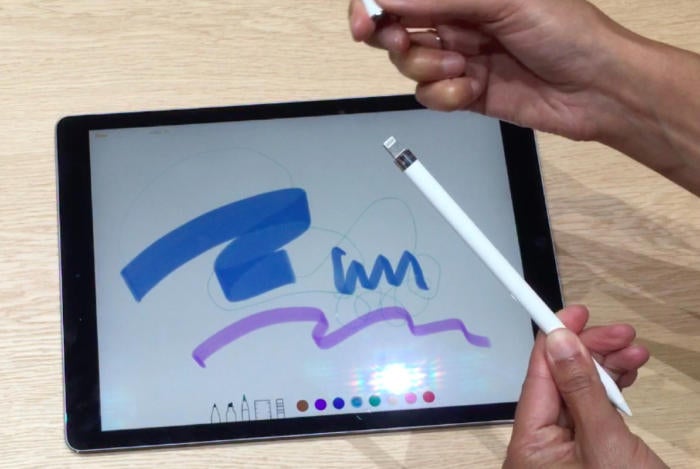 Do they support Smart Keyboard?
Yes! Think of the Smart Keyboard as an iPad Smart Cover but with a slim, foldable, lightweight, water-resistant, 4mm keyboard built in. In addition to using it to type, you can fold up the Smart Keyboard to prop up the iPad Pro or cover up the screen completely. Recently, Apple has added keyboard support for 30 languages, including Chinese and Japanese. It costs $159 for the 10.5-inch iPad Pro and $169 for the 12.9-inch.
How do you hook up the Smart Keyboard?
Apple has created a three-pronged Smart Connector that allows for the Smart Keyboard to be connected to the iPad without plugs, wires, or Bluetooth pairing. It's similar to how the Apple Watch's diagnostic port works. The Smart Connector allows for the seamless transfer of data and power between devices, so you won't have to charge the Smart Keyboard.
Will my old iPad Pro cases fit on the new models?
Most cases for the previous generation 12.9-inch iPad Pro should still fit the upgraded 2017 model. The camera bump is a little more pronounced, but you should still be able to squeeze it in.
As for the cases designed for the 9.7-inch iPad Pro, they will not fit on the new 10.5-inch model.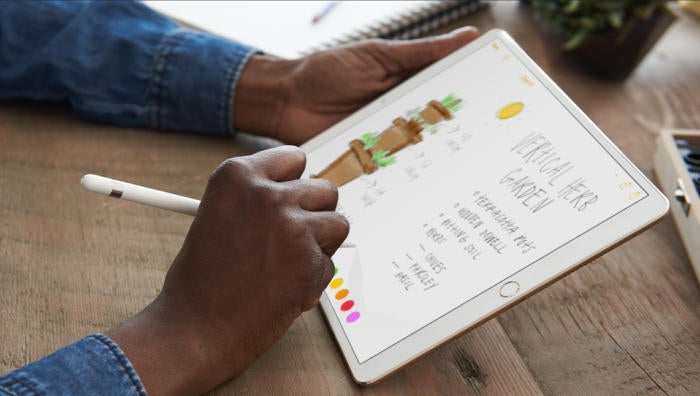 Are there any other accessories?
Yes, Apple also has new $49 Smart Covers for the 10.5-inch model in seven colors. The $59 Smart Cover for the 12.9-inch iPad Pro comes in only two colors: charcoal gray and white. In addition, Apple has brought back Leather Smart Covers to outfit the iPad Pro. The 10.5-inch Leather Smart Cover is $69 and comes in four colors. The 12.9-inch Leather Smart Cover is $79 and comes in three colors. Plus, Apple has released an all-new Leather Sleeve ( $129 for 10.5-inch and $149 for 12.9-inch) that incorporates a special spot for Apple Pencil. You can also store the Apple Pencil in its own designated case that's $29.
There are now third-party cases, as well, like the Slim Combo from Logitech.
What are the iOS multitasking features for iPad?
In iOS 9, Apple introduced three ways to view and interact with two apps simultaneously on an iPad Pro. These multitasking features have been refined and expended with each subsequent iOS release.
First, we have Slide Over, where you can choose a second app to open up as a pinned sidebar on the right or the left. Second, there's Split View, where two apps each take up half of the screen. Apple introduced the ability to drag-and-drop in iOS 11, so you can seamlessly move text, photos, files, and URLs from one app to another. Finally, Picture-in-Picture lets you watch a video or chat on FaceTime while having another app running in the background. The video screen becomes a smaller window that you can drag and resize.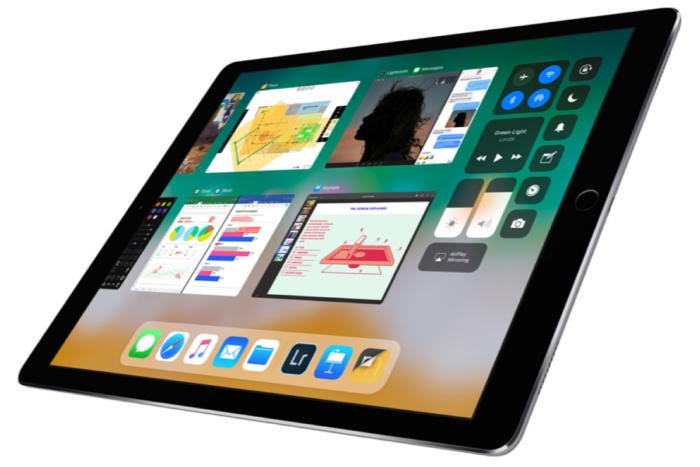 iOS 11 also brought other Mac-style capabilities to the iPad, including a new Dock and App Switcher. Like on macOS, this Dock gives you quick access to frequently used apps and documents from any screen. You can then drag these apps from the Dock to the right or left side of the screen to open in Slide Over or Split View.
There's also a new Files app that keeps all your files and documents in one place, whether they're stored locally or in iCloud, Google Drive, or Dropbox.
iPad Pro videos: Watch it in action