At a Glance
Expert's Rating
Pros
Easy to use
Lightweight and fits into some outerwear pockets
Comfortable matte body
Cons
Can only load 10 sheets of paper at a time
Adding text on the fly can be awkward
Social media sharing could be more intuitive
Our Verdict
iPhoneography may be fastest and easiest entrée into photography for most consumers, but it lacks one critical element: no instant prints. Sure, you can pass around your iPhone to show off pictures of the kids or your cat, or even rely one those cute portable printers. But those solutions are inherently inconvenient.
Prynt Pocket ($150, available on Amazon), a follow up to the tiny, lightweight Prynt Case aspires to be the modern-day Polaroid combo camera and printer, but with a twist.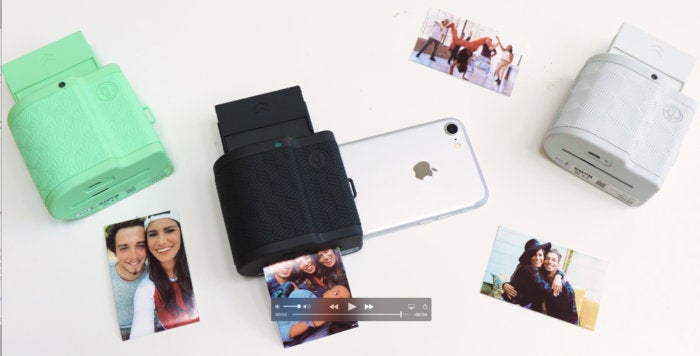 Essentially a portable printer that works through your iPhone camera, Prynt Pocket uses ink-infused thermal paper with an adhesive sticker backing, to print photos from your iPhone for immediate distribution. Load your iPhone into the compact unit and attach it via the Lightning connector, then adjust the size of the clamps to accommodate models from an iPhone 5 to a 7 Plus. No need to remove an average sized case. Then download the companion Prynt app from the App Store, and you're in business.
The accessory's updated, streamlined body, which is available in graphite, cool grey, and mint, features a rounded, grippy, matte enclosure that feels exceptionally comfortable in the hand, making it pleasant to tote around. A strap hook lets you secure it to a wrist or around your neck, if desired, though the paper cartridge sticks somewhat awkwardly out of the side.
While the unit runs a bit large for typical pants or shirt pockets, Prynt Pocket fits nicely into more casual sweatshirt or fleece jacket pockets.
Once you tap the shutter (either within the app or the physical hardware button), printing starts promptly; it takes just a few seconds to spit out a wallet-sized photo. The colors are generally subdued, though images of complex scenes held most of their detail. The print emerges dry and finished, and resists fingerprints. If you don't use the photo as a sticker, the backing helps to stiffen and preserve the photo.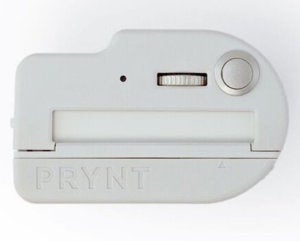 Prynt Pocket must be fully charged (which takes about three hours) before you start to use it, and it switches on or off as you attach or remove the phone from the lightning connector. The battery was down to about half as I approached my tenth print.
Artificial intelligence
Despite the conceptual similarities, your iPhone, even with the Prynt Pocket, is not anything like a vintage 1973 Polaroid camera. That's because of the device's artificial intelligence software component.
While each ink-free peel and stick print stands on its own, the app lets you view an augmented reality video with each picture printed on its paper. The Prynt app automatically records a quick video linked to the photo and stores it in the cloud, so that when you point a smartphone at the print through the app, it plays back the embedded video via augmented reality, animating the photo on-screen, Harry Potter style.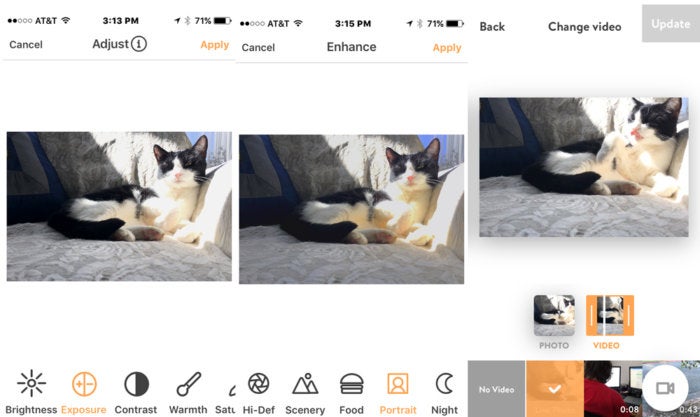 If you shoot a Live Photo, it will automatically embed and then play back the video. But you can also add a different 10-second video to a static shot and make it viewable for anyone who possesses both the print and the app. In addition to on-the-spot shooting, you can also print existing photos from your iPhone albums or Camera Roll and attach any video, or more than one, to them.
The Prynt app also offers basic editing functions and numerous decorative filter packages, frames, stickers, and text. You can fix exposure, brightness, saturation, contrast, vibrance, highlights, and shadows. The app provides scene modes for landscapes, portraits, night, hi-def, and food. You can even mail your shot as a post card via snail mail for free.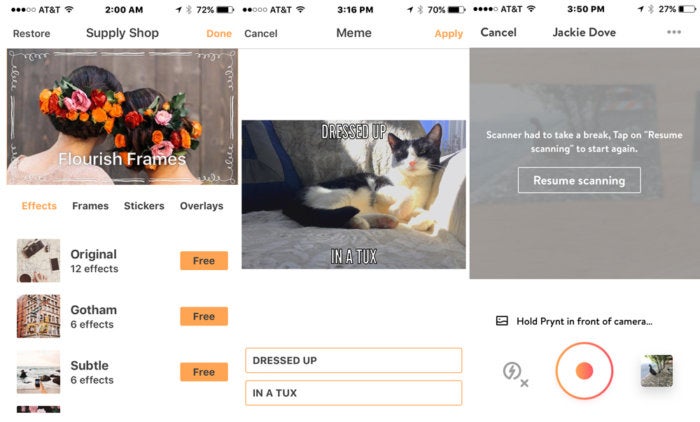 Software
While the app, combined with the hardware, generally worked well and immediately started printing on command, I did encounter some software glitches. Sometimes scanned images showed jerky video that took a few seconds to stabilize, while at other times the scanner that connects the print to the video temporarily stopped working, accompanied by an error message. According to the company, such messages are designed to protect your phone from overheating and to conserve your battery.
The navigation took a bit of getting used to as well. The process for sharing to social media was not inherently obvious. To locate the social media share command, you must first locate a print to scan, which makes sense. Keeping your phone vertical, the scan captures the background as well as the scanned photo to share.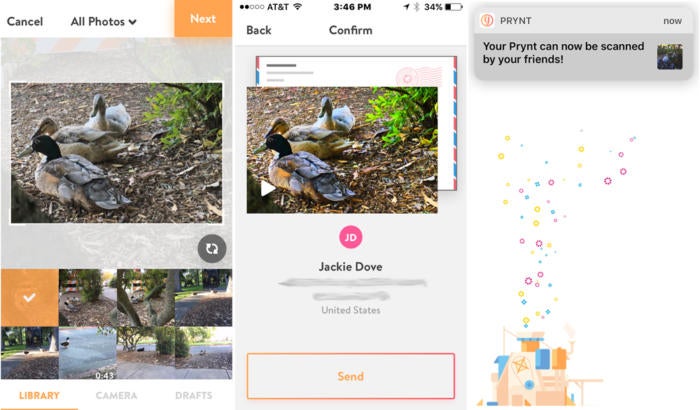 Bottom line
Despite the almost universal infatuation with smartphone photography, and even the more recent Snapchat-inspired craving for ephemeral viewing, something about holding a print in your hand still exemplifies instant gratification. Prynt Pocket — small, lightweight and easy to use — is sure to be a hit at parties and outings where everyone can share in the timeless pleasure of holding memories in their hands, stuffing them in their wallets, and reliving the shared live experience at any time, anywhere.