Steve Dvorak writes in with a question about the 27-inch Apple Thunderbolt Display and the new MacBook Pro.
While I can do the Thunderbolt 3 to 2 adapter for video and Thunderbolt accessories, I can't use the power that comes from the display. There appears to be no adapter created that provides power from MagSafe 1/2 connectors to USB-C. Am I missing something?
Unfortunately not. The USB-C port(s) found in the 2015 and later MacBook and 2016 and later MacBook Pro models can pass power bidirectionally, an awesome feature for flexibility, and which allows using USB battery packs to charge your laptop. (Sadly, no battery pack has gone into production yet that can send enough power to charge your Mac while it's awake.)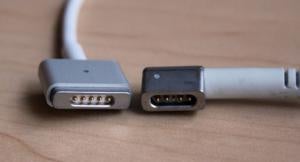 The Thunderbolt Display comes equipped with a MagSafe power connector, which can power Apple laptops made for many years—until the latest series. Apple could have created a MagSafe-to-USB-C adapter, but my suspicion is that there simply isn't a large enough market for it. And the cost would likely be only slightly less expensive than an additional USB-C power brick.
A third-party wanting to create an adapter would run aground on Apple's MagSafe patents, unless it suddenly chose to license those, which seems unlikely. Apple sells spare adapters for $49 to $79, depending on the laptop.
Ask Mac 911
We've compiled a list of the questions we get asked most frequently along with answers and links to columns: read our super FAQ to see if your question is covered. If not, we're always looking for new problems to solve! Email yours to mac911@macworld.com including screen captures as appropriate. Mac 911 can't reply to—nor publish an answer to—every question, and we don't provide direct troubleshooting advice.